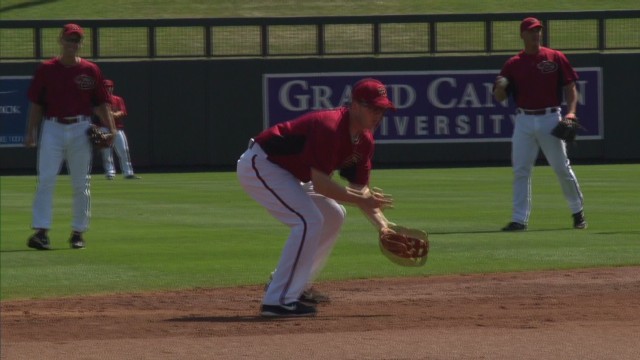 CNN Freedom Project
April 5th, 2012
MLB players fighting modern-day slavery
More than 17 Major League Baseball players – from at least eight different teams – have joined the fight against human trafficking by pledging to donate to Not For Sale's Free2Play initiative. Not For Sale, an anti-trafficking organization based in California, set up the Free2Play platform as a way to fund athletic programs for victims of human trafficking. The CNN Freedom Project spoke to a few of those players about the issue of modern-day slavery and why they're taking up the cause.
Arizona Diamondbacks shortstop Stephen Drew said human trafficking is a "very tough subject – a lot of people don't like to talk about that." The father of two has pledged $500 for every home run he hits this season once he returns from an ankle injury.
San Francisco Giants pitcher Jeremy Affeldt, who joined the Free2Play campaign a few years ago, said this is "an opportunity for us as ball players to join together as one team…and support something that's very important, especially for people who dream. When kids get trafficked, it kills their dream."
The CNN Freedom Project first reported on Affeldt joining Not For Sale's Free2Play campaign last April. You can watch that report here.

Here's a list of the MLB players involved in the Free2Play campaign: 
Jeremy Affeldt, SF Giants
Brandon Belt, SF Giants
Blake Hawksworth, LA Dodgers
Josh Lindblom, LA Dodgers
Stephen Drew, AZ Diamondbacks
Wade Miley, AZ Diamondbacks
Paul Goldschmidt, AZ Diamondbacks
Ian Kennedy, AZ Diamondbacks
Jake Brigham, TX Rangers
Matt Holliday, SL Cardinals
Jaime Garcia, SL Cardinals
Micah Owings, SD Padres
Nick Hundley, SD Padres
Brian Fuentes, OAK Athletics
Cliff Pennington, OAK Athletics
Wes Timmons, OAK Athletics
Brian Roberts, BAL Orioles
About The CNN Freedom Project:
In March 2011 CNN joined the fight against modern-day slavery with the launch of The CNN Freedom Project. This multi-platform initiative that aims to expose the horrors of modern-day slavery and push for change has generated more than 250 stories of human trafficking from five continents. www.cnn.com/freedom and @CNNFreedom