CNN International
February 24th, 2022
CNN coverage of the Russian invasion of Ukraine
Updated May 16
CNN continues to cover the Russian invasion of Ukraine with multiple teams in key positions across the region.
CNN International Correspondent Melissa Bell is in Kyiv covering the latest developments from the Ukrainian capital.
CNN International Security Editor Nick Paton Walsh is in Kharkiv, Senior International Correspondent Sam Kiley reports from Kramatorsk and Senior National Correspondent Sara Sidner is in Odesa.
CNN National Correspondent and Anchor Suzanne Malveaux is in Lviv.
Follow live updates on CNN.com.
Key CNN Moments:
CNN team hears loud explosions during live reporting
CNN's Matthew Chance reports live from Kyiv as air raid sirens go off
'Very moving': Clarissa Ward sees Ukrainians kneeling to pray in town square 
Russian mobile artillery roll past CNN's Fred Pleitgen as they appear to head toward Ukraine
CNN's Matthew Chance: This shows just how close Russian forces are to Ukraine capital
CNN's Sam Kiley visits town near front lines hit by recent shelling
'I cannot believe it's happening': See emotional interview with Ukrainian citizen 
CNN's Nic Robertson reports from an anti-war protest in Moscow
CNN's Nick Paton Walsh reports on battle for key Ukrainian port city of Kherson
CNN's Matthew Chance describes how he came across Russian special forces at Antonov airport outside Kyiv
CNN's Scott McLean reports from Poland as Ukrainians flee across the border
Amanpour: This was one of the very darkest days – Analysis by Christiane Amanpour
CNN's Matthew Chance to Russian FM: Do you plan to decapitate Ukrainian leadership?
CNN's Nick Paton Walsh reports on battle over key bridge to Kherson
CNN's Clarissa Ward describes journey into Kyiv as Russian troops close in
'They'll kill us all': Ukrainian children talk to CNN's Nick Paton Walsh as Russian forces get closer to their town 
CNN's Clarissa Ward reports on the ground at an apartment building hit by a missile or rocket in Kyiv
CNN's Arwa Damon reports from Poland-Ukraine border on refugees fleeing Ukraine
'Remarkable': CNN's Fred Pleitgen spots heavy Russian tanks moving toward Ukraine near Belgorod, Russia on live TV
'We want to get the news out': How Ukraine's journalists are covering the invasion of their country
CNN's Matthew Chance sees how Kyiv residents are defending their city
CNN's Clarissa Ward: This is what happens when war comes to a major city
Ukrainian soldier: Russians said they wouldn't hit civilian infrastructure. Look around
'I don't have a future … again': Afghan refugee who found asylum in Ukraine flees Russian invasion
CNN's Matthew Chance sees aftermath of ferocious battle on outskirts of Kyiv
Foreign students fleeing Ukraine say they face segregation, racism at border
How CNN geolocates and verifies social media footage from Ukraine
Zelensky's message to President Biden: 'This war is for all the world'
Watch CNN's Sara Sidner walk through Ukrainian refugee shelter in Poland
CNN's Arwa Damon talks to non-Ukrainians waiting to cross border into Poland
'There's still blood on the ground:' CNN's Alex Marquardt visits site of TV tower attack in Kyiv
Jewish community in Ukraine reacts to Putin's Nazi rhetoric
Emotional Ukrainian mother describes her family's fight against Russia
How geolocation shows Russia has been shelling civilians in Kharkiv
CNN's Nic Robertson identifies strange moment in new Putin speech
CNN's Nick Paton Walsh reports from Odessa tourist resort as residents use sand for sandbag barricades
He was Russia's richest man. Hear what he has to say about Putin
CNN's Sara Sidner talks with foreigners joining the fight in Ukraine
Ukraine refugees flee after days of attack
See moment that made Clarissa Ward stop reporting and help
CNN's Sam Kiley reports on the mass evacuation from Zaporizhzhia
'You betray me!': Ukrainian medical worker's message to former Russian friends
Russian families turn to Ukrainian hotline in desperate search for lost soldiers
CNN's Nic Robertson writes why he leaves Russia in despair
CNN's Matthew Chance visits a bombed-out home where the family miraculously survived
Two weeks of war have revealed cracks in Putin's master plan for Ukraine
CNN's Matthew Chance captures the mass exodus from Ukraine
CNN's Sam Kiley reports on dozens of surrogate-born babies awaiting pickup from shelter in Kyiv
CNN's Nick Paton Walsh reports from Mykolaiv as residents fear Russian ground assault
Journalist who protested on Russian state TV: 'It was impossible to stay silent'
Equipo de Conclusiones se refugia en un sótano por riesgo de bombardeo en Lviv
Anatomy of a hospital attack: CNN investigates what happened in Mariupol
CNN's Nick Paton Walsh gains rare access to the front line of Ukraine's fight to take back Kherson
CNN's Ed Lavandera meets a Polish couple welcoming Ukrainian refugees in their home
Kremlin spokesperson: Putin has not achieved aims in Ukraine yet
Refugees from Kharkiv speak to CNN's Miguel Marquez about fleeing Ukraine for Romania
Ukrainian fighter jet interrupts CNN's interview with pilot
'A fight between good and evil': The Klitschko brothers on the battle for Ukraine
Don Lemon reports from airstrike aftermath near Lviv
Fred Pleitgen on covering Russia's invasion from both sides of the border
They tried to reveal what life was like under Russian occupation. Then they disappeared
Ukrainian children create postcards for troops on the frontlines
'We have stronger morale and spirit': Amanpour speaks to the Ukrainian resistance
CNN captures horrific photos of mass grave site in Ukraine
CNN crew survives close call in area under Russian assault
CNN discovers mass grave outside Kyiv as horror grows
In Borodianka, basement shelters turned into graveyards
CNN Exclusive Interview with Polish President Andrzej Duda
Ukrainians shocked by 'crazy' scene at Chernobyl after Russian pullout reveals radioactive contamination
CNN's Matt Rivers reports on Russians turning on Putin
First Lady Olena Zelenska tells Amanpour: No one in Ukraine is safe from Russian forces
86-year-old woman rescued in Ukraine after outpouring of support
Clarissa Ward reports from city pulverized by Russian strikes
Images of CNN correspondents in the field: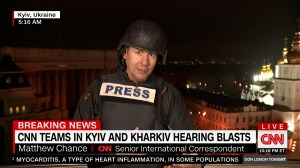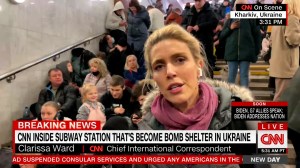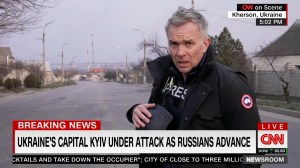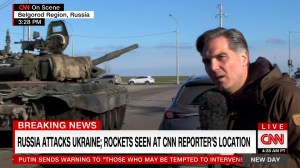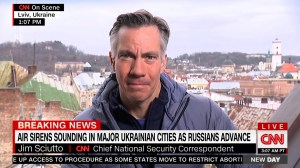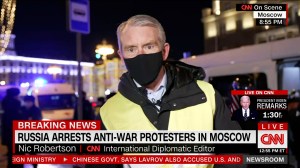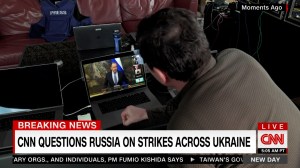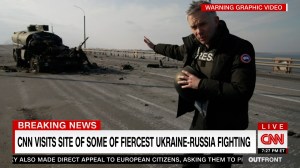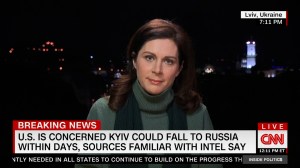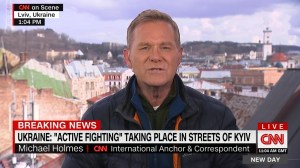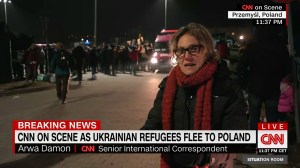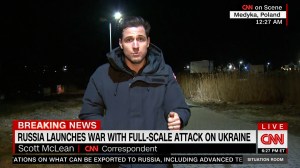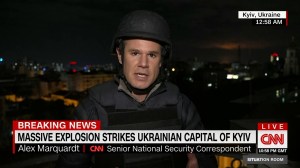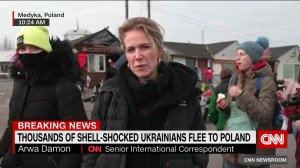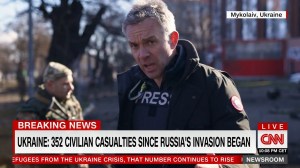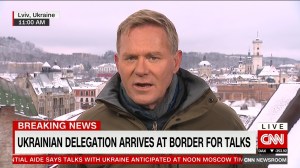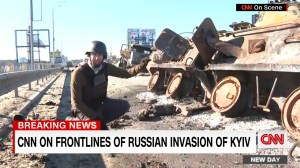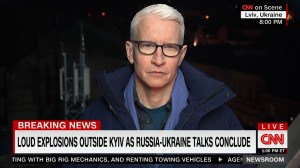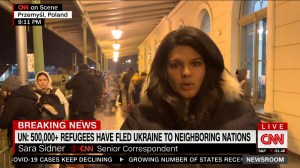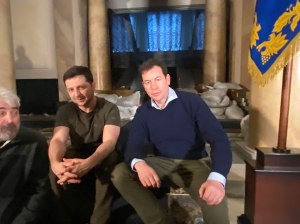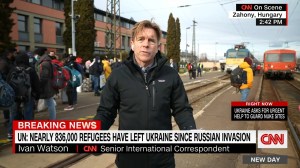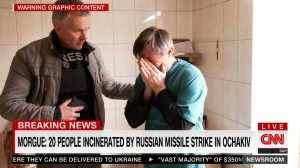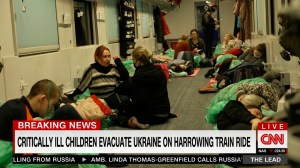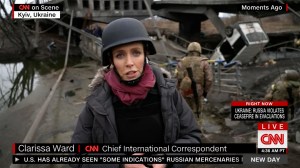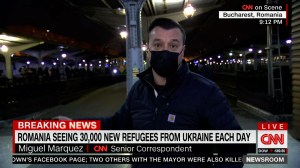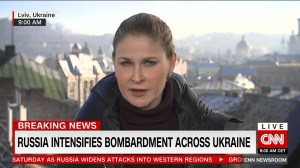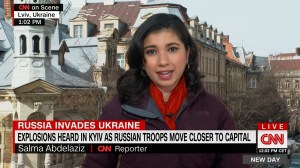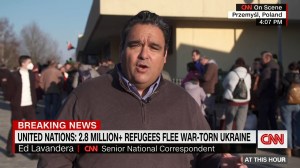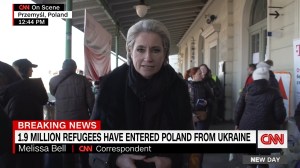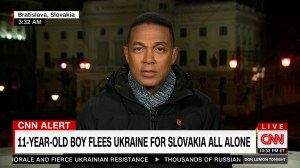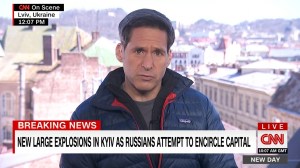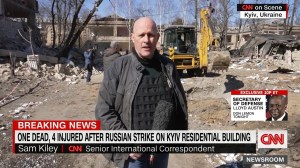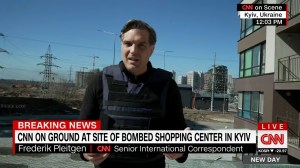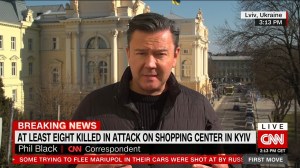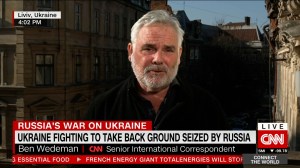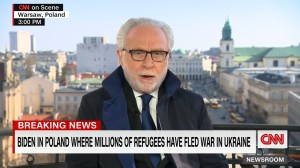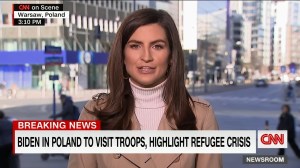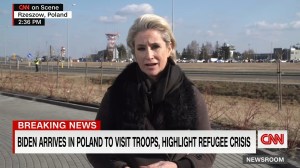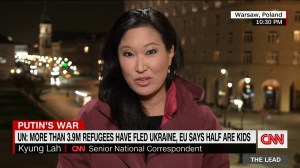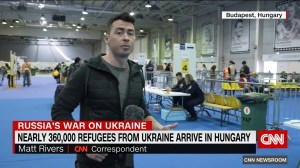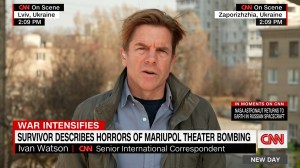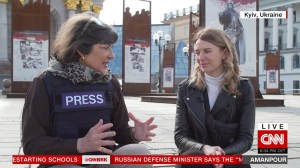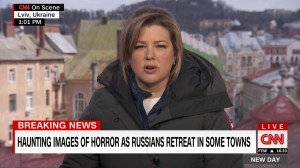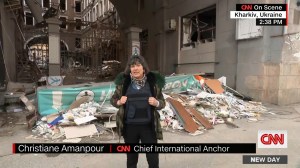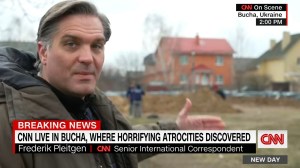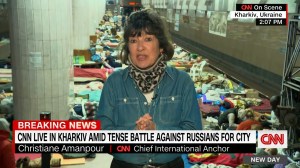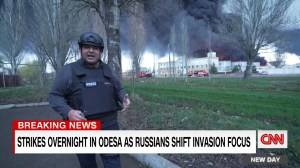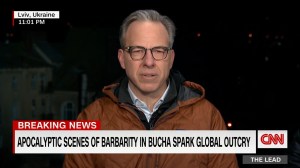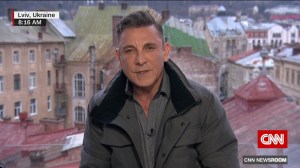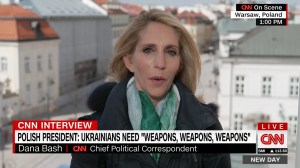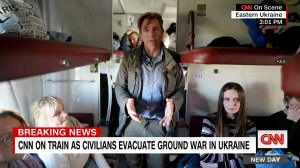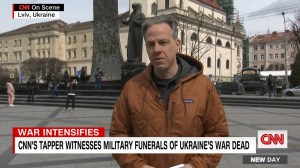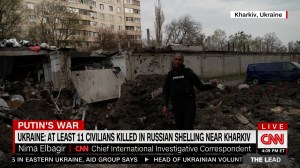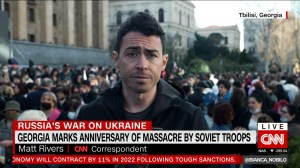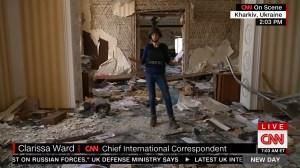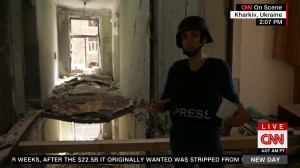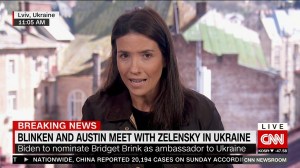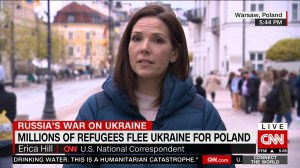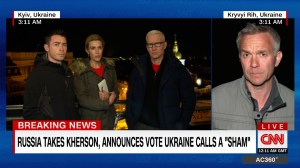 CNN's Matthew Chance in Kyiv, Ukraine, stops his live reporting to put on gear as he and the team hear loud explosions near the city. https://t.co/y7MglyEtcd pic.twitter.com/YShfN9OBQf

— CNN (@CNN) February 24, 2022
CNN is on the front lines in Ukraine. Meet the people affected. Hear their stories. Stay with CNN for the latest. pic.twitter.com/LjoPLasPsh

— CNN (@CNN) March 8, 2022
Exclusive: Zelensky urges Biden to send a strong message on Russia at the State of the Union and tells CNN: "I'm not iconic. Ukraine is iconic."https://t.co/9iSKntROog

— CNN (@CNN) March 1, 2022
CNN's @clarissaward stops her live report to help elderly civilians trying to flee Kyiv evacuate as Russian forces close in on the capital city. pic.twitter.com/UCctSBF7G1

— CNN (@CNN) March 5, 2022