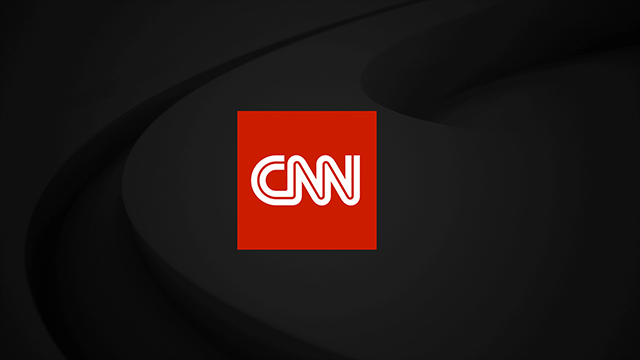 Ratings
February 17th, 2021
CNN's Town Hall with President Joe Biden Dominates Cable News Last Night Across the Board
ALSO: Last Week, CNN Continued to Rank #1 in the Key Demos and Increased Audience vs. Prior Week and Year Ago
CNN Prime Time Programs Topped FNC in Key Demo 25-54 Last Week
CNN also Ranked #1 in the Demos During the Full Impeachment Week and Last Day (Day 5)
PRESIDENT JOE BIDEN TOWN HALL (Tues., Feb. 16, 2021)
During last night's first Presidential Town Hall with Joe Biden, CNN dominated cable news in total viewers, adults 25-54 and among younger viewers 18-34 – easily outperforming MSNBC and FNC by double and triple digits.  MSNBC ranked #2 and FNC was last among total viewers and adults 25-54.  In total viewers, CNN had a +24% advantage over FNC and a +18% lead over MSNBC. Among 25-54, CNN topped FNC by +124% and MSNBC by +108%. The CNN Town Hall was moderated by Anderson Cooper.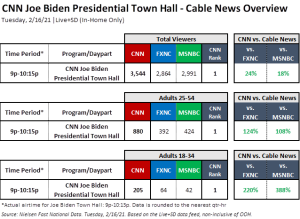 The CNN Presidential Town Hall with Joe Biden live stream had an average minute audience of 60k, adding 2% to its 3.544 million total TV audience. CNN TV plus digital live streaming of the town hall produced a combined average audience of 3.604 million total viewers.
WEEKLY RATINGS HIGHLIGHTS (Week of Feb. 8-14, 2021)
CNN ranked #1 in cable news last week (Feb.8-14) in Total Day, M-Su prime time and day side in the key demo adults 25-54.  CNN also ranked #1 in ALL of cable (not just news) in Total Day and dayside, and #2 in M-Su prime following TNT among adults 25-54.  CNN continued to grow last week in all dayparts vs. last week and compared to a year ago, increasing double to triple digits.
Last week, CNN's prime time programs beat FNC at 8pm, 9pm and 10pm and MSNBC at 8pm and 10pm in the key demo adults 25-54.  For the week, at 8pm Anderson Cooper 360 averaged 644k to FNC's Tucker's 481k to MSNBC's All In's 470k.  At 9pm,  Cuomo Prime Time attracted 625k to Hannity's 423k; Maddow had 719k.  At 10pm CNN Tonight with Don Lemon had 539k, topping both FNC (355k) and MSNBC (471k).
CNN continues to win total day among adults 25-54 and currently has a 103-day winning streak from Wednesday, 11/4/20 – Sunday, 2/14/21; the longest P25-54 winning streak for CNN in Total Day in 23 years.
IMPEACHMENT TRIAL/Full week Feb. 9-13, 2021) & Day Five (Sat., Feb. Feb. 13, 2021)
Throughout the full five days of the impeachment trial of ex-President Trump, CNN was the most watched, ranking #1 in the key demo adults 25-54 and among younger viewers 18-34.
On the fifth and final day (Saturday, Feb. 13), CNN was top rated in both demos adults 25-54 and 18-34 according to Nielsen.   CNN also outperformed FNC in total viewers.  FNC ranked last among cable news in all three demos.
CNN's impeachment coverage saw an average audience of 157k users live streaming the average minute of coverage (equivalent to the way TV ratings are calculated) across days 1-5. TV plus digital live streaming produced an average audience of 3.140 million average total viewers across the 5 days. Digital viewing on average added a +5.3% lift to CNN TV P2+ average audience.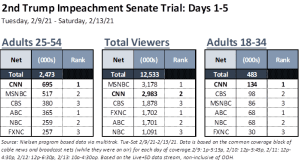 PLEASE NOTE: BROADCAST DURATION TIMES VARY WIDELY ON DAY FIVE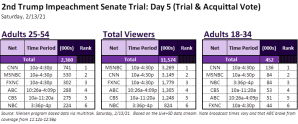 ###