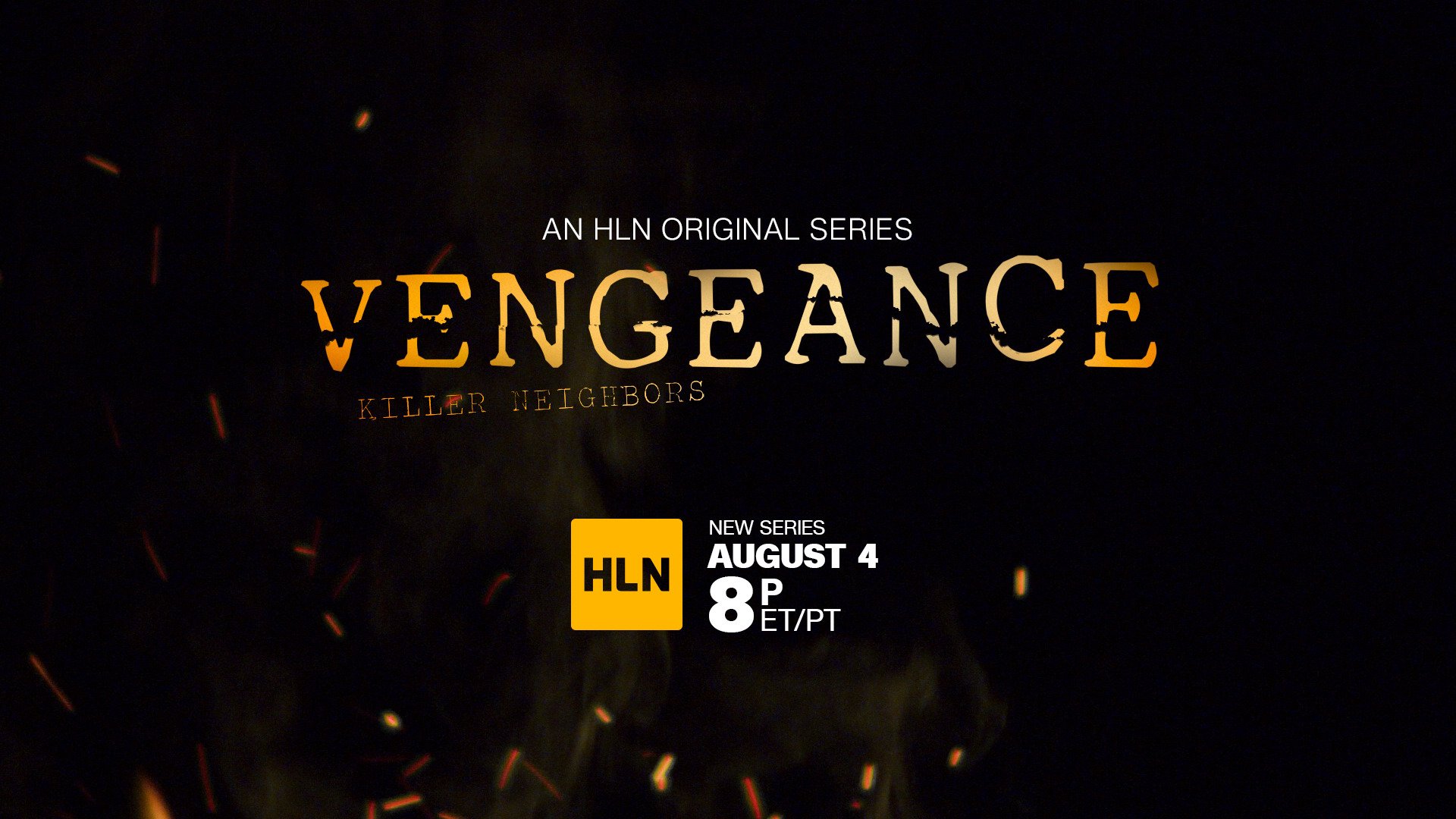 HLN Press Releases
August 1st, 2019
Vengeance: Killer Neighbors Comes Knocking August 4
HLN Original Series Returns with 10 New Episodes
Link to trailer – https://f.io/hqUZ6CDs
The second installment of HLN's Original Series VENGEANCE returns with 10-episode run of VENGEANCE: Killer Neighbors. The show profiles stories of unexpected crimes between seemingly peaceful neighbors. Each one-hour episode takes viewers through the twists and turns of the investigation, the arrest, and the quest for justice. VENGEANCE: Killer Neighbors will air Sundays at 8pm ET/ PT on HLN.
VENGEANCE: Killer Lovers which premiered in March was the first series under HLN's VENGEANCE franchise. The network is scheduled to release future episodes of revenge and betrayal under the titles VENGEANCE: Killer Coworkers and VENGEANCE: Killer Families. VENGEANCE: Killer Neighbors is produced for HLN by Sky Vision.
Two new episodes of VENGEANCE: Killer Neighbors will premiere Sunday, August 4, at 8 and 9pm ET/PT on HLN, and will replay at 11pm and 12am ET/PT.
VENGEANCE: Killer Neighbors will also stream live for subscribers via CNNgo (at CNN.com/go and via CNNgo apps for Apple TV, Roku, Amazon Fire, Samsung Smart TV and Android TV) and on the CNN mobile apps for iOS and Android.
The episode titled Deadly Trespass will be available On Demand ahead of the linear premiere of the series beginning Friday 7/26, via cable/satellite systems, CNNgo platforms and CNN mobile apps. The remaining episodes will be available On Demand the day after their broadcast premiere via cable/satellite systems, CNNgo platforms and CNN mobile apps.
Episode descriptions and premiere dates:
VENGEANCE: Killer Neighbors – Sinister Surveillance (August 4 at 8pm)
When a Tennessee man is shot down in front of his own home, police use home video to unravel a vicious feud between rural neighbors. Was the shooting in self-defense or a calculated cold-blooded murder?
VENGEANCE: Killer Neighbors – Poison Mastermind (August 4 at 9pm)
Tensions boil over between neighbors in small-town Florida, when a local waitress and her family fall victim to a poisoning. Investigators must track down the mastermind behind one of the most cunning murder plots they've ever seen.
VENGEANCE: Killer Neighbors – Fatal Fence Feud (August 11)
A giant barricade is erected between property lines in an attempt to resolve bad blood between neighbors, but it doesn't stop their animosity from escalating out of control and resulting in a brutal murder.
VENGEANCE: Killer Neighbors – Deerly Departed (August 18)
When the sounds of gunfire erupt in a usually quiet, Minnesota suburb, the police begin receiving frantic 911 calls. One such call is from the shooter himself, a man who police soon learn became unhinged over the sight of too many deer.
VENGEANCE: Killer Neighbors – Killer Cookout (August 25)
Police arrive on the scene of a barbeque turned bloodbath and begin to unravel a neighborhood feud that pushed one man to the point of no return.
VENGEANCE: Killer Neighbors – Deadly Trespass (September 1)
When a wealthy neighbor begins buying up Montana land and restricting access to the public mountain trails, one man cuts the locks and ends up dead. 
VENGEANCE: Killer Neighbors – Nightmare Next Door (September 8)
A man is gunned down in front of his home in Denver, Colorado, and the shooter is nowhere to be found. It takes investigators six years to track the killer down and bring them to justice.
VENGEANCE: Killer Neighbors – Blood and Terror (September 15)
When a gay rights activist is stabbed to death in his own apartment, police are tasked with tracking down his killer—and in the process, they uncover a dark world of paranoia and delusions lurking in the heart of London.
VENGEANCE: Killer Neighbors – Murderous Moms (September 22)
A front yard brawl between two Euclid, Ohio families leaves one person dead and investigators wondering how teenage heartbreak started it all.
VENGEANCE: Killer Neighbors – Lethal Brawl (September 29) 
A mother who is also a recovering addict is stabbed while standing up to the neighborhood bully. Will grainy video and unreliable witnesses stand in the way of investigators determining who was holding the knife that killed her?
About HLN Original Series
Amy Entelis, executive vice president of talent and content development, CNN Worldwide, oversees CNN Original Series and HLN Original Series. Nancy Duffy, vice president of program development for CNN, supervises production of internally-produced HLN Original Series, and Lizzie Fox, vice president of current programming, CNN Original Series, supervises production of commissioned HLN Original Series.
About HLN
HLN features live coverage of national, regional, lifestyle, and entertainment stories in a fast-paced approachable tone with expert-led, personality driven hosts by day. Later in the schedule the network presents original and acquired series focusing on true crime, mysteries and investigations. HLN is a CNN Worldwide network reaching more than 90 million households in the U.S.
Press Contact: Shimrit Sheetrit; 310.788.6796; Shimrit.Sheetrit@turner.com