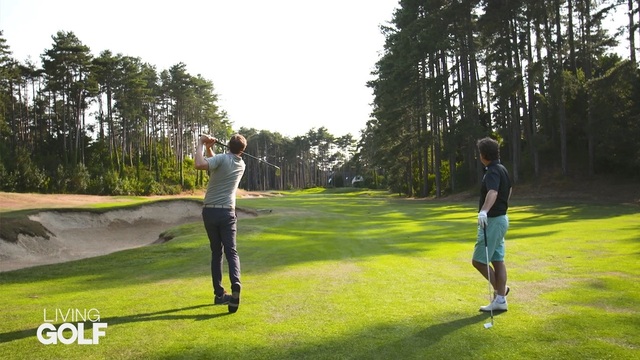 CNN International Shows
September 3rd, 2018
CNN International Programming Highlights – September
This month's programming highlights on CNN International, including shows such as Living Golf, Rally Team! and Destination India:
Living Golf
Thursday 6th September at 1030 BST
Thursday 13th September at 1730 BST
Saturday 15th September at 0730 BST and 1030 BST
Sunday 16th September at 1730 BST
Saturday 22nd August at 1730 BST
Sunday 23th August at 0730 BST and 2230 BST
The staging of the Ryder Cup in Paris at the end of September has shone a light on golf in France like never before. Living Golf has taken a journey around the country over the last six months to see what is on offer for the golfing tourist and to find out if the game in France can become as popular as it is amongst other European neighbours.
Living Golf visits Val d'Isere in the French Alps for the 2018 Winter Golf Cup. Presenter Shane O'Donoghue speaks to Ryder Cup captain Thomas Bjorn, four-time European Tour winner Raphael Jacquelin and President for the 2018 Ryder Cup, Pascal Grizot about the challenges of playing golf in the mountains.
Living Golf then heads to Le Golf National on the outskirts of Paris, the venue for this year's Ryder Cup as well as the French Open on the European Tour. Now a Rolex Series event, the tournament boasts bigger prize money, star players and a prestige to match the best events on Tour. While there, O'Donoghue speaks to France's top-ranked player, Alex Levy, about the changing perception of golf in his country. The programme also catches up with Pascal Grizot once again who explains the challenges and opportunities of hosting the Ryder Cup.
Lastly, O'Donoghue heads La Mer Golf Club in Le Touquet to meet the Boissonnas family who are behind the renovation of La Mer and nearby Hardelot Golf Club to see if areas like Le Touquet will benefit from the buzz that the Ryder Cup will bring.
---
Marketplace Latin America
Saturday 1st September at 1230 BST and 1930 BST
Sunday 2nd September at 0130 BST and 2230 BST
Monday 3rd September at 0930 BST
This month, Marketplace Latin America explores the dynamic industries that are impacting the economy in the region.
CNN investigates Colombia's emerging film industry which has recently been attracting international projects mainly because of government incentives. The programme meets a local production company benefiting from the influx of international projects and speaks to the director of Mark Wahlberg's movie Mile 22, Peter Berg.
The programme also travels to Argentina, which is striving to become the world's top producer of lithium – an element in high demand because of the growth of electric vehicles. CNN visits Salinas Grandes, the area where lithium is extracted and speaks to some of the major players from the public and private sector.
In Mexico, Marketplace Latin America discovers how the country has become a huge source for airplane parts. CNN visits Queretaro's Aerospace Cluster where over 1000 Mexicans are trained to enter the aeronautical industry and attends the Mexico Aerospace Summit to gain insight from some of the top executives in the region.
Lastly, the programme heads to Brazil to speak to the head of Brazil's largest domestic airline, GOL.
---
Talk Asia
Wednesday 5th September at 1030 BST and 1730 BST
Saturday 8th September at 0630 BST and 1930 BST
Sunday 9th September at 1230 BST
Saturday 15th September at 1230 BST
Sunday 16th September at 0630 BST and 1930 BST
This month's episode of Talk Asia explores Japan; a county constantly evolving through innovation and ingenuity which is used as the key drivers of the future.
CNN International follows some of Japan's most creative and revolutionary minds across design, fashion and architecture: photographer and designer Hiroshi Sugimoto, Sacai founder and creative director Chitose Abe, model and actress Rila Fukushima and world-famous architects Kengo Kuma and Shigeru Ban.
They tell Talk Asia about the philosophies behind their ground-breaking creations, inspirations and how they are pushing the boundaries of society while holding onto the best of Japan's traditions.
---
Inside the Middle East
Saturday 8th September at 1230 BST
Sunday 9th September at 0630 BST and 1930 BST
Wednesday 12th September at 1030 BST and 1730 BST
Saturday 15th September at 0630 BST and 1930 BST
Sunday 16th September at 1230 BST
On this month's episode of Inside the Middle East, CNN International enters the creative minds of some of the region's up and coming photographers and their mission to promote photography from the region.
They say that a picture is worth a thousand words, but the art of photography requires precision, trial and error, patience and the desire to freeze a moment in history, capture a snapshot of reality or even an expression of ideas.  Images from the Middle East regularly make the front pages of newspapers, but there is a growing emergence of contemporary lens-based artists in the region.
---
Rally Team!
Thursday 20th September at 1030 BST and 1730 BST
Saturday 22nd September at 0730 BST and 2230 BST
Sunday 23rd September at 1730 BST
Monday 24th September at 0930 BST
Saturday 6th October at 1630 BST
Sunday 7th October at 0130 BST
This month's episode of Rally Team! travels to the stunning landscapes of Finland's lake district as it plays host to the fastest race on the World Rally Championship calendar: Neste Rally Finland.
Host Mark Bolton follows TOYOTA GAZOO Racing, one of the sport's most successful teams, and meets their team principal and four-time world rally champion Tommi Makinen.  As the team prepares for the race ahead, the programme visits his garage in Puuppola, where Makinen provides a unique insight into the new Yaris WRC and shows us how technology and innovation have informed the car's design and development.
Rally Team! also goes behind-the-scenes at the TOYOTA GAZOO service garage, where chief engineer Tom Fowler outlines what it takes to run a team at a competitive level.
Lastly, Bolton goes on a test drive with star driver Jari-Matti Latvala, to experience the thrill of rally driving on Finland's legendary gravel roads.
---
Destination India
Saturday 22nd September at 1630 BST and 2100 BST
Wednesday 26th September at 0930 BST
Thursday 4th October at 0930 BST
India's deep-rooted history in wellness dates back thousands of years making the country an ideal place for a physical and mental detox. On Destination India, CNN travels to the best and most unique wellness destinations the country has to offer.
The programme first travels to the Anahatah Healing Centre near Bangalore, a wellness retreat where individuals are encouraged to reconnect with themselves and nature through practising a "simplistic lifestyle". The retreat is made unique by its' pay-what-you-want philosophy ensuring everyone who wants to pursue wellness, can. The centre's doors remain open at all times for the local community as well truly making it a natural healing place for all.
At the Soukya International Holistic Heath Centre, Dr. Issac Mathai shows the programme why he focuses on nature's five elements (earth, water, air, fire and ether) to eliminate toxins in the body, which he says are the root cause of diseases. From there, Destination India heads to the Vipassana International Academy to learn more about the ancient mediation method which focuses on the practice of silence. At the Ananda Spa near Rishikesh, CNN explores pranayama, a form of yoga that focuses solely on breathing.
The programme ends its' journey through India at the Atmantan Wellness Centre, where the resort's culinary team demonstrates the benefits of "spa cuisine". At Atmantan, food synergy is practiced where flavours and nutrients are skilfully combined to serve the body in the best way. Every plate of food looks like an artwork and is mindfully prepared with organic, locally-sourced ingredients.