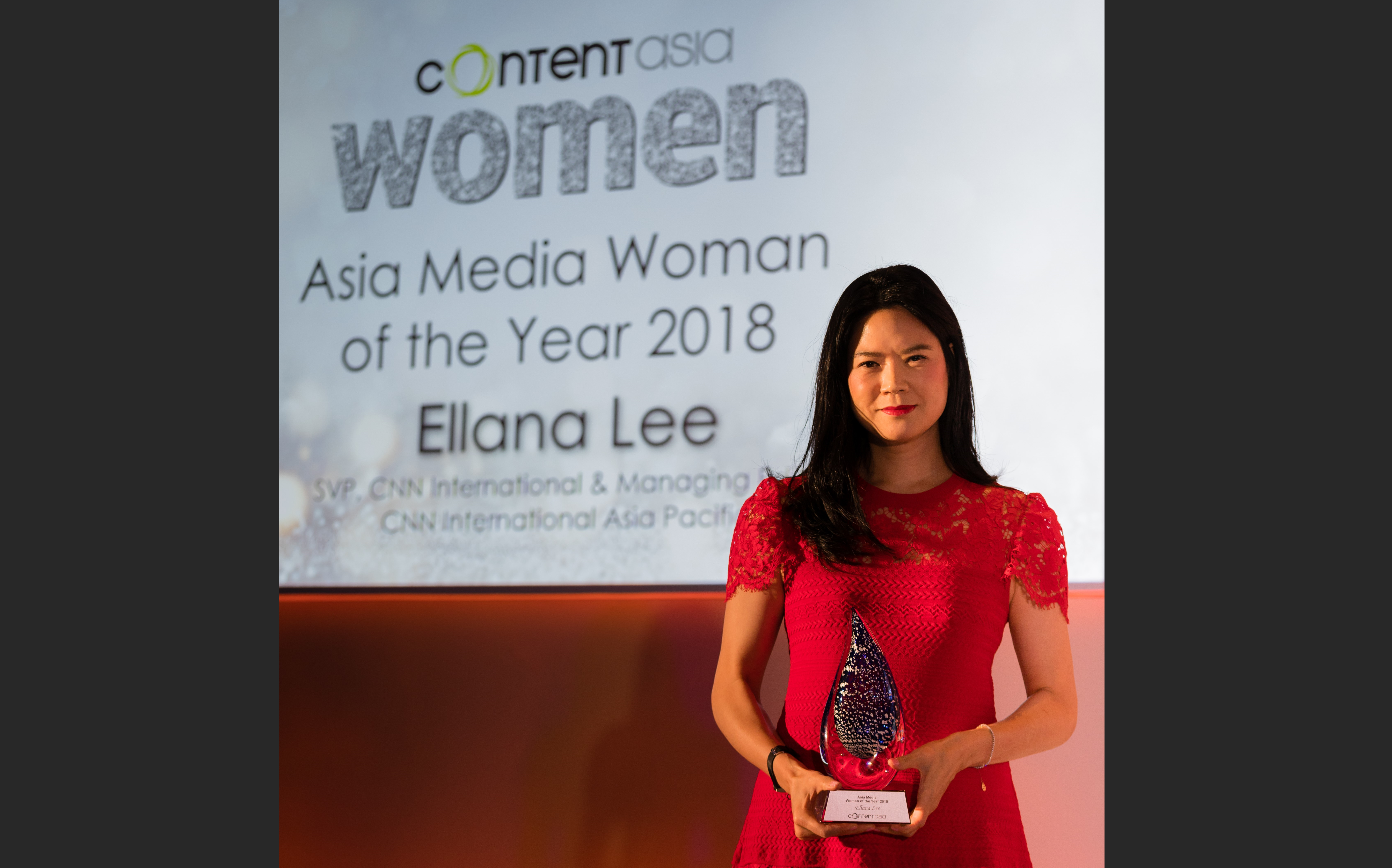 CNN International
August 28th, 2018
ContentAsia names CNN's Ellana Lee 'Asia Media Woman of the Year'
CNN International Senior Vice President and Managing Editor Ellana Lee was named ContentAsia's 'Asia Media Woman of the Year' last night at a gala dinner in Singapore.
Now in its sixth year, the prestigious ContentAsia award recognizes the outstanding achievements of female leaders in the media industry.
ContentAsia Editorial Director Janine Stein said Lee was selected for her commitment to news media:
"We are living in an extraordinary time when the media is under constant attack. The term 'fake news' is part of our every day and challenge of making sense out of the deluge of information coming at us all the time can seem insurmountable. There has never been a more important time for journalism or a more important time for strong, unbiased leadership. Ellana ticks all the boxes: she's fearless, she's a role model, she's a trail-blazer, she's a game-changer. She's truly inspiring."
Lee is the first international broadcast network executive to receive the award and said she is humbled by it:
"It's an absolute honour and privilege to be recognized for something I am genuinely passionate about. As we all know, there are steep mountains to climb and obstacles to overcome when it comes to equal rights, responsibilities and opportunities for women. And even more so for Asian women. So being recognized for this award is not something I take lightly and I accept it on behalf of all the incredible women who work tirelessly across the media industry."
Past recipients of the award include CEO of Astro Malaysia Dato Rohana Rozhan; former President and CEO ABS-CBN Philippines Charo Santos-Concio; former EVP and Head of Now TV Hong Kong and current CEO of Mediacorp Singapore Tham Loke Kheng; Managing Director of PCCW Media Group Janice Lee; and President and CEO Cignal TV Philippines Jane Jimenez-Basas.
The gala dinner marks the beginning of the annual ContentAsia Summit which continues in Singapore today.
-Ends-
About CNN International
CNN's portfolio of news and information services is available in seven different languages across all major TV, digital and mobile platforms reaching more than 475 million households around the globe. CNN International is the number one international TV news channel according to all major media surveys across Europe, the Middle East and Africa, the Asia Pacific region and Latin America and has a US presence which includes CNNgo. CNN Digital is a leading network for online news, mobile news and social media. CNN is at the forefront of digital innovation and continues to invest heavily in expanding its digital global footprint, with a suite of award-winning digital properties and a range of strategic content partnerships, commercialised through a strong data-driven understanding of audience behaviours. Over the years CNN has won multiple prestigious awards around the world for its journalism. Around 1,000 hours of long-form series, documentaries and specials are produced every year by CNNI's non-news programming division, CNN Vision. CNN has 36 editorial offices and more than 1,100 affiliates worldwide through CNN Newsource. CNN International is part of Turner, a WarnerMedia company.
About ContentAsia
ContentAsia is an Asia-based information resource powered by a well-known team with unparalleled experience, reach and contacts on every sector and level of the content industry across Asia. ContentAsia's range of products – including print, email and online – is tailor-made for different platforms and different locations and situations, including on-the go, in the office and at trade shows. More information at www.contentasia.tv