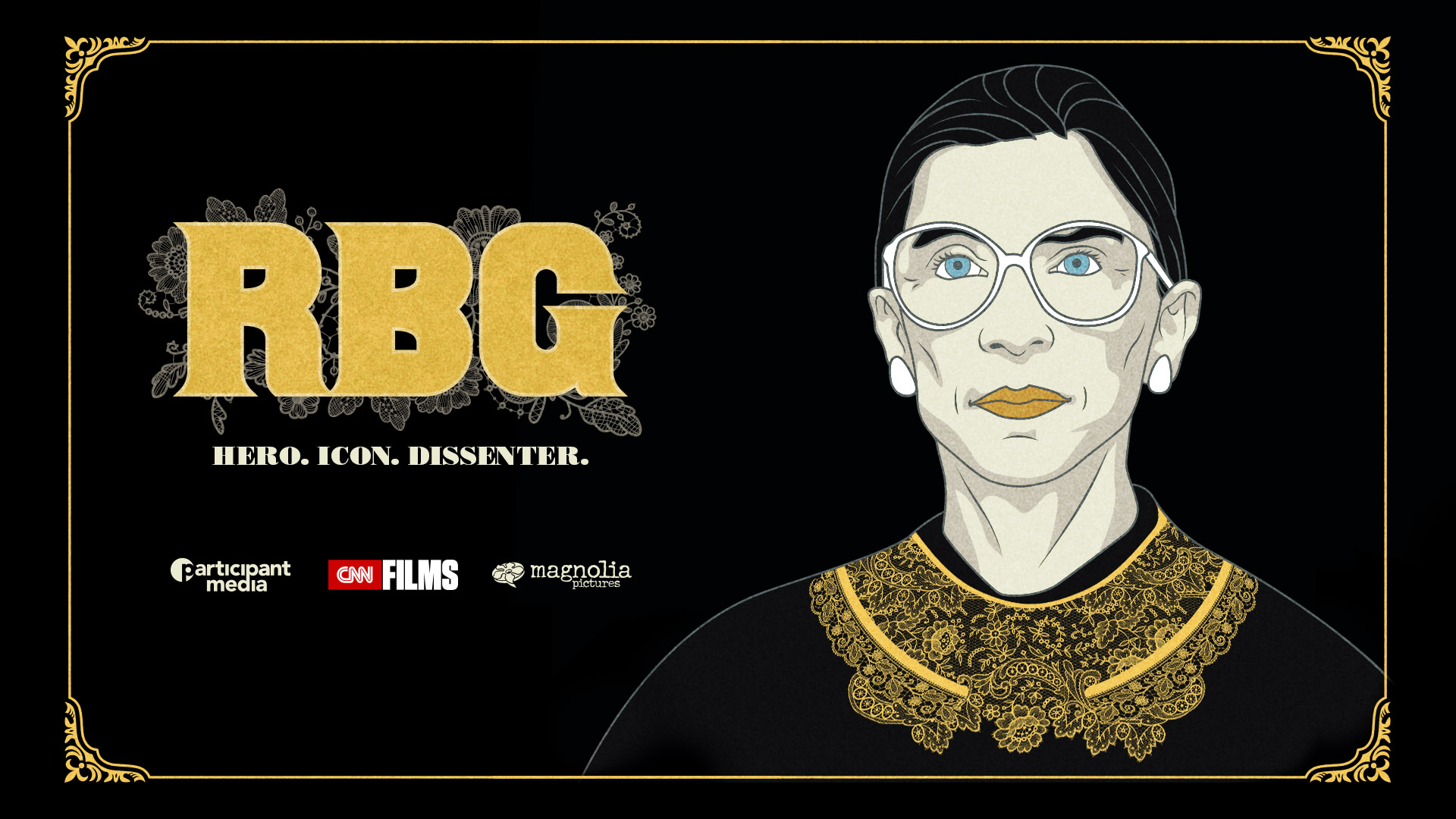 CNN Films
August 14th, 2018
CNN Films Sets North American 'RBG' Broadcast Premiere for Monday, Sept. 3
CNN content on-air, online offers multidimensional portrait of Supreme Court Justice Ruth Bader Ginsburg

CNN will premiere the critically-acclaimed 'RBG,' for television Monday, Sept. 3, at 9:00pm and 12:00am Eastern (6:00pm and 9:00pm Pacific) on CNN/U.S.  The film, directed by Betsy West and Julie Cohen, explores the singular legal legacy and life of U.S. Supreme Court Justice, and multigenerational pop culture icon, Ruth Bader Ginsburg.
"When Betsy and Julie approached us about this film three years ago, it was before many #MeToo and #TimesUp stories had risen to national attention, but there was already a deep fascination about Ruth Bader Ginsburg," said Amy Entelis, executive vice president of talent and content development for CNN Worldwide.  "We knew we wanted to help make this film to explore Ginsburg's significance to the way women live their lives today – and this exceptional film about her life has only become more relevant with the success of the film, the current interest in the Court, and continued necessary attention to workplace protections for women," said Entelis.
CNN's broadcast will present 'RBG' with limited commercial interruption, and the multiplatform distribution plan for the film includes unique digital content and an original podcast series.  The film was a sensation at the 2018 Sundance Film Festival and enjoyed a wildly successful limited theatrical run earlier this year.
Now in her 25th year of service on the U.S. Supreme Court, Ginsburg has also become an intergenerational pop culture icon.  West's and Cohen's extraordinary access for the film includes exclusive interviews with Justice Ginsburg, interwoven with never-before-seen home movies, images, and scenes from her career achievements and private life.  Ginsburg's friends, family, former litigation clients and colleagues, discuss her achievements in interviews including Gloria Steinem, NPR's Nina Totenberg, Sen. Orrin Hatch (R-UT), Lilly Ledbetter, and others.
Academy Award®, Golden Globe®, and Grammy Award®-winning actress and singer Jennifer Hudson sings "I'll Fight," a stirring anthem for 'RBG.'  The song is written and arranged by the Grammy, Emmy®, Golden Globe-winning, and 9-time Academy Award-nominated songwriter Diane Warren.
'Beyond Notorious,' the companion podcast, hosted by CNN's Poppy Harlow and Jeffrey Toobin, will release via podcasting services beginning Monday, Aug. 20.  Harlow and Toobin add context to Ginsburg's professional profile, as well as her remarkable romance with her late husband, Martin Ginsburg, whom Ginsburg credits with making her contributions to American life possible.  Interviewees for 'Beyond Notorious' include Ginsburg's granddaughter, Clara Spera; son of late Supreme Court Justice Antonin Scalia, Eugene Scalia; former Ginsburg clients (and Supreme Court plaintiffs) Stephen Wiesenfeld and Sharron Cohen; and CNN legal analysts Ariane de Vogue and Joan Biskupic.
In the weeks leading up to the film's broadcast premiere on CNN/U.S., CNN Digital will host comprehensive coverage across its platforms on the life and legacy of the Justice, from her roots in Brooklyn to her nomination to the highest court in the land. This extensive content collection, which includes photography, original video and a bonus scene from the film, will be found at CNN.com/RBG.  Social media users can connect with others commenting on the film during the premiere broadcast with the hashtag #RBGmovie.
'RBG' is directed and produced by award-winning filmmakers Betsy West and Julie Cohen and produced by Storyville Films and CNN Films.  Amy Entelis and Courtney Sexton of CNN Films executive produced the film.  Bonnie Greenberg is executive music producer for 'RBG'.  'RBG' world premiered at the 2018 Sundance Film Festival where it was acquired by Magnolia Pictures and Participant Media for worldwide theatrical, home video, and other distribution rights.
During the Sept. 3 premiere on CNN/U.S., 'RBG' will stream live for subscribers via CNNgo (www.CNN.com/go and via CNNgo apps for AppleTV, Roku, Amazon Fire, Samsung Smart TV, and Android TV) and on the CNN mobile apps for iOS and Android.  The film will be available beginning Monday, Sept. 4, on demand via cable/satellite systems, CNNgo platforms, and CNN mobile apps.  'RBG' will encore Sunday, Sept. 9 at 8:00pm and again at 10:00pm Eastern (5:00pm and again at 7:00pm Pacific) on CNN/U.S.
RBG IMAGES Courtesy of CNN Films
 About CNN Films
CNN Films, now celebrating its fifth year, produces and acquires documentary feature and short films for theatrical and festival exhibition and distribution across CNN's multiple platforms.  Amy Entelis, executive vice president of talent and content development, oversees the strategy for CNN Films; Courtney Sexton, vice president for CNN Films, works day-to-day with filmmakers to oversee projects.  For more information about CNN Films, please visit www.CNN.com/CNNFilms and follow @CNNFilms via Twitter.  Recent acclaimed CNN Films include: AMERICAN JAIL directed by Roger Ross Williams; LOVE, GILDA, directed by Lisa D'Apolito; THREE IDENTICAL STRANGERS, directed by Tim Wardle; and, JEREMIAH TOWER: The Last Magnificent, directed by Lydia Tenaglia.
About Storyville Films
Storyville Films was founded by Oren Jacoby to develop and produce documentaries and series driven by strong personal narratives of conscience, courage, and innovation.  Among Storyville's productions are SHADOWMAN (2018), MY ITALIAN SECRET (2015), MAKERS: Women Who Make America (2013), CONSTANTINE'S SWORD (2007), and SISTER ROSE'S PASSION (2004), a 2005 Academy Award nominee for Best Documentary Short.
#      #      #      #      #      #