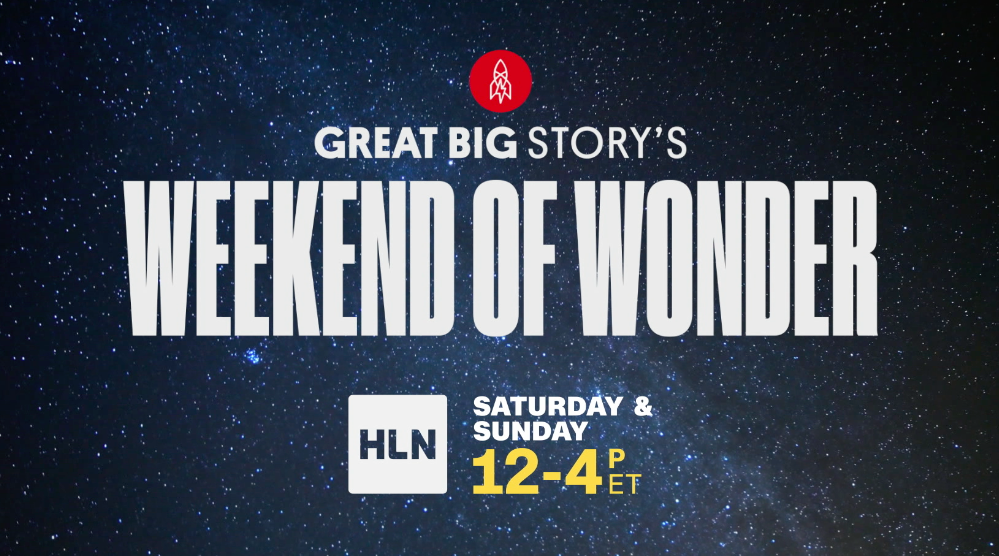 HLN
June 18th, 2018
Great Big Story Announces "Weekend of Wonder"
Great Big Story to Premiere 8-hours of Programming on HLN on June 23 and June 24 at 12:00-4:00PM/ET
This Saturday and Sunday, Great Big Story is bringing its stories to linear TV in a special weekend takeover on HLN.
CNN's Bill Weir will narrate the two-day, eight-hour marathon of videos on HLN with limited commercial interruption from award-winning global media company, Great Big Story.
Over the two-day takeover, Great Big Story and HLN will be taking viewers around the globe to visit wondrous places and introduce viewers to the trailblazers, innovators, and risk-takers that inspire us to see the good in humanity.
Viewers will experience:
Limitless – A series examining the people who refuse to be defined by their limitations and who instead set their own standard for living. (airdate: Saturday, June 23 at 3p and Sunday, June 24 at 12p)
Superheroes – A series uncovering how people are changing the world with acts of kindness. (airdate: Saturday, June 23 at 12p and Sunday, June 24 at 3p)
Animal Kingdom – A series exploring environmental responsibility and the connection and compassion we have for our animal friends. (airdate: Saturday, June 23 at 1p)
Great American Road Trip – A series taking you on a tour of the inspiring, the unknown and downright quirky places that make up the USA. (airdate: Saturday, June 23 at 2p)
Eat Like a Local – A series presenting Great Big Story's guide to the most surprising and tasty food you've probably never tried. (airdate: Sunday, June 24 at 1p)
Family Tribes – A series uncovering the families whose bonds and dynamics prove that nothing is stronger than blood. (airdate: Sunday, June 24 at 2p)
Each episode will also be available the day after premiere on HLN On Demand via cable/satellite systems, on CNNgo (at CNN.com/go and via CNNgo apps for Apple TV, Roku, Amazon Fire, Samsung SmartTV and Android TV) and on CNN mobile apps.
The 8-hour programming on HLN will be exclusively sponsored by Wells Fargo.