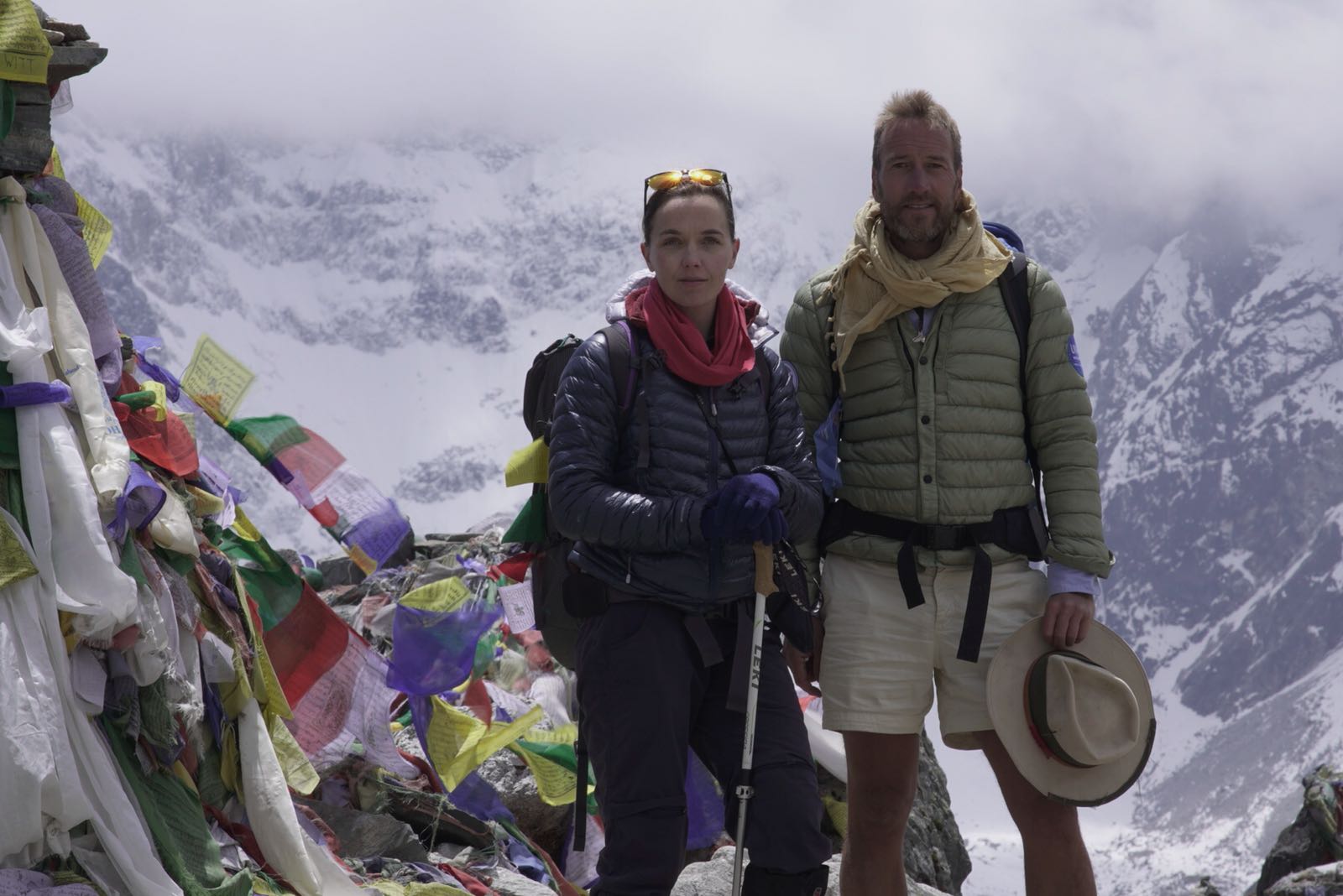 CNN International
June 15th, 2018
CNN to broadcast three-part Everest documentary
The Challenge: Everest debuts on Saturday 30th June
CNN International is to exclusively broadcast a new three-part documentary featuring British broadcaster Ben Fogle and double Olympic gold medallist Victoria Pendleton CBE, who faced one the greatest challenges of their lives attempting to reach the summit of Everest.
In a journey that captures the mental and physical toll of the 8,848-meter climb – which has claimed the lives of nearly 300 people – The Challenge: Everest accompanies Fogle and Pendleton during their six-day trek to base camp, acclimatisation on Everest and final ascent to reach the summit.
The Challenge: Everest tells the story and dangers of the six-week expedition, including the extreme weather and frequent avalanches on the South Col route from Nepal. Through revealing interviews and intimate video diaries, viewers will see Pendleton wrestling with the heart–wrenching decision whether to retire from the climb after suffering severe hypoxia at high altitude.
The documentary also captures the life-threatening moment when both Fogle and the cameraman's oxygen regulators exploded within sight of the summit, deep within Everest's so-called Death Zone.
Fogle and Pendleton were accompanied by world-renowned mountaineer Kenton Cool, who was making his 13th ascent of Everest. Together with the heroic Sherpas Ang Thindu Sherpa and Ming Dorjee Sherpa, who sacrificed their own oxygen masks and tanks to rescue Fogle and the expedition's cameraman.
Produced by CNN Vision, the in-house creative production unit of CNN International, Fogle and Pendleton were filmed by award-winning photographer Mark Fisher, an expert mountaineer in his own right. The Challenge: Everest enlists CNN's commitment to high-quality productions to capture the intensity of scaling the world's tallest mountain for a global audience.
"The Challenge: Everest is a production that aligns with CNN's core remit; to deliver incredible human stories from around the world." said Matthew Percival, Executive Producer & Commissioning Editor at CNN Vision. "Our team has filmed in so many places but Everest is a first for us, capturing the atmosphere of this most challenging of environments. Through Mark Fisher's extraordinary footage, CNN Vision has been able to share both the beauty and danger of Everest, whilst also conveying the very personal nature of Ben and Victoria's experience in Nepal."
As part of Fogle's capacity as UN Patron of the Wilderness, the team effected an 'ethical' climb, aiming to remove all the expedition's waste from the mountain and reduce environmental damage caused by visitors to Everest, 65 years after Sherpa Tenzing Norgay and New Zealander Sir Edmund Hillary made the first confirmed ascent.
Fogle and Pendleton's climb was in support of The British Red Cross and the expedition was part of the 'Anything is Possible' initiative, founded by Her Royal Highness Princess Haya, which honours the legacy of HM King Hussein I, who believed that with faith, honour and courage, anything is possible.
"The essence of The Challenge: Everest is to empower and inspire" said Ben Fogle. "The journey was a beautiful and otherworldly experience, and I'm thrilled to be able to share our adventure with viewers around the world. For me, climbing Everest was the culmination of a childhood dream, one that was made possible by the 'Anything is Possible' initiative, founded by Her Royal Highness Princess Haya, alongside Kenton Cool, Mark Fisher and the brave local people who commit their lives to help make it a reality."
The Challenge: Everest airs on CNN International at the following times (All BST):
Part One:
Saturday 30th June at 13:30, 16:30 and 20:30
Sunday 1st July at 01:30
Monday 2nd July at 04:30
Tuesday 3rd July at 10:30 and 17:30
Wednesday 4th July at 09:30
Part Two:
Saturday 7th July at 13:30 and 20:30
Sunday 8th July at 01:30
Monday 9th July at 04:30
Tuesday 10th July at 10:30 and 17:30
Wednesday 11th July at 09:30
Part Three:
Thursday 12th July at 09:30
Saturday 14th July at 08:30
Monday 16th July at 02:30
Thursday 19th July at 10:30 and 17:30
About CNN International
CNN's portfolio of news and information services is available in seven different languages across all major TV, digital and mobile platforms reaching more than 475 million households around the globe. CNN International is the number one international TV news channel according to all major media surveys across Europe, the Middle East and Africa, the Asia Pacific region and Latin America and has a US presence which includes CNNgo. CNN Digital is a leading network for online news, mobile news and social media. CNN is at the forefront of digital innovation and continues to invest heavily in expanding its digital global footprint, with a suite of award-winning digital properties and a range of strategic content partnerships, commercialised through a strong data-driven understanding of audience behaviours. Over the years CNN has won multiple prestigious awards around the world for its journalism. Around 1,000 hours of long-form series, documentaries and specials are produced every year by CNNI's non-news programming division, CNN Vision. CNN has 36 editorial offices and more than 1,100 affiliates worldwide through CNN Newsource. CNN International is part of Turner, a WarnerMedia company.

www.cnnvision.com | CNN Vision on Instagram
For more information, please contact:

Chantal Ward
Senior Press Officer, CNN International
+44 20 7693 0550
Chantal.Ward@Turner.com
Hugo Bebbington
PR Coordinator, CNN International
+44 20 7693 1737
Hugo.Bebbington@Turner.com