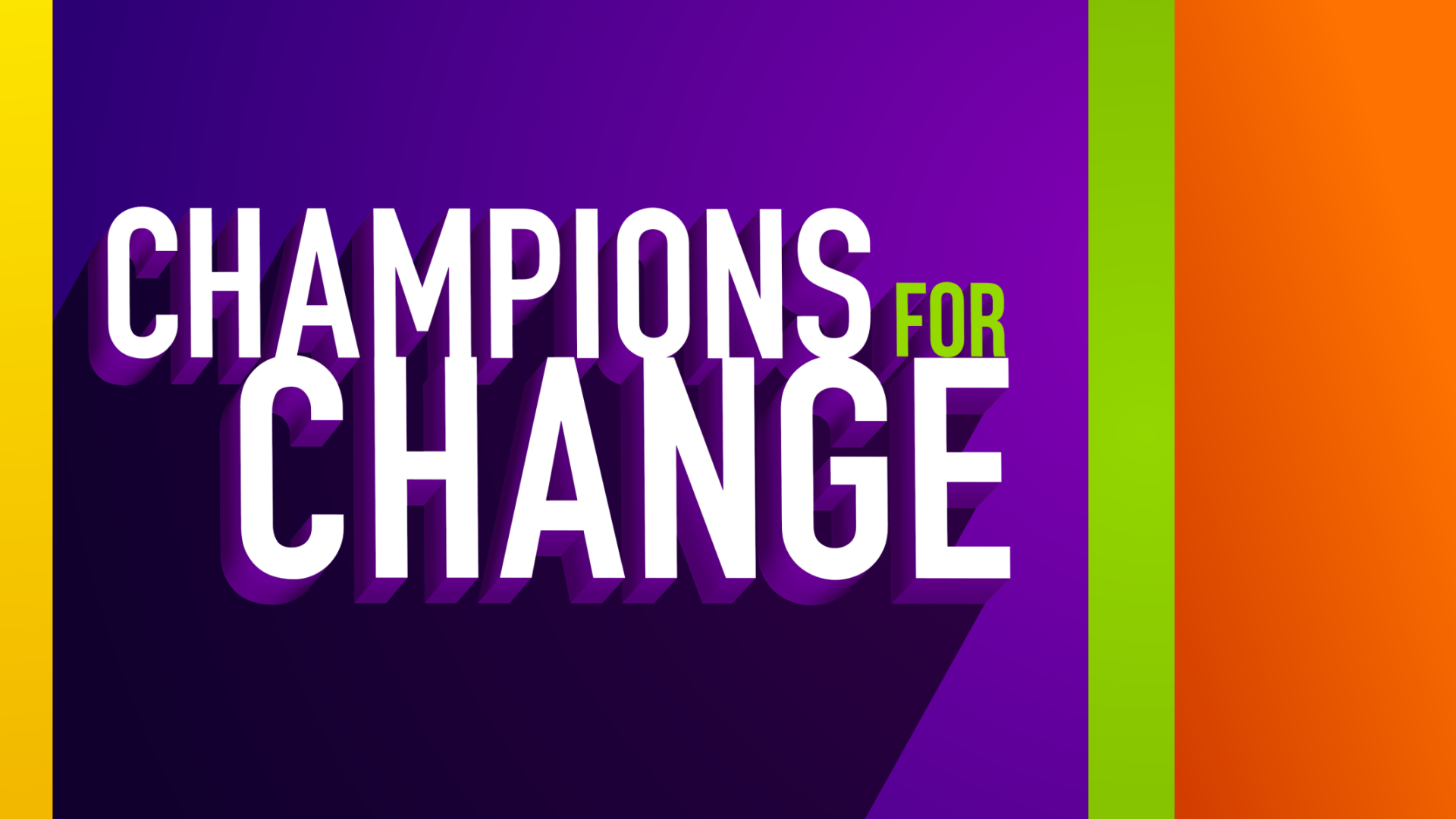 CNN Special Programming & Documentaries
June 14th, 2018
CNN Anchors Celebrate The Change Makers Positively Impacting The Lives Of Others
  "Champions for Change" – a special week-long event – will begin airing on Sunday, June 17th across CNN, with a one-hour special hosted by Dr. Sanjay Gupta airing on Saturday, June 23rd at 8pm ET.
Beginning on Sunday, June 17th, CNN will air Champions for Change, a week-long special event. CNN journalists highlight issues close to their hearts, and work alongside people dedicated to creating change.
Anchors Brooke Baldwin, John Berman, Wolf Blitzer, Kate Bolduan, Erin Burnett, Ana Cabrera, Alisyn Camerota, Anderson Cooper, Don Lemon, Fredricka Whitfield along with chief medical correspondent Dr. Sanjay Gupta and Bill Weir, take us around the world and into the hearts of these men and women and their extraordinary stories.
Champions for Change will air as individual segments across CNN programming throughout the week, culminating in a one-hour, prime-time special highlighting the series' best moments, hosted by Dr. Sanjay Gupta on Saturday, June 23rd at 8pm ET.  Below are highlights from the series.
BROOKE BALDWIN
CNN's Brooke Baldwin explores the final frontier with eager teens through the U.S. Space and Rocket Center Education Foundation in Alabama. For decades, the acclaimed space camp has inspired young minds to pursue careers in science. Brooke returns to the camp she attended  at 12 years old to spotlight another alumna who now works for NASA and serves as a role model to girls reaching for the stars.  (airs June 18th at 2pm ET)
JOHN BERMAN
The West End House in Boston is a special place for CNN's New Day anchor John Berman. It was founded in 1906 to keep immigrant boys from Russia, Poland and other European countries off the streets. Back then, it was John's great-uncles who needed help. Now it offers a home away from home to the new immigrant and underserved communities—a place where boys and girls can find support and a promising path forward.  (airs June 19th at 8am ET)
WOLF BLITZER
CNN Situation Room anchor Wolf Blitzer takes us through his mother's final struggle with dementia and profiles a cutting-edge researcher who may spare other families similar pain. At the Alzheimer's Drug Discovery Foundation, Wolf gets hands-on experience in a study seeking to block Alzheimer's disease with gene therapy. (airs June 19th at 5pm ET)
KATE BOLDUAN
CNN anchor and mother of two Kate Bolduan discovers the heartbreaking state of maternity care in the United States. Kate meets some extraordinary mothers determined to solve the crisis through their work with Christy Turlington Burns's non-profit Every Mother Counts. With compassion and stethoscopes, these women won't rest until every mother has adequate care during their pregnancies and birthing processes. (airs June 18th at 11am ET)
ERIN BURNETT
Erin Burnett examines domestic violence, a scourge affecting one in four women. She introduces us to 23-year-old "Denise", a heroic mother of two who escaped her abuser on Christmas Eve and found safety through an organization called Safe Horizon.  (airs June 19th at 7pm ET)
ANA CABRERA
Ana Cabrera's youngest brother battled brain cancer when he was just 10 years old. That experience led Ana to Candelighters NYC, an organization fulfilling wishes and providing simple comforts for families afflicted with childhood cancer. She shares how founder Barbara Zobian turns "crappy into happy." (airs June 17th at 6pm ET)
ALISYN CAMEROTA
A smile conveys a lot about a person's identity, which is why Operation Smile is so important to New Day anchor Alisyn Camerota.  This international charity provides desperately needed surgery and care to children with cleft palates. Alisyn travelled to Bogota, Columbia to spotlight the volunteers who transform the lives of children and their families through life-changing operations.  (airs June 18th at 8am ET)
ANDERSON COOPER
Eight years ago an earthquake killed hundreds of thousands of people in Haiti and left thousands of children without families.  Anderson Cooper goes back to Haiti with Dr. Jane Aronson, founder of World Wide Orphans, to see how her programs help these kids through education and play.  Most orphans around the world will never be adopted, so World Wide Orphans aims to improve their circumstances. Anderson works alongside Dr. Aronson for a day, playing and bonding with these kids and witnessing the joy Dr. Aronson brings to their lives.  (airs June 18th at 8pm ET)
DR. SANJAY GUPTA
Here in the United States – the richest country on Earth – 1 in 8 people struggles with hunger. At the same time, by some estimates, 40% of the food in this country goes to waste. Dr. Sanjay Gupta works alongside the Champions for Change at Feeding America, who are trying to recover wasted food at every point in the supply chain and get it to the people who need it most.  (airs 6/20 at 8pm ET)
DON LEMON
CNN anchor Don Lemon introduces us to Oliver Scholars, a program that gives high-potential students in low socio-economic neighborhoods a chance to reach their full potentials. Oliver Scholars frequently move on to Ivy League colleges and other elite institutions. Don meets several students working their way through the demanding program and introduces us to one graduate now giving back as 'Director of Guidance' at Oliver Scholars.  (airs June 19th at 10pm ET)
BILL WEIR
CNN's Bill Weir hits the streets of Manhattan with some kind souls determined to end homelessness. With innovative public/private funding and relentless outreach, Urban Pathways moves homeless people and addicts into affordable apartments of their own, greatly increasing their odds of recovery while lowering the financial burden on society. We follow along as outreach teams approach the hardest cases, and share the joy when worthy clients get keys to their new lives.  (airs June 21st at 8am ET)
FREDRICKA WHITFIELD
Equine therapy – horses—can play a key role treating neurological and psychiatric conditions. It is gaining popularity among veterans suffering PTSD.  Fredricka Whitfield returns to her horseback riding roots and meets a champion who is opening her heart and barn to help veterans.  (airs June 17th at 3pm ET)
Champions for Change will stream live for subscribers on Saturday, June 23rd at 8pm ET via CNNgo (at CNN.com/go and via CNNgo apps for Apple TV, Roku, Amazon Fire, Samsung Smart TV and Android TV) and on the CNN mobile apps for iOS and Android. It will also be available the day after the broadcast premiere on demand via cable/satellite systems, CNNgo platforms and CNN mobile apps.