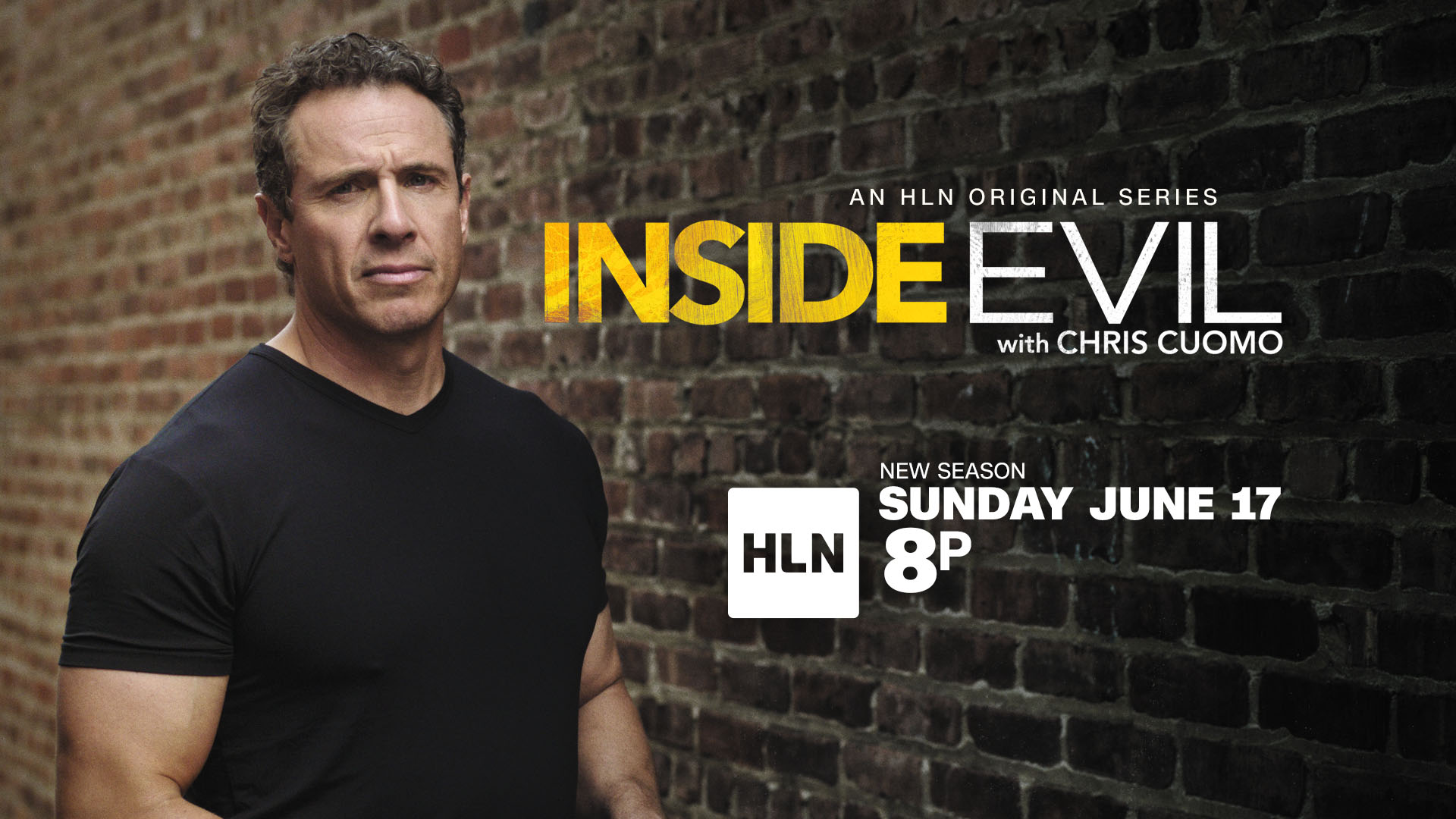 HLN Press Releases
May 22nd, 2018
"Inside Evil with Chris Cuomo" on HLN Delves into the Psychology of Murder and Mayhem
New Five-Part Investigative Series Premieres June 17
Episodes Take Viewers Inside the Country's Most Dangerous Minds
Series Trailer: https://bit.ly/2IZNyij
"The Mind of a Serial Killer" Trailer: https://bit.ly/2KJXXvV
NEW YORK (May 22, 2018) – Inside Evil with Chris Cuomo takes viewers inside the country's most dangerous minds in a new series premiering Sunday, June 17 at 8pm ET/PT, only on HLN. The five-part investigative series led by CNN anchor Chris Cuomo explores the psyche of these criminal offenders and the impact of nature vs nurture on their violent behavior.
Cuomo dives deep through on-the-ground interviews with serial killers who committed heinous acts, and behavioral scientists and criminal psychologists who studied these monsters. He sits down with New York City mass murderer Joel 'The Ripper' Rifkin and the manipulative and the ex-wife of podcast-famed John Meehan, nicknamed 'Dirty John,' to get the aggressors' outlier perspectives, and meets with survivors of domestic violence and rape to hear their stories of strength.
"We wanted to focus on true crime," said Cuomo. "And this series will hone in on the psychology of evil and try to understand how the most dangerous minds in the world work."
Inside Evil with Chris Cuomo is an HLN Original Series and part of the network's internally developed programming dedicated to true crime, mysteries and investigations under the direction of CNN Original Series. Cuomo's documentary series leads up to the life or death medical mystery mysteries featured in Something's Killing Me with BD Wong (season two; airdate: Sunday, July 22) and retrospective of the greatest celebrity tragedies and criminal cases in How It Really Happened with Hill Harper (season three; airdate: Sunday, October 7.) How It Really Happened kicks off with a special three-part episode on the twisted, ritualistic murders of serial killer Ted Bundy and features one-hour on the life and shocking death of pop star Selena Quintanilla-Pérez.
Viewers can tune into the series on HLN and catch up on previously aired episodes on HLN On Demand and CNNgo, one day after their original airdates.
Following are Inside Evil with Chris Cuomo episode descriptions and premiere dates: 
The Mind of a Serial Killer (airdate: June 17)
Cuomo goes inside a maximum-security prison for an exclusive interview with one of America's most notorious serial killers, Joel Rifkin. Cuomo is Rifkin's mind-hunter, asking him tough questions about his sordid sex life, why he brutally murdered 17 women and how he was eventually caught.  Beyond the horrors of the killings themselves, Cuomo tries to understand what motivated Rifkin, who is serving more than 200 years for his grizzly yet methodical crimes.
The Anatomy of a Rape (airdate: June 24)
Julie was abducted from her church parking lot by a stranger. Gabrielle was attacked as she walked home from work alone at night after the Uber app on her phone malfunctioned.  Despite the growing attention on sexual assault, an alarming number of rapes go unpunished; more than 98% of the time the perpetrators never spend a single day in prison. Cuomo hears the firsthand accounts of rape survivors and examines what hurdles they face to get justice.
Doctor Love (airdate: July 1)
When Debra Newell clicked on John Meehan's online dating profile, she thought she'd finally found the perfect man. He said he was a doctor who volunteered his services in Iraq, but as their relationship grew, Debra began to have an uneasy feeling. Cuomo unravels the twisted tale of what happened to Debra when her promising love story went horribly wrong and somebody ended up dead.
Til Death Do Us Part (airdate: July 8)
Three women a day are killed by a former or current husband or boyfriend.  Nicole Beverly is desperately trying to avoid that fate. When she met her husband in college he was a football star and they were in love. She never imagined the relationship would turn violent and he would end up holding a gun to her head. Kevin is in prison for his violent attacks on her. Now his release date is coming up and a judge will decide if he should go free. Cuomo follows Nicole as she goes through the court system, trying frantically to keep him behind bars. If he gets out, she is convinced he will kill her…so she is prepared to go on the run and into hiding with her two sons. Cuomo goes inside the epidemic of intimate partner violence that can turn lethal for so many women.
The Killer Twins (airdate: July 15)
Like most identical twins, the Spahalski brothers have a lot in common… but they may be the only identical twins who have both separately committed murder. Cuomo meets face-to-face with Robert Spahalski inside a maximum-security prison where he's serving 100 years to life for four murders. The host confronts him with details of his crimes and tries to glean insight into the cause of his murderous urges. Could the desire to kill be a genetic trait?  Cuomo tries to find some answers to the age-old question of nature versus nurture.
About HLN Original Series
Amy Entelis, executive vice president of talent and content development, CNN Worldwide, oversees CNN Original Series and HLN Original Series. Nancy Duffy, vice president of program development for CNN, supervises production of internally-produced HLN Original Series, and Lizzie Fox, vice president of current programming, CNN Original Series, supervises production of commissioned HLN Original Series.
About HLN
HLN features live coverage of national, regional, lifestyle, and entertainment stories in a fast-paced approachable tone with expert-led, personality driven hosts by day. The network presents a combination of live and unscripted programming dedicated to true crime, mysteries and investigations by night. HLN is a CNN Worldwide network reaching more than 90 million households in the U.S. CNN Worldwide, a division of Turner Broadcasting System, Inc., a Time Warner Company, is the most trusted source for news and information.