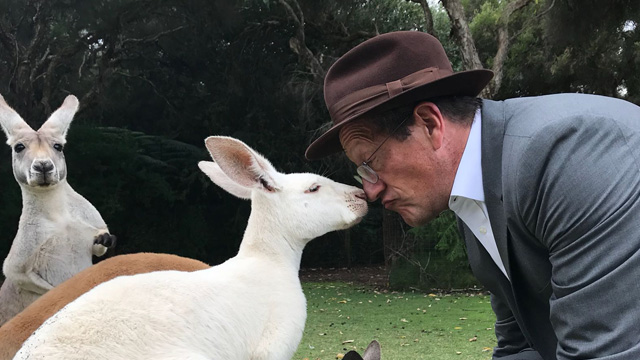 CNN International
April 25th, 2018
CNN 'Business Traveller': Richard Quest Explores the Kangaroo Route
Seven decades after Qantas first inaugurated the historic Kangaroo Route it has launched the first-ever nonstop commercial flight connecting Australia to the UK. A trip that originally took 4 days and 7 stops to complete in 1947, can now be flown in just one hop.
Each month, CNN's Richard Quest gets inside the world of the business traveller, exploring the issues, trends and lifestyle of the travelling executive. This month he journeys the historic Kangaroo Route both ways – stepping back in time as it was in 1947 by making stops along the old route, and on board the Qantas 17+ hour nonstop flight from Perth to London.
CNN Business Traveller will make this journey over two episodes and this month, in part one, the program will see host Richard Quest on board the inaugural Qantas nonstop from Perth to London. The 17+ hour trip is re-imagined, from food to the flight experience to methods which can help minimize jet lag. The ultra-long haul has evolved and CNN Business Traveller will explore why it's not only possible now, it's also profitable.
Simultaneously, the program will see Richard Quest don 1940s clothing and make stops along the old Kangaroo Route. An overnight in Singapore will explore the city state's pivotal role in aviation history and a visit to India's financial capital Mumbai provides an authentic taste of what the cosmopolitan city offers its international travellers.
'CNN Business Traveller' is produced by CNN Vision, the global creative production powerhouse of CNN International, which brings the world's breath-taking diversity into cinematic focus, telling stories that inspire audiences around the world.
'Business Traveller' microsite: http://edition.cnn.com/travel/specials/business-traveller
'Business Traveller: Kangaroo Route part 1' trailer: https://cnn.it/2qLCH0W
'Business Traveller' Kangaroo Route part 1 images: https://bit.ly/2HmPfGE
Airtimes for 30-minute special
Saturday, 28th April at 1330 HKT
Sunday, 29th April at 0230 and 1930 HKT
Monday, 30th April at 0530 and 1630 HKT
Tuesday, 1st May at 1730 HKT
Wednesday, 2nd May at 0030 HKT