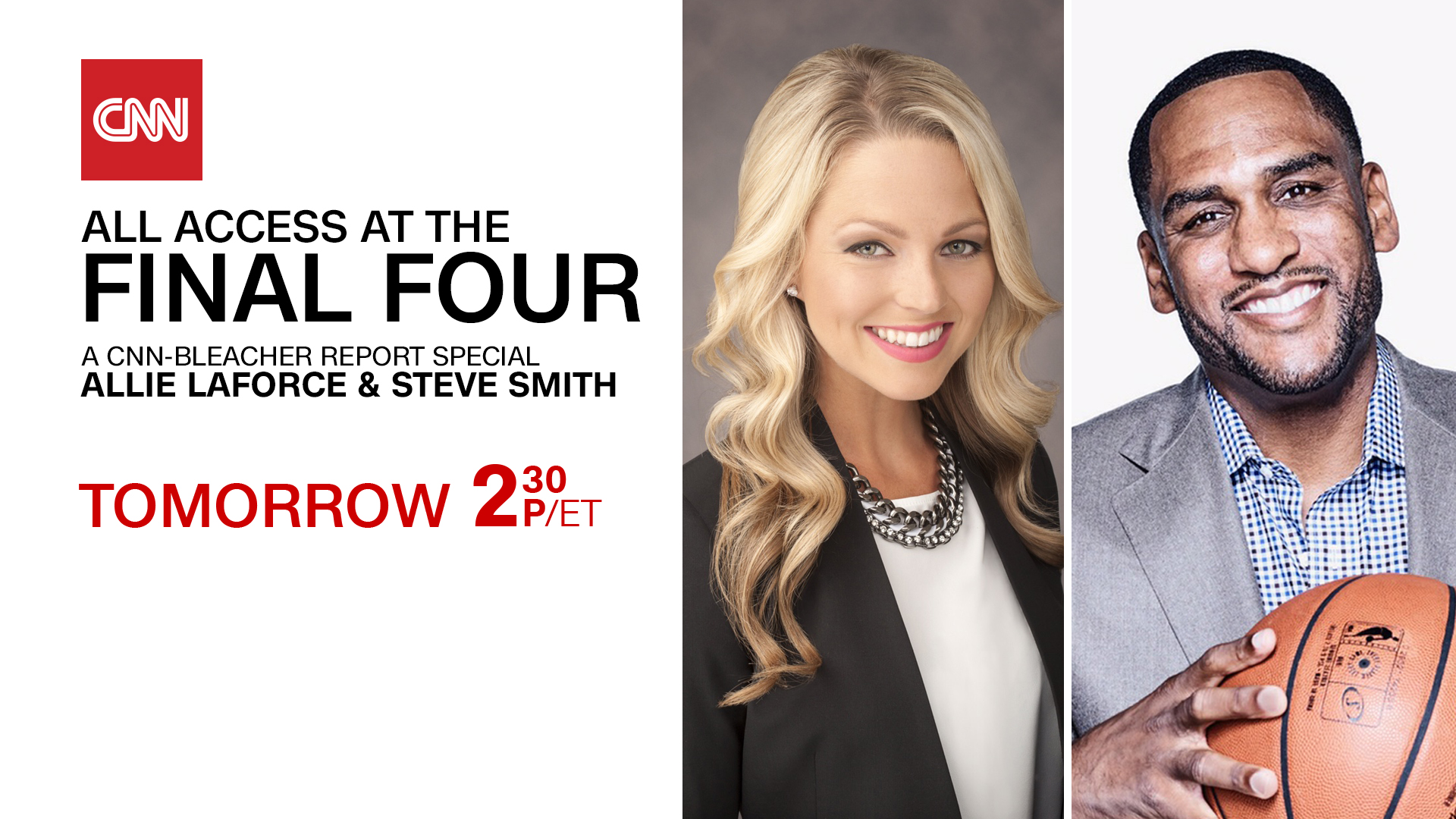 CNN
March 30th, 2018
CNN PRESENTS "All Access at the Final Four: A CNN-Bleacher Report Special"
Hosted By Turner Sports Anchor Allie LaForce and Turner Sports Analyst Steve Smith 
Airs Saturday, March 31 at 2:30PM/ET 
From the heart of March Madness celebrations at the Alamodome in San Antonio, join Turner/CBS Sports Anchor Allie LaForce and Turner Sports Analyst Steve Smith as they lead our all access coverage of the NCAA Final Four. CNN takes you inside this American phenomenon with a behind-the-scenes look at the event, the personalities and the celebration that extends far beyond the court. 
The half-hour program will focus on the NCAA Final Four teams – Loyola-Chicago, Kansas, Villanova and Michigan – featuring key moments from the tournament players and coaches with contributions by NCAA.Com Correspondent Andy Katz and CNN Sports Correspondents Coy Wire and Andy Scholes from San Antonio.
In addition to tournament news, CNN will highlight the INFINITI Hardwood Heroesbasketball game, a collaboration between the American Cancer Society and National Association of Basketball Coaches to raise money during March Madness. Also joining he broadcast is coach Ryan Odom from University of Maryland Baltimore County, the number 16 seed that beat number one seed Virginia in the biggest NCAA Tournament upset of all time, as well as the unlikely breakout star of the NCAA Tournament, Loyola's 98-year-old chaplain, Sister Jean.
"All Access at the Final Four: A CNN-Bleacher Report Special" airs on CNN, Saturday, March 31 at 2:30PM/ET.