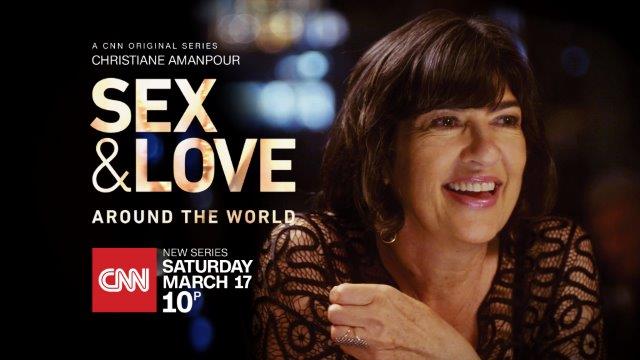 CNN Original Series
February 14th, 2018
New CNN Original Series "Christiane Amanpour: Sex & Love Around the World" Debuts Saturday, March 17
TRAILER: https://cnncm.tv/sexandlove
The new six-part CNN Original Series, Christiane Amanpour: Sex & Love Around the World, premieres Saturday, March 17, at 10 p.m. ET/PT. Having built an illustrious career interviewing global power players and reporting from war-torn countries, renowned journalist Christiane Amanpour is now turning her gaze to the shifting landscapes of intimacy, love, and pleasure in an increasingly complex world.
Amanpour traveled to Asia, Africa, Europe, and the Middle East, to meet everyday individuals who are shaping the idea of modern love. Whether single and dating in Accra, married and sexless in Tokyo, inspired by ancient erotica in Beirut, or transgender in Shanghai — women and men are all pushing the boundaries on sexual satisfaction, consent, and connection.
"I've long been an admirer of Christiane's brilliant work as a journalist, and was thrilled to have the opportunity to work with her on this project," said executive producer Anthony Bourdain. "Between Christiane's deep and broad experience as an incisive, experienced and empathetic reporter, who has worked all over the world, her genuine passion for this project and Zero Point Zero's proven ability to execute just this type of global content, Sex and Love Around the World represents some of the best of what CNN Original Series can do."
"We jumped at the chance to work with Christiane Amanpour," said ZPZ Co-Founder, Lydia Tenaglia. "She has been a powerful female voice in media for decades and the idea of exploring this important global topic though her unique lens felt like the perfect fit. All six episodes of this groundbreaking series were helmed by women, reflecting an accomplished and international mix of British, Danish, Israeli, Scottish, and Korean-American directors."
Sex & Love Around the World is produced by Zero Point Zero with executive producers Anthony Bourdain, Lydia Tenaglia, Christopher Collins, Joe Caterini, Anna Chai, Amy Entelis and Lizzie Fox.
Christiane Amanpour is CNN's chief international correspondent and anchor of AMANPOUR, which airs weekdays on CNN International and PBS. Her distinguished career in journalism spans over three decades. Amanpour's reporting began in 1990 as a correspondent for CNN where she reported on international crisis in the Gulf War, Iraq, Afghanistan, North Korea, Palestinian territories, Iran, Sudan, Israel, Pakistan, Somalia, Rwanda, the Balkans, Egypt, Libya.  She has interviewed most of the top world leaders over the past two decades and Amanpour has earned every major television journalism award including eleven News and Documentary Emmy Awards, four Peabody Awards, two George Polk Awards, three duPont-Columbia Awards and the Courage in Journalism Award. Amanpour has been awarded a CBE by Queen Elizabeth II, she is an honorary citizen of Sarajevo and a UNESCO Goodwill Ambassador for Freedom of the Press and the Safety of Journalists.
Sex & Love Around the World will also stream live for subscribers on March 17 via CNNgo (at CNN.com/go and via CNNgo apps for Apple TV, Roku, Amazon Fire, Samsung Smart TV and Android TV) and on the CNN mobile apps for iOS and Android. The series will also be available the day after the broadcast premiere on demand via cable/satellite systems, CNNgo platforms and CNN mobile apps.
Christiane Amanpour: Sex & Love Around the World will regularly air Saturdays at 10 p.m. ET/PT on CNN.
About Zero Point Zero
Zero Point Zero Production, Inc. is a television, film, print and digital content company founded in 2003 by Executive Producers Chris Collins and Lydia Tenaglia, with partner and Managing Director Joe Caterini joining in 2009. Since its inception, the company has produced hundreds of hours of documentary content in over 100 countries around the world, including the critically-acclaimed, Emmy & Peabody Award-winning series Anthony Bourdain: Parts Unknown (CNN); the Emmy Award-winning The Mind of a Chef (Netflix) and Emmy-nominated The Hunt with John Walsh (CNN). Feature documentary credits include: Jeremiah Tower: The Last Magnificent (dist. by The Orchard); WASTED! The Story of Food Waste (dist. by Neon Super LTD); Stars in the Sky: A Hunting Story; and Fermented.
About CNN Original Series
The CNN Original Series group develops non-scripted programming for television via commissioned projects, acquisitions and in-house production. Amy Entelis, executive vice president of talent and content development, oversees CNN Original Series and CNN Films for CNN Worldwide.  Lizzie Fox, vice president of current programming, supervises production of all CNN Original Series.
###