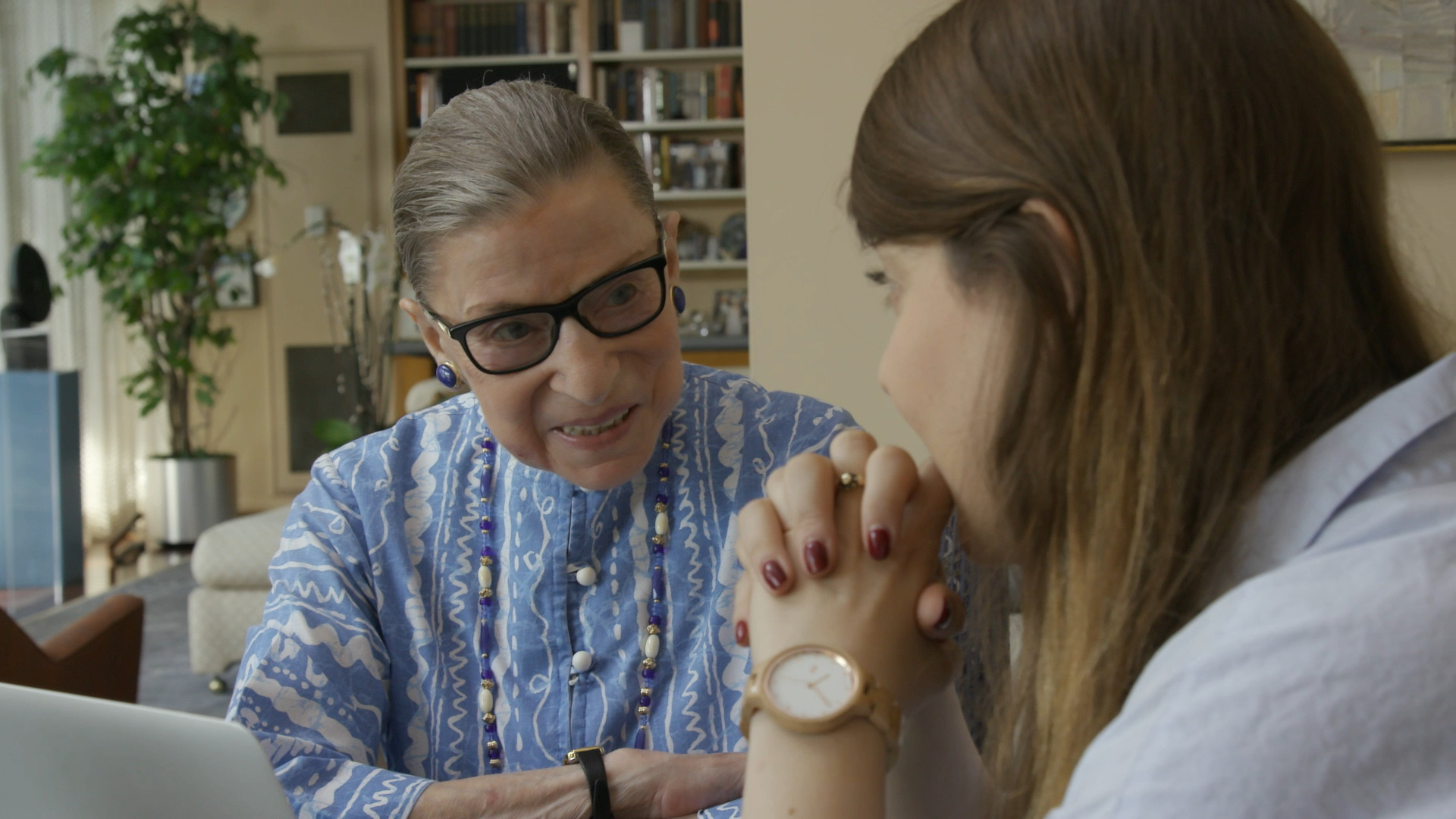 CNN Films
January 24th, 2018
Magnolia Pictures and Participant Media Acquire Rights for 'RBG' from CNN Films at Sundance Film Festival
Participant and Magnolia to share worldwide theatrical, home video, SVOD, and international TV broadcast rights;
CNN Films to have U.S. broadcast rights
Park City, UT – RBG, the 2018 Sundance Film Festival sensation produced by CNN Films and Storyville Films about the consequential life and legal legacy of Supreme Court Justice Ruth Bader Ginsburg, has been acquired from CNN Films by Magnolia Pictures and Participant Media for worldwide distribution, including theatrical, home video, SVOD, and international television.  CNN Films has U.S. broadcast rights to RBG.  The film is directed and produced by award-winning filmmakers Betsy West and Julie Cohen of Storyville Films.
"RBG is an incredibly inspirational film about a supremely inspirational woman," said Eamonn Bowles, president of Magnolia Pictures.  "Betsy and Julie have done a phenomenal job highlighting Justice Ginsburg's tremendous effect on all of our lives.  I cannot wait to show it to my daughters."
Diane Weyermann, president of documentary film and television for Participant Media, said, "Justice Ginsburg is an extraordinary woman with an amazing story that is shared so beautifully in RBG, and the film presents a vital opportunity to encourage public discourse on the persistent barriers in achieving gender parity, as well as to help accelerate continued institutional policy changes necessary to overcome those barriers."
"We couldn't be more thrilled to partner with Magnolia and Participant to bring Ruth Bader Ginsburg's story to theaters around the world, particularly during this historic moment for women's equality," said Amy Entelis, executive vice president for talent and content development for CNN Worldwide.
"This dream combination of partners will build upon the excitement that already surrounds RBG – the woman and the film," said directors West and Cohen. "We are honored to have the opportunity to tell her remarkable story."
The film is told through the voices of Ginsburg's family and friends, former clients and colleagues, her close friend and NPR legal affairs correspondent Nina Totenberg, and historic figures whose paths she has crossed, including the son of her close friend and Supreme Court colleague, the late Antonin Scalia.  Throughout, interviews with Justice Ginsburg herself add poignant layers to the images and never-before-seen personal home movies that reveal a mostly unknown life of personal challenges, incredible discipline, and a touching, decades-long romance with her husband, the late Martin Ginsburg.
Denied opportunities for employment at prestigious law firms following graduation at the top of her class at Columbia Law School, Ginsburg shaped a legal career around righting injustices for women and minorities.  "She's the closest thing to a superhero I know," says Gloria Steinem early in the film, referencing Ginsburg's successful Supreme Court litigation that expanded Constitutional rights for women.
Now at the age of 84, approaching the 25th anniversary of her elevation to the U.S. Supreme Court, Justice Ginsburg has, in recent years, also become an unexpected, intergenerational pop culture icon.  West's and Cohen's extraordinary access for the film includes footage of Justice Ginsburg spending time at home with her granddaughter, rehearsing for a speaking role with the Washington National Opera, and even lifting weights and doing pushups and planks with her long-time trainer.
While vérité scenes and archival news footage illustrate Ginsburg's career and personal highlights, expert editing weaves Ginsburg's speeches, writings, and Supreme Court arguments to round out her historic impact on American life.  What emerges is the definitive documentary portrait of Ginsburg: a complex jurist, scholar, opera lover, wife, mother, daughter, and fierce citizen.
For Participant Media, today's news of the acquisition complements last year's announcement of the pending release of On the Basis of Sex, a narrative feature film based on Ginsburg's early professional life.  On the Basis of Sex and RBG represent a doubling down by Participant on stories highlighting the urgent need for gender parity.  Participant will launch a social impact campaign alongside the two films, highlighting the critical role of law in building a more equitable society.
Said David Linde, CEO of Participant, "Great films are a proven means of raising awareness and galvanizing action, and the more often you can do it, the more positive impact you have on the world.  And when a beautiful film like RBG comes around, and with such great partners, you jump on the chance to be involved.  We are so appreciative to Betsy, Julie, and CNN Films for their trust in bringing on Participant, and our great friends at Magnolia."
The deal announced today was negotiated by Stacey Wolf, vice president of business affairs, and Kelly MacLanahan, senior counsel, for CNN Worldwide, and John and Eric Sloss of Cinetic Media, on behalf of CNN Films.  For Magnolia Pictures, the deal was negotiated by co-executive vice president Dori Begley, senior vice president of acquisitions John Von Thaden, and head of business affairs Sarah Hack.  For Participant Media, the deal was negotiated by Gabriel Brakin, general counsel and executive vice president of business affairs.  RBG is co-produced by Storyville Films and CNN Films.  In addition to directing the film, West and Cohen are also producers of RBG.  RBG is executive produced by Entelis and Courtney Sexton, vice president of CNN Films.  The film's editor is Carla Gutierrez.
#   #   #
ART   http://bit.ly/2E2MMMM   (download images and caption/image details from this link)
About Magnolia Films
Magnolia Pictures is the theatrical and home entertainment distribution arm of the Wagner/Cuban Companies, a vertically-integrated group of media properties co-owned by Todd Wagner and Mark Cuban that also includes the Landmark Theatres chain and AXS TV.  Recent releases include Raoul Peck and James Baldwin's Oscar-nominated I AM NOT YOUR NEGRO; LUCKY, John Carroll Lynch's directorial debut starring iconic character actor Harry Dean Stanton; Cannes Palme d'Or winner and Oscar-nominated THE SQUARE, Ruben Östlund's darkly humorous drama set against the backdrop of the international art world; and Best Foreign Language Film Golden Globe winner IN THE FADE, Fatih Akin's riveting revenge drama starring Cannes Best Actress Award winner Diane Kruger.
About Participant Media
Founded in 2004 by Jeff Skoll, Participant Media's (www.participantmedia.com) content combines the power of a good story well told with opportunities for real world impact and awareness around the most pressing global issues of our time. As an industry content leader, Participant annually produces up to six narrative feature films, five documentary films, three episodic television series, and more than 40 hours of digital short form programming, through its digital subsidiary SoulPancake—all aimed at entertainment that inspires social awareness and engaging audiences to participate in positive social change. Participant's content and social impact mandate speaks directly to the rise of today's "conscious consumer," representing over 2 billion consumers who are compelled to make impactful content a priority focus. Through its worldwide network of traditional and digital distribution, aligned with partnerships with key non-profit and NGO organizations, Participant is positioned uniquely within the industry to engage a rapidly growing audience while bringing global awareness and action to today's most vital issues. Participant's more than 75 films, including Spotlight, Contagion, Lincoln, The Help, He Named Me Malala, The Look of Silence, CITIZENFOUR, Food, Inc. and An Inconvenient Truth, have collectively earned 52 Academy Award® nominations and 11 wins, including Best Picture for Spotlight. Participant's digital entertainment division, SoulPancake (www.soulpancake.com), is an award-winning provider of thought-provoking, joyful, and uplifting digital content including such widely popular series as Kid President and The Science of Happiness and reaches an audience of nearly 9 million fans. Follow Participant Media on Twitter at @Participant and on Facebook and Instagram. Follow SoulPancake on Twitter @soulpancake and on Facebook and Instagram.
About CNN Films
CNN Films, in its fifth year, produces and acquires documentary feature and short films for theatrical and festival exhibition and distribution across CNN's multiple platforms.  Amy Entelis, executive vice president of talent and content development, oversees the strategy for CNN Films; Courtney Sexton, vice president for CNN Films, works day-to-day with filmmakers to oversee projects.  For more information about CNN Films, please visit www.CNN.com/CNNFilms and follow @CNNFilms via Twitter.
-30-