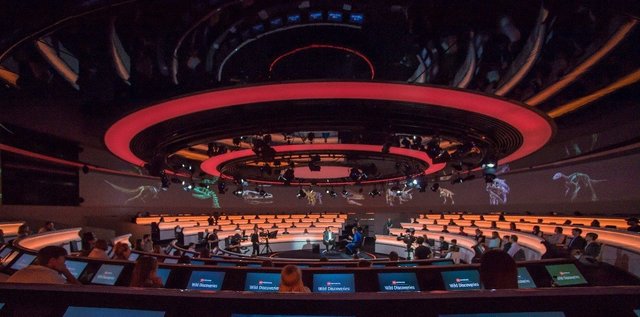 CNN International
December 7th, 2017
CNN International Programming Highlights – December
This month's programming highlights on CNN International, including a half hour special of Judo World and shows such as CNN Business Traveller, Living Golf and CNN Inspirations:
CNN Inspirations
CNN Inspirations: Unseen Earth
Friday 15th December at 0900 GMT
Saturday 16th December at 2100 GMT
Sunday 17th December at 0200 GMT and 1100 GMT
Tuesday 26th December at 1600 GMT
CNN Inspirations: Back to the Future
Friday 29th December at 0900 GMT and 1600 GMT
Saturday 30th December at 2100 GMT
Sunday 31st December at 0200 GMT and 1100 GMT
Filmed at the McLaren Thought Leadership Centre, CNN Inspirations explores technology and innovation. This December, two hour-long special programmes, 'Unseen Earth' and 'Back to the Future', will explore our world today and the world of the future.
The first of the two programmes, 'Unseen Earth', features three guests who reveal the incredible places and things that are only visible under the most powerful microscopes, the largest satellites, and buried deep beneath our feet.
'Back to the Future' brings the world's leading Futurologists (and Sophia, a talking AI robot) in front of an audience of young people to explore the major developments in transport, communication, food, fashion and robotics.
---
Living Golf: 2017 Year in Review
Saturday 9th December at 0730 GMT and 2230 GMT
Sunday 10th December at 1730 GMT
Saturday 16th December at 1730 GMT
Sunday 17th December at 0730 GMT and 2230 GMT
This month, Living Golf analyses the stories covered in 2017, paying particular attention to the ten current or former world number one ranked players featured on the show this year. From Tiger Woods to Nick Faldo to Rory McIlroy, the programme has caught up with each of them at very different stages of their careers.
Also in the programme, host Shane O'Donoghue spends time with 2017 Masters Champion Sergio Garcia in his Spanish homeland. They reflect on his memorable year that saw him win his first Major, get married and announce the arrival of his first child next year.
Living Golf also looks ahead to the future of the game, profiling the AJGA's Rolex Tournament of Champions in Florida. Finally, the programme meets two new stars in professional golf, Jordan Smith and Angel Yin, to find out what they learned and experienced in their standout rookie seasons on their respective tours.
---
CNN Business Traveller
Saturday 23rd December at 2130 GMT
Sunday 24th December at 0230 GMT and 1030 GMT
Monday 25th December at 0630 GMT and 1630 GMT
Wednesday 27th December at 1430 GMT and 2100 GMT
In this month's episode of CNN Business Traveller, Richard Quest explores China's air travel revolution and how this is having a global transformative impact.
China has overtaken the United States as the world's biggest business travel market.  As part of that travel boom, Chinese airlines are quickly spreading their wings and routes to become major players internationally.
The programme examines these behemoth Chinese carriers about which so little is known. Quest puts their international service to the test, scrutinising what's on offer for the road warrior and how they compare to the competition. The programme also looks at the Chinese game changers that are putting more cash and airlines miles in the pockets of budget-minded business travellers, not just in China, but around the world.
---
Defining Moments
Saturday 30th December at 1330 GMT and 2030 GMT
Sunday 31st December at 0130 GMT, 0730 GMT and 2200 GMT
Monday 1st January at 0630 GMT and 2030 GMT
Tuesday 2nd January at 1030 GMT and 1730 GMT
As each year concludes, the world reflects on the events of the 12 months left behind. 2017 is no different, and once again CNN will mark the end of another year with our milestone programme, Defining Moments.
For more than ten years, Defining Moments has charted the landmark news events that touched the world. It's more than just a recap of the year's events, it highlights the courage and bravery of the human spirit in times of challenge.
The programme also marks how certain events altered the ways countries interact and sets a tone for the years ahead.
---
Judo World
Saturday 9th December at 1300 GMT and 2030 GMT
Sunday 10th December at 0130 GMT
Monday 11th December at 0230 GMT
Tuesday 12th December at 1730 GMT
Wednesday 13th December at 0930 GMT
Host Rihanna Jones heads to Japan, the home of judo, for December's half-hour special of Judo World. Jones goes to the Tokyo Grand Slam Weekend to cover the competition from the purpose-built Budokan stadium.
The programme also examines Tokyo's Kodokan, the spiritual headquarters of the international judo community. Eight floors, six dojos, 150 instructors and 1,300 tatamis are packed into the building, which also houses a museum and dormitories for those wishing to immerse themselves completely in the teachings of Jigoro Kano, the founder of judo.
The Kodokan is where the rules and regulations of judo were established in the late 19th century, when only nine students were in residence. Today the building is updated, and athletes come from all over the world, and even stay onsite, to soak up the special atmosphere and rigorous training routines.
Also in the programme, Rhiannon Jones interviews Kosei Inoue, the Japanese super coach who has been entrusted with bringing home glory for the nation at the 2020 Tokyo Olympics.
---