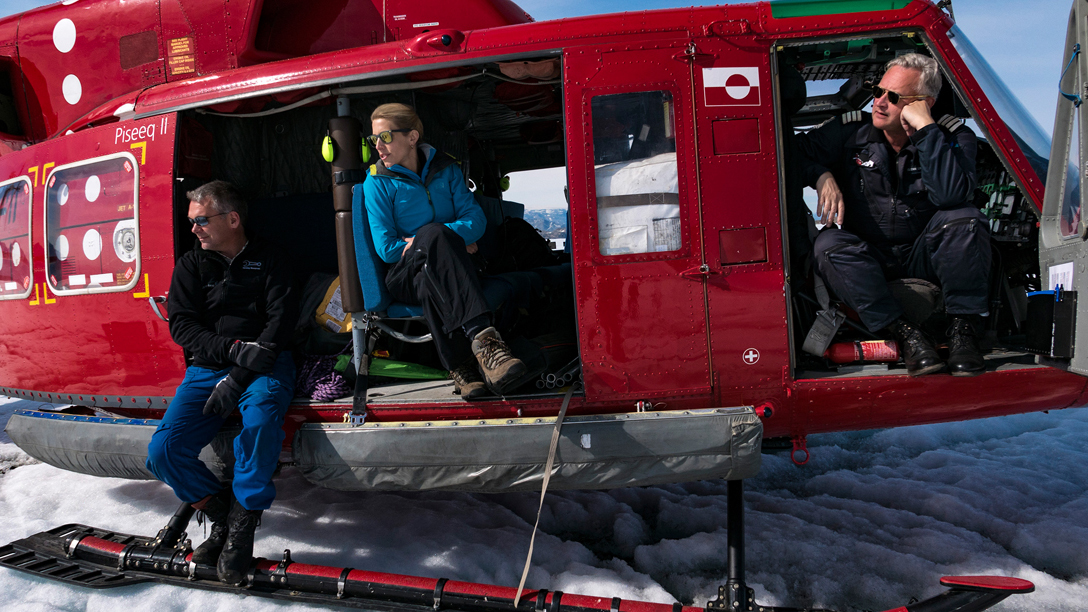 CNN US
November 30th, 2017
CNN Investigates Climate Change in Arctic and U.S.
Two-part series airs on AC360° tonight and December 1, half-hour special airs December 2 at 2:30pm ET
As the 2017 hurricane season comes to an end, CNN's senior international correspondent Clarissa Ward takes viewers to Greenland to see firsthand the changes taking place in the Arctic, and how those changes are impacting coastal cities in the United States. This two-part investigation airs tonight and Friday, December 1 within AC360° (8-10pm ET) on CNN and CNN International, and in a half-hour special, Global Warning: Arctic Melt, on Saturday, December 2 at 2:30pm ET on CNN.
In Greenland, Ward gets a close-up view of Helheim Glacier, one of the country's fastest-moving glaciers. Between August 2016 and August 2017, scientists say Helheim retreated two miles, the furthest retreat inland they have seen in a decade.
Jason Box, an American climate scientist and professor in glaciology at the Geological Survey of Denmark and Greenland, tells Ward the "melt is winning this game."
"Greenland is at the epicenter of climate change," says Box. "Everything is kind of stacking up that the ice is going faster than forecast. The melt is winning this game."
Ward also gains rare access to Summit Station, a remote American outpost located at the summit of the Greenland Ice Sheet, to see how scientists and engineers are tracking these climate changes. As temperatures rise and the melt increases, Greenland has become the largest source of sea level rise globally.
From Greenland Ward travels to Miami, Florida and Norfolk, Virginia – two cities that have both seen dramatic increases in sea level rise in the last century – to find out how melting in the Arctic is impacting U.S. coastlines.
For residents of Norfolk, which hosts the largest naval base in the country, it's a matter of recurring flooding in their neighborhoods and a rise of flood insurance premiums.
In Miami Beach, former mayor Phil Levine says the city is spending $500 million to build up sea walls and raise roads, measures he says helped protect Miami during Hurricane Irma.
Ward asks Michael Mann, one of the country's top climate scientists, if climate change is amplifying the impact the recent hurricanes had on the U.S. and elsewhere.
"There is a direct connection. Too often we hear the problem framed as did climate change cause the storm or this hurricane, but that's not the right way to think about it," Mann said. "The question is, is climate change amplifying the impacts of these hurricanes? And it absolutely is."
CNN Digital has visualized this stark reality in a mobile-first interactive, using dramatic drone footage and character-driven videos to bring readers into Greenland's ice sheet. This immersive experience features a series of animations to show the scale of the melt, mounting ice loss and retracting glaciers, giving audiences a real-time experience of Greenland's alarming melt rate.
Global Warning: Arctic Melt premieres on Saturday, December 2 at 4pm on CNN International and replays at 8:30pm; Sunday, December 3 at 2:30am, 6:00am and 9:30pm; and Monday, December 4 at 4:30am. All times Eastern.
In addition to the TV airing, Global Warning: Arctic Melt will also stream live for subscribers via CNNgo (at CNN.com/go and via CNNgo apps for Apple TV, Roku, Amazon Fire, Samsung Smart TV and Android TV) and on the CNN mobile apps for iOS and Android.  Global Warning: Arctic Melt will also be available December 3 on demand via cable/satellite systems, CNNgo platforms and CNN mobile apps.
###