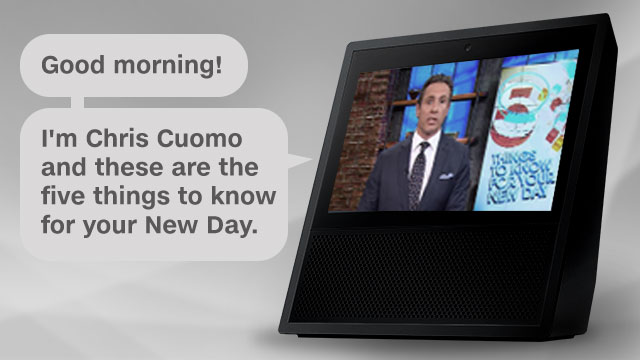 CNN Digital
November 28th, 2017
CNN Expands Content on Voice-Activated Devices
Further expanding CNN's offerings with voice-activated devices such as Alexa-enabled Amazon Echo, Echo Show, and Echo Dot as well as the Google Assistant on eligible Android phones, iPhones, Google Home, Google Home Mini and more, users can now access news briefings in near real-time, around the clock, using the CNN skill.
Along with the morning weekday briefing, hosted by CNN's New Day anchors, Chris Cuomo and Alisyn Camerota and available in audio and video forms, CNN anchor Erin Burnett now hosts a weekday evening edition, with weekends hosted by CNN anchors Victor Blackwell and Christi Paul in the mornings and Fredricka Whitfield in the afternoons.
In addition, a new CNNMoney briefing, hosted by CNN anchor and chief business correspondent Christine Romans and CNNi anchor and CNNMoney's editor-at-large Richard Quest, publishes twice daily on weekdays in audio and video forms.
CNN Politics provides an audio-only briefing on the day's top politics news with "The Point with Chris Cillizza" every weekday evening, which is also available on iTunes.