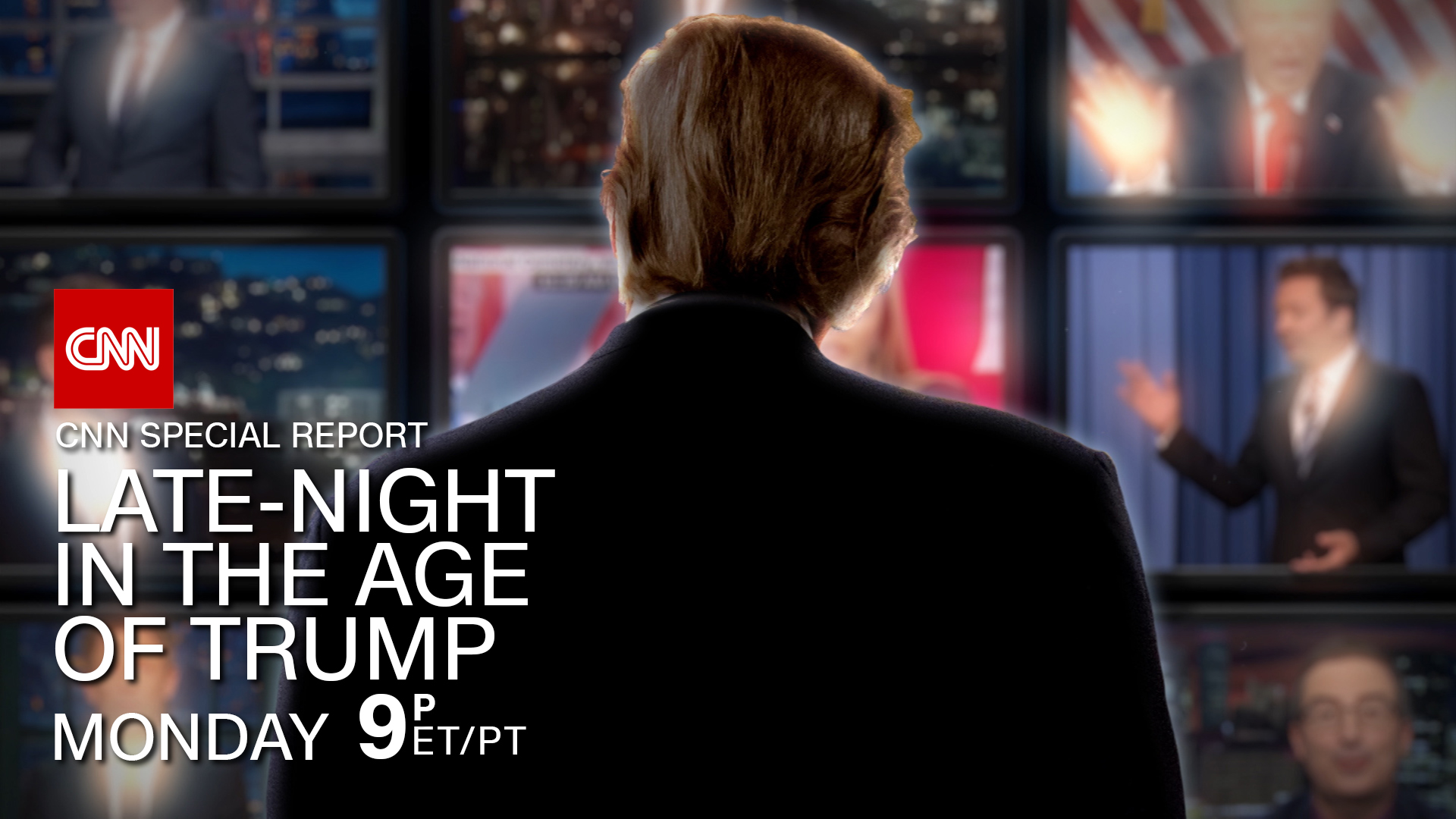 CNN Special Reports
November 16th, 2017
CNN Special Reports Presents: "Late Night in the Age of Trump"
Hosted by Brian Stelter
One-Hour Special Debuts Monday, November 20 at 9pm ET
CNN's latest special report, Late Night in the Age of Trump, airing Monday, November 20 at 9pm ET on CNN, examines how President Donald Trump single-handedly transformed late-night TV and comedy, along with the hosts of some of America's most popular television shows.
The late-night landscape is more crowded than ever, but hosts are standing apart, with audiences and the spotlight on them growing. Veteran hosts Jimmy Fallon and Seth Meyers mock Trump night after night, and Stephen Colbert and Jimmy Kimmel have become part of the daily news cycle, targeted on Twitter personally by the president. "The Daily Show" descendants: Colbert, John Oliver, and Trevor Noah's more savage attacks have catapulted them to the top of late night. "Saturday Night Live" has had their best ratings in decades, with actor Alec Baldwin's rendition of Trump becoming an iconic character. And the ever-expanding appetite for Trump jokes, gave life to new shows and comics. Trump impersonator Anthony Atamanuik, takes the satire up another notch, on Comedy Central's popular, "The President Show."
CNN senior media correspondent and host of "Reliable Sources," Brian Stelter, sits down with some of comedy's greatest voices to look at how the entire world of late night comedy has been reshaped by one person- an unprecedented change- much like this unprecedented Presidency. Stelter, along with other late night experts, explores both the hilarious and polarizing moments from the last year, and analyzes the impact President Trump has had on comedy, including the blurred lines between late-night and news.
Tune in on Monday, November 20 at 9pm ET/PT for the one-hour special report where Stelter will examine this dynamic industry in the age of Trump.
In addition to the TV airing, Late Night in the Age of Trump will also stream live for subscribers on Monday, November 20 via CNNgo (at CNN.com/go and via CNNgo apps for Apple TV, Roku, Amazon Fire, Samsung Smart TV and Android TV) and on the CNN mobile apps for iOS and Android. Late Night in the Age of Trump will also be available the day after the premiere on demand via cable/satellite systems, CNNgo platforms and CNN mobile apps.
###
About CNN Special Reports
CNN Special Reports is the award-winning, in-house documentary unit focusing on in-depth and investigative reporting of major issues and events and the powerful human interest stories that reflect our times.Press Contact
Emily Kuhn | emily.kuhn@turner.com