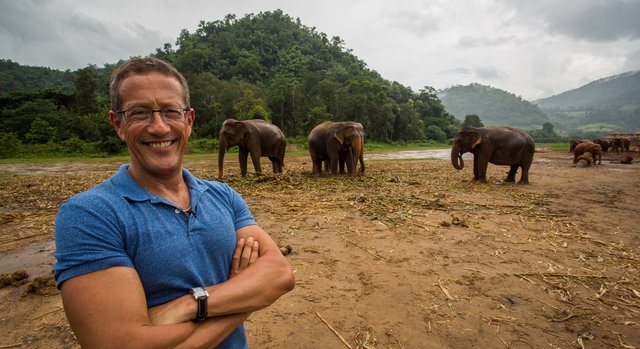 CNN International
November 2nd, 2017
CNN International Programming Highlights – November
This month's programming highlights on CNN International, including a half hour special Inside the Louvre Abu Dhabi and shows such as CNN Business Traveller, Living Golf and CNN Style:
CNN Business Traveller
Thursday 9th November at 0930 GMT
Friday 10th November at 0430 GMT
Saturday 11th November at 0530 GMT and 1630 GMT
Saturday 10th December at 1330 GMT
Sunday 11th December at 0530 GMT
Monday 12th December at 0400 GMT
On this month's episode of 'CNN Business Traveller', host Richard Quest heads to Thailand to explore the evolving Thai tourism industry.
30 million tourists visited Thailand last year and it's a number that just keeps growing. Now, in the middle of the country's tourism boom, it's looking for quality over quantity. This means it wants its visitors to stay longer and spend more. Thailand Tourism Minister Kobkarn Wattanavrangkul explains this shift in strategy to the programme.
The programme discovers how the airline industry is trying to keep up with the number on both Nok Air and Bangkok Airways.
Quest learns what makes Thai hospitality special as he visits Dusit Thani, Bangkok's first five-star hotel. He also heads north to Chiang Mai to see how this city in the mountain is charming tourists away from big cities and beaches. Additionally, the programme explores why sustainable tourism is vital to Thailand's future.
---
Building Bridges
Friday 10th November at 1030 GMT
Saturday 11th November at 1330 GMT
Monday 13th November at 0430 GMT
Tuesday 14th November at 1730 GMT
Wednesday 15th November at 0930 GMT
The developing markets in Southeast Asia, India and Africa are a golden opportunity for Japanese investors, particularly when it comes to the regions' profound infrastructure needs. As a result, Japan is able to export its technological know-how while forging business ties with countries that promise a handsome return on investment.
In a half hour special, 'Building Bridges' explores how Indonesia, India, Vietnam, Kenya and Thailand are forever being transformed by building bridges with Japan, whether through adopting Japan's clean energy ethos or world-class transportation systems and infrastructure, these countries are hoping to pave the way for successful industrialisation.
---
CNN Equestrian: Global Champions Tour
Thursday 30th November at 1030 GMT and 1730 GMT
Saturday 2nd December at 0730 GMT, 1230 GMT and 2230 GMT
Sunday 3rd December at 1730 GMT
The 2017 Longines Global Champions Tour and Global Champions League take place in 15 cities, 12 countries and three continents over a period of eight months.
In November, CNN Equestrian's Global Champions Tour travels to Doha, Qatar, for the final stop of this grand event that brought together the top show jumpers from around the world.
---
Inside the Louvre Abu Dhabi
Saturday 25th November at 1530 GMT and 2030 GMT
Sunday 26th November at 0130 GMT and 0730 GMT
Tuesday 28th November at 1030 GMT
Wednesday 29th November at 0430 GMT
When the Louvre Abu Dhabi finally opens its doors this month, it will be the culmination of 10 years' work and the fulfilment of the UAE's lofty cultural ambitions.
The spectacular building is the vision of award-winning architect Jean Nouvel. Its centrepiece, a dome made from 7,850 unique stars, creates a 'rain of light' that dances across the museum interior.
Louvre Abu Dhabi boasts more than 600 artworks, spanning myriad cultures and periods, including 300 masterpieces on loan from other institutions, including famous works from masters such as Leonardo da Vinci, Henri Matisse and Edouard Manet.
Through this half hour special, CNN tells the story of the creation of the Louvre Abu Dhabi and takes viewers inside the museum for the first time.
---
Living Golf
Thursday 2nd November at 1630 GMT
Saturday 4th November at 0630 GMT and 2130 GMT
Sunday 5th November at 1730 GMT
Sunday 12th November at 0730 GMT and 2230 GMT
On this month's episode of 'Living Golf', the programme explores the art of golf course design and the changing face of golf tourism.
Presenter Shane O'Donoghue meets 23-time European Tour winner Lee Westwood at Close House Golf Club in Newcastle, where the recent British Masters were played. Westwood tells the programme he helped design some of the recent modifications to the Close House course and shares his ambitions to take on more work as a designer in the future. The programme also speaks to the original architect, Scott Macpherson, about working with Westwood on the renovations.
'Living Golf' also travels to Portugal's Silver Coast where one of Europe's most anticipated design projects, West Cliffs, recently opened to the public. The programme meets course designer, Cynthia Dye, niece of renowned architect Pete Dye, to find out what she has learned from her famous uncle and how she plans to make her own mark on the game. With few female architects in the business, the programme asks Dye and Annika Sorenstam, about succeeding as a woman designer in a male-dominated industry.
'Living Golf' also takes a look at how golf tourism is changing. With cheaper travel and a greater knowledge of destinations thanks to the internet, the accessibility and affordability of playing golf off the beaten track has never been greater. The programme heads to the offices of Your Golf Travel, one of the world's leading online golf travel agencies, in London to look at the latest trends in the golf holiday market.
---
CNN Style: Art and China
Thursday 2nd November at 0830 GMT and 1530 GMT
Saturday 4th November at 0430 GMT 1530 GMT
Saturday 11th November at 1330 GMT
Sunday 12th November at 1730 GMT
Monday 13th November at 0400 GMT
Saturday 25th November at 0300 GMT
In November's episode, CNN Style goes behind the scenes of the highly anticipated Art and China Exhibition at New York's Guggenheim museum to discover contemporary art produced in China between 1989 and 2008, beginning with the Tiananmen Square protests and ending with the Beijing Olympics. This period represents a time of unprecedented growth in China, framed by shifting geopolitical dynamics prompted by the end of the Cold War.
The exhibition, the largest of its kind ever staged in North America, charts how artists responded to the sweeping social transformations unleashed from Huang Yong Ping and the 85 New Wave Movement triggered by the end of the Cultural Revolution to Xu Zhen and the 'New Generation' collective propelled by the Internet Revolution.
---