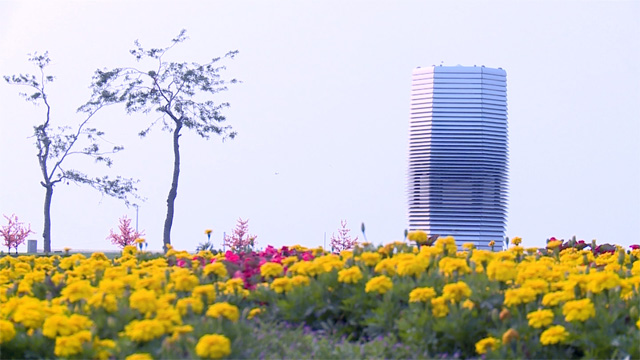 CNN International
October 17th, 2017
CNN's 'Innovative Cities' Explores the Future Of Metropolitan Growth
By 2050, the world's major cities will be crowded by six and a half billion people. City life comes with the draw of higher living standards and the economic boon of connectivity. Yet, as our urban centers bloat and sprawl, a fresh set of pressures are coming to bear. Will infrastructure implode under the weight of rapid urbanization? Will pollution choke industrial powerhouses, and inequality wrack communities? The challenges are daunting, but as we'll discover this month in CNN's Innovative Cities, people designed these problems and people can innovate their way out of them. In this 30-minute special, CNN profiles the cutting-edge projects that combat the pressures modern cities face as they grow at rapid rates. Highlights from the program include:
Beijing, China
In the capital of China, artist and innovator Daan Roosegaarde has designed a structure to combat the city's infamous pollution. Capable of cleaning 30,000 cubic meters of air a day, Roosegaarde's smog-eating tower has created a bubble of clean air in the center of the city. His invention would have to be replicated thousands of times to alter Beijing's atmosphere, but for now, it's a model of innovation that inspires hope for a cleaner and better future. Meanwhile, the Chinese government has also committed to tackling the problem front-on by reducing the nation's fossil fuel emissions.
Detroit, USA
In this American city in the midst of economic revival, homelessness remains a threat to low-income earners. Cass Community Social Services has launched its Tiny Homes project – a rent-to-own scheme that allows economically vulnerable residents to live in small but modern and furnished standalone houses. The project was made possible by smart design and will hopefully lead to responsible home leadership and greater social inclusion.
Medellin, Colombia
Social inclusion is also a question in Medellin, Colombia, which is often cited as one of the world's most dangerous cities. Recent city transportation projects, including a cable car system, have brought rich and poor areas closer to one another. This integration has healed many of the city's wounds, but individual neighborhoods are also looking for something to call their own and be proud of. A project to open public library parks in poorer areas of the city may be just the solution to this issue.
Seoul, South Korea
Seoul wasn't ready yet to be a megacity fifty years ago. But within one generation, the population has exploded from two million to 10 million. In response to this incredible growth, the city has created a public transportation system that has garnered international acclaim and kept its residents on the move. But Seoul isn't stopping there. Putting pedestrians first is its latest goal as the city unleashes countless urban renewal projects that aim to get citizens out of their cars and onto their feet.
'Innovative Cities' microsite: http://money.cnn.com/technology/innovative-cities/
'Innovative Cities' trailer: http://cnn.it/2zmbTHh
Airtimes for 30-minute special: Hong Kong, Beijing, Kuala Lumpur, Manila, Singapore and Taipei
Friday 20th October at 1730 HKT
Saturday 21st October at 2000 HKT
Sunday 22nd October at 0330 and 0830 HKT
Monday 23rd October at 1130 HKT
Wednesday 25th October at 0030 and 1630 HKT