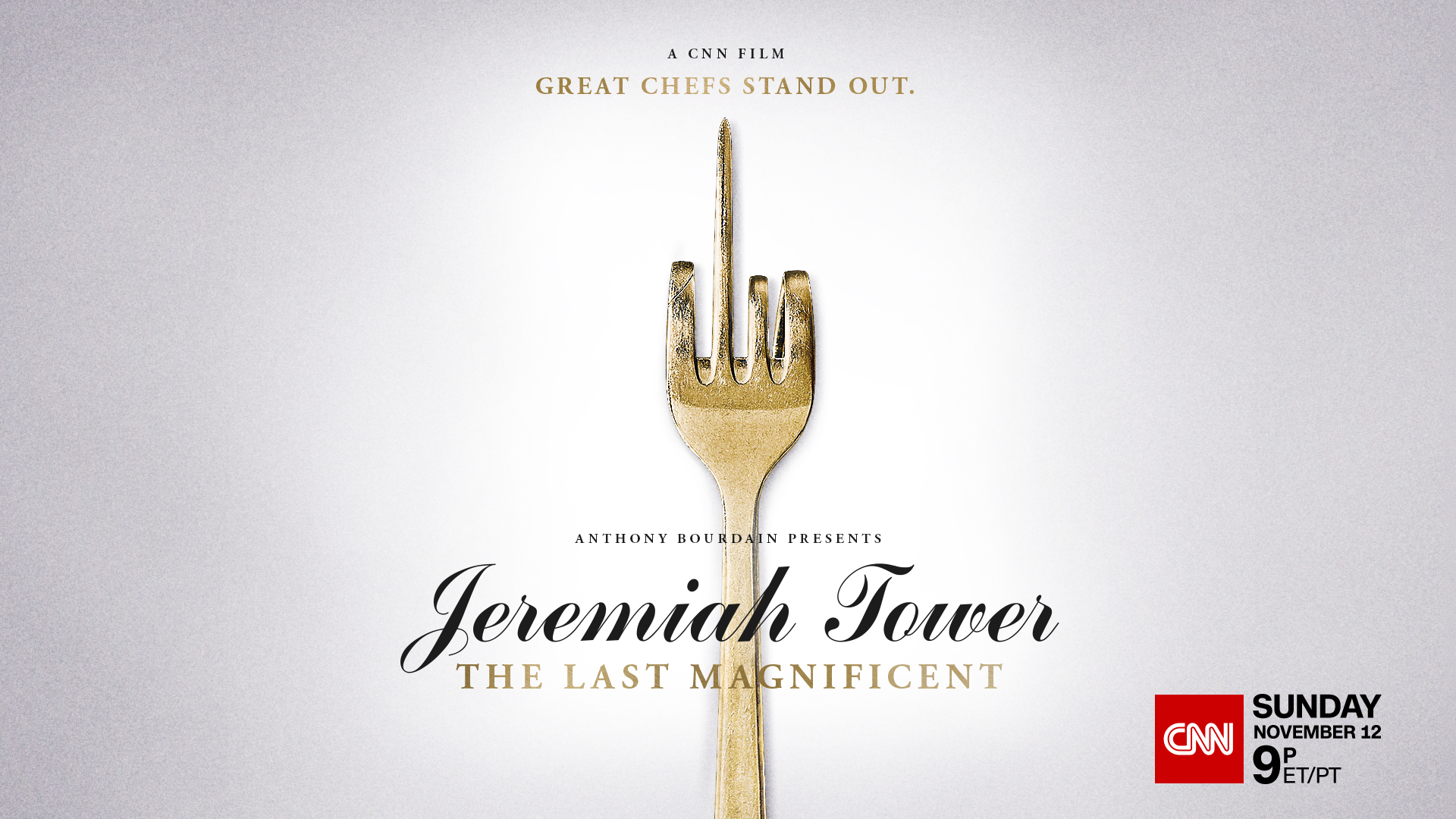 CNN Films
October 13th, 2017
Anthony Bourdain Presents JEREMIAH TOWER: The Last Magnificent for CNN Films Sunday, Nov. 12 at 9:00p Eastern and Pacific
Film explores life and legacy of  the chef who changed America's plates

By the time he launched his own legendary restaurant, Stars, celebrated chef Jeremiah Tower had already created his revolutionary "Northern California Regional Menu" in October 1976 at Chez Panisse.  The menu's distinctly New American style forever changed the American palate and influenced generations of chefs and restaurants that still follow in his footsteps.
CNN/U.S. is set to premiere the story of Tower's remarkable life and legacy as a CNN Film on Sunday, Nov. 12 at 9:00pm Eastern & Pacific, with limited commercial interruption.  (The premiere will pre-empt Anthony Bourdain: Parts Unknown and This is Life with Lisa Ling.)  Jeremiah Tower: The Last Magnificent, directed by Lydia Tenaglia of ZPZ Production, Inc. (Anthony Bourdain: Parts Unknown), is set to encore Saturday, Nov. 18 at 9:00pm Eastern and 11:30pm Pacific on CNN/U.S..
"Jeremiah Tower is indeed one of the most provocative and essential contributors to the history of American gastronomy.  Almost overnight this Harvard-educated, global wandering, mercurial artist transformed American food, American restaurants, and American palates.  It was an honor to finally develop his life into a story for posterity," said Tenaglia.
"When Tony and Lydia joined CNN five years and 10 seasons ago, they brought with them their idea to finally tell the missing history of Jeremiah Tower's singular contributions to American cuisine," said Amy Entelis, executive vice president for talent and content development for CNN Worldwide.  "Lydia's exquisite film is the fruition of a passion project for every one of us who has become part of the team that produces Anthony Bourdain: Parts Unknown," said Entelis.
Tenaglia crafts a multidimensional portrait through sumptuous reenactments of scenes from Tower's peripatetic childhood, capturing the luxuries of living on cruise ships, extended visits to opulent resorts, and a casual flirtation with the hippie lifestyle in early adulthood.  Tenaglia's deft direction weaves a complex, sensitive understanding of Tower through a seamless blend of media formats.  Tower family home movies and still photographs bring the chef's diarized memories to life.
College friends encouraged Tower's enthusiasm for cooking and entertaining, which led to his move to Berkeley, his formative meeting with Alice Waters, and launched a career that reached both the highest culinary honors as well as heights of social currency.  Tower's storied Stars restaurant in San Francisco catered nightly to glamourous luminaries like Mikhail Gorbachev, socialite Denise Hale, artist Andy Warhol, chef Julia Child, and local characters alike.
Archival footage and press accounts add to the illustrations of Tower's tenures at Chez Panisse and Stars.  Contemporary interviews with Tower, his relatives and Harvard College classmates, as well as Mario Batali, Wolfgang Puck, Martha Stewart, Mark Franz, and Ruth Reichl slowly reveal the chef's life, rise, ever-present discipline, and an inner drive for excellence that does not fully mask a discernible loneliness.
Then, suddenly, both the story and the narrative of the film change.  Tower's empire was sold by him and then soon shuttered by the new owners.  Tower disappeared from the scene for nearly two decades, only to resurface in the most unlikely of places: as head chef for New York City's fabled, but troubled Tavern on the Green restaurant.
Tower's surprise landing at Tavern came during post-production of the film.  Tenaglia pieces together these sections of the film as a solution to a mystery.  The events that follow quicken the pace of Tenaglia's subtle, perceptive storytelling, continuing Tower's tale of self-discovery that will feel familiar to anyone who has ever imagined themselves to be an artist or a dreamer.
During the Nov. 12 premiere, JEREMIAH TOWER: The Last Magnificent will stream live for subscribers via CNNgo (at www.CNN.com/go and via CNNgo apps for AppleTV, Roku, Amazon Fire, Samsung Smart TV, and Android TV) and on the CNN mobile apps for iOS and Android.  The film will be available beginning Monday, Nov. 13, on demand via cable/satellite systems, CNNgo platforms, and CNN mobile apps.
JEREMIAH TOWER: The Last Magnificent is a CNN Films co-production in association with ZPZ Production, Inc. (Anthony Bourdain: Parts Unknown), and presented for U.S. broadcast exclusively by CNN Films.  Lydia Tenaglia directed and produced the film.  Anthony Bourdain, Christopher Collins, Joe Caterini, and Amy Entelis of CNN Films are executive producers.  The supervising producer is Courtney Sexton.
# # # # #
ART     http://bit.ly/2gmCUm4    (additional images available upon request)
 About CNN Films
CNN Films, celebrating its fifth year in 2017, produces and acquires documentary feature and short films for theatrical and festival exhibition and distribution across CNN's multiple platforms.  Amy Entelis, executive vice president of talent and content development, oversees the strategy for CNN Films; Courtney Sexton, vice president for CNN Films, works day-to-day with filmmakers to oversee projects.  For more information about CNN Films, please visit www.CNN.com/CNNFilms and follow @CNNFilms via Twitter.
-30-