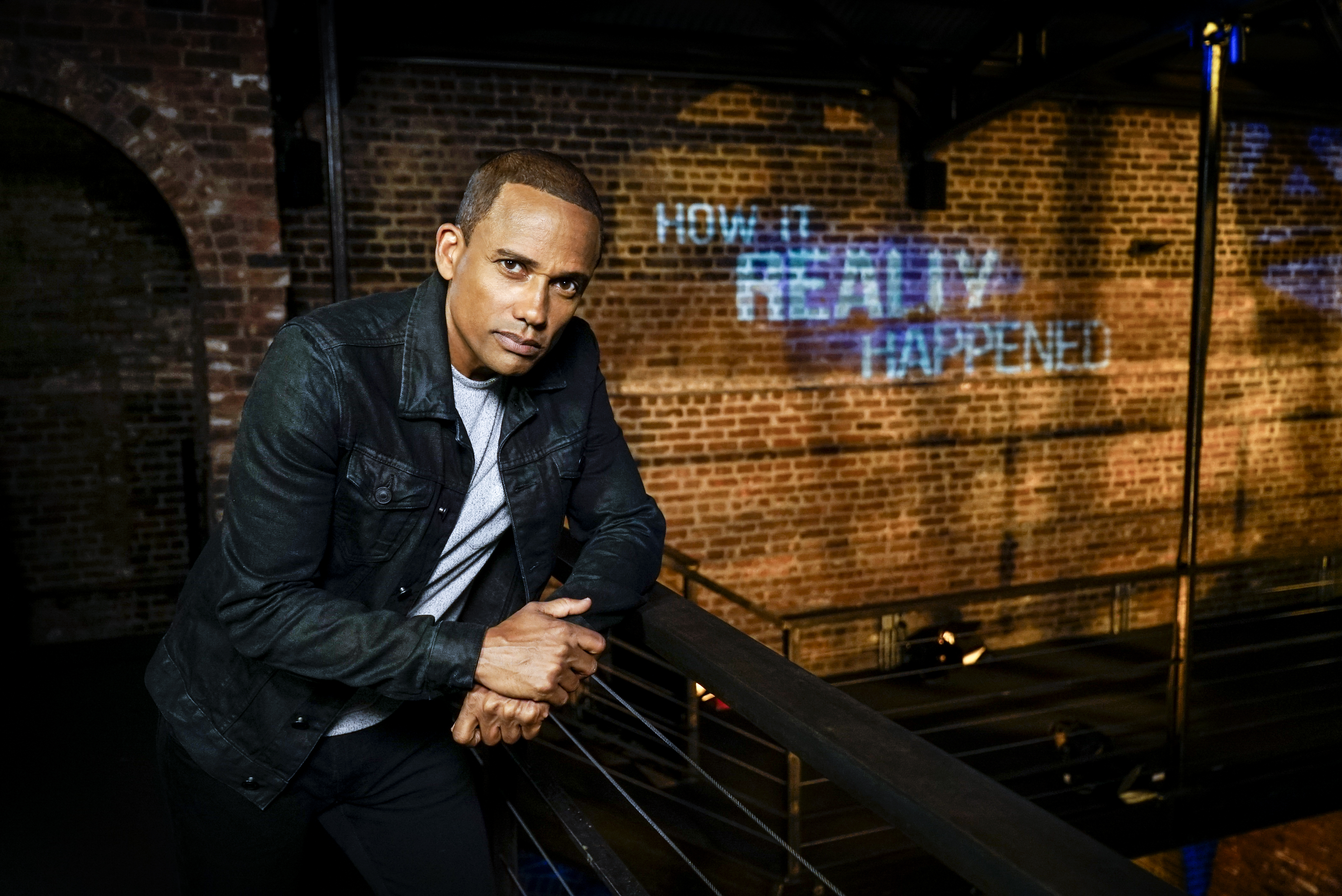 HLN Press Releases
October 9th, 2017
HLN True Crime Docuseries "How It Really Happened with Hill Harper" Returns for Second Season Oct. 15
From the Casey Anthony Trial Sensation, Gianni Versace Murder and Clinton-Lewinsky Sex Scandal, Series Explores the Most Shocking Headlines of Last 25 Years
Trailer: http://bit.ly/2xcd9iN
NEW YORK (October 9, 2017) – The addictive retrospective of star-studded misfortune and high-profile criminal cases returns with eight new episodes as How It Really Happened with Hill Harper kicks off a second season Sunday, October 15 at 9pm ET/PT, exclusively on HLN. Host Hill Harper (The Good Doctor, ABC) takes viewers behind the most shocking headlines of the last 25 years, including the Casey Anthony tabloid trial, Gianni Versace murder, Bill Clinton – Monica Lewinsky sex scandal, Heaven's Gate cult and more.
The new season leverages CNN/HLN anchors and correspondents who offer expert analysis on the news stories they covered on-the-ground combined with historic footage from the CNN archives. Rare interviews with family, friends and investigators involved in the cases add depth to the stories as they share personal memories and anecdotes.
How It Really Happened with Hill Harper is the first series for HLN produced internally by the CNN Original Series team under the direction of Amy Entelis, executive vice president of talent and content development, CNN Worldwide, and Nancy Duffy, vice president of program development for CNN. Season one premiered Friday, January 27, 2017 and featured the Menendez brothers murder trial, fatal plane crash of JFK Jr., mysterious death of Anna Nicole Smith and more.
The series will air regularly on Sundays at 9pm ET/PT following The Hunt with John Walsh at 8pm, and be available On Demand the day after the linear premier on cable VOD. Episodes will additionally replay on HLN the following Tuesdays at 9pm ET and Fridays at 10pm.
Upcoming episodes from season two:
The Casey Anthony Story, Parts I and II (airdate: Oct. 15, two-hour premiere – with limited commercial interruptions) In 2008, two-year-old toddler, Caylee Anthony, vanishes. Her mother, Casey Anthony, tells investigators Caylee has been kidnapped by her nanny, a woman Anthony's family has never actually seen. Why was Anthony lying? And where was Caylee? This extraordinary two-part episode follows the twists and turns of this bizarre case, and unbelievable trial.
The Gianni Versace Murder (airdate: Oct. 22) Celebrity fashion designer Gianni Versace is gunned down in broad daylight on the steps of his Miami Beach mansion in 1997. After a massive manhunt, police discover Versace is just one victim of a serial killer on a cross-country murder spree. How did the fashion icon wind up in the crosshairs of a crazed killer? Was Versace being stalked? Those closest to Versace – and his killer Andrew Cunanan try to unravel the mystery.
The Mystery of Heaven's Gate (airdate: Oct. 29) In the mid-1970s, hundreds of people begin disappearing without a trace. Distraught families are left wondering about their loved ones for decades, until March of 1997, when shocking news about a mysterious religious group makes headlines around the world. Told through exclusive interviews with those who experienced this event firsthand…this episode follows the story of Heaven's Gate.
Who Killed Chandra Levy? (airdate: Nov. 5) In Washington, DC, May 2001, 24-year-old intern Chandra Levy vanishes into thin air. Police find her cell phone in her apartment and no sign of a struggle. Who saw her last? Where did she go? Chandra had a secret, did that have anything to do with her disappearance? This episode reveals the new clues of a murder mystery that remains unsolved.
The Strange Case of the Killer Nanny (airdate: Nov. 12) An eight-month-old baby is fatally injured while in the care of a family's au pair, Louise Woodward. Was it child abuse or a tragic accident? Doctors suspect the former, a case of 'shaken impact syndrome,' and detectives arrest the infant's 19-year-old British nanny who cared for him in the hours and minutes before his demise. But, was the baby's death a case of intentional murder or a tragic accident that occurred under Woodward's watch?
George Michael's Final Days (airdate: Nov. 19) George Michael's life as an international super star comes to a mysterious and tragic end on Christmas Eve 2016. Family and fans are shocked by his sudden death. There are so many unanswered questions. Who was with Michael in those final hours? What happened the night he died? What did the coroner find was the actual cause of death?
Nov. 26 – Pre-empted for Thanksgiving holiday  
The Clinton-Lewinsky Scandal, Parts I and II (airdate: Dec. 3, two hours) It was the shocking affair that nearly toppled a presidency. Bill Clinton and a 21-year-old White House intern, Monica Lewinsky. The scandal would make household names of Linda Tripp and Ken Starr…and change how the media covers the President of the United States. This special two-part episode features extraordinary interviews with Clinton's advisers, White House journalists, and other key players.
Did Scott Peterson Murder Laci? Parts I and II (airdate: Dec. 10, two hours) A small town, seemingly perfect couple with a new baby on the way sounds like a recipe for a happy life. Not in this case, not even close. A tale of murder, adultery, courtroom drama and ultimately the death penalty. The story of Scott and Laci Peterson as told by those who lived it. Did Scott Peterson murder Laci?
About HLN Original Series
Amy Entelis, executive vice president of talent and content development, CNN Worldwide, oversees CNN Original Series and HLN Original Series. Nancy Duffy, vice president of program development for CNN, supervises production of internally-produced HLN Original Series, and Lizzie Fox, vice president of current programming, CNN Original Series, supervises production of commissioned HLN Original Series. Jon Adler is senior director of development for commissioned HLN and CNN Original Series.
About HLN 
HLN features live coverage of national, regional, lifestyle, and entertainment stories in a fast-paced approachable tone with expert-led, personality driven hosts. HLN is a CNN Worldwide network reaching more than 100 million households in the U.S. CNN Worldwide, a division of Turner Broadcasting System, Inc., a Time Warner Company, is the most trusted source for news and information.