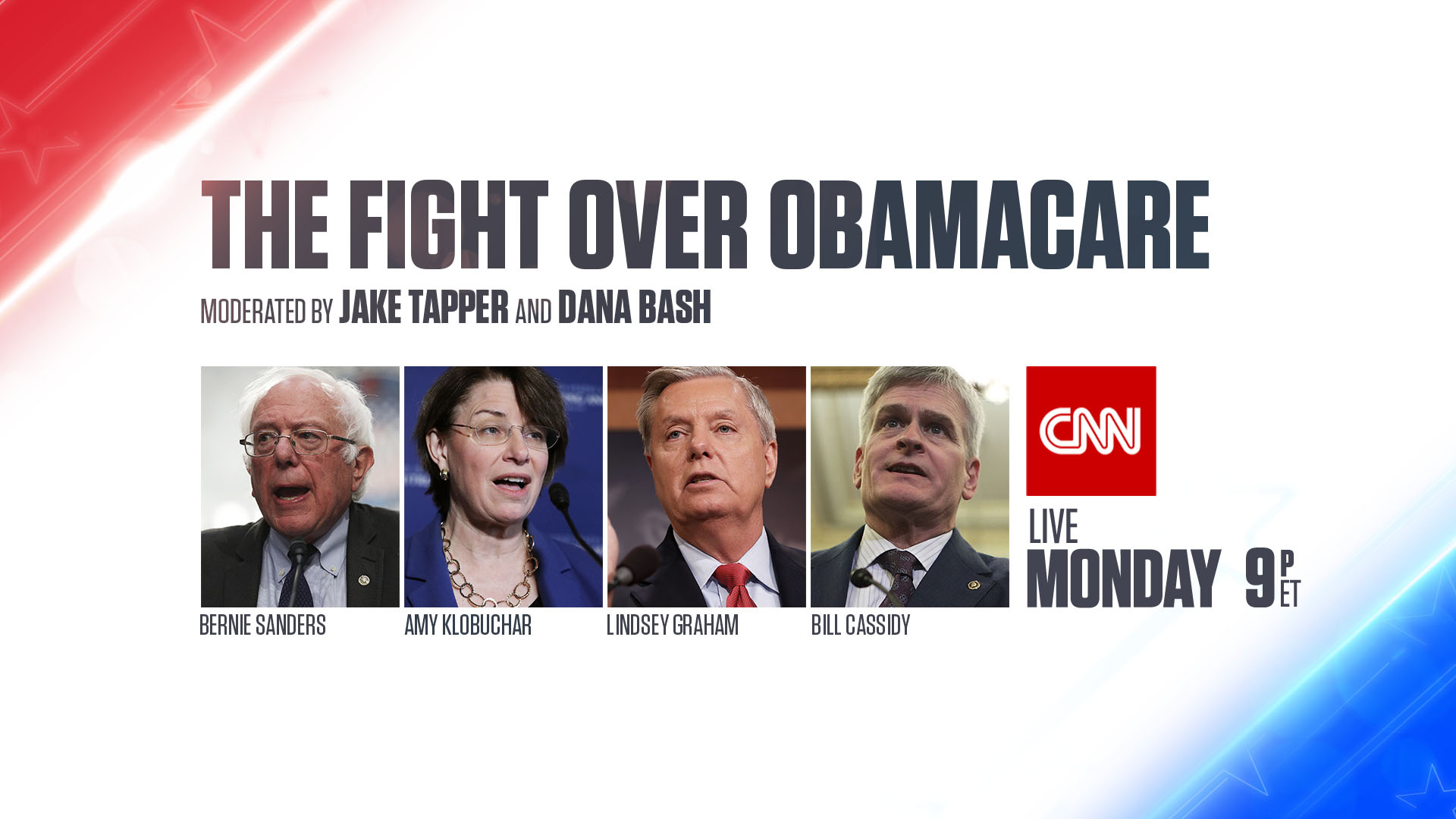 CNN Press Releases
September 21st, 2017
Sens. Graham and Cassidy to Face Off Against Sens. Sanders and Klobuchar on Sept. 25
SENATORS GRAHAM AND CASSIDY TO FACE OFF AGAINST SENATORS SANDERS AND KLOBUCHAR IN A CNN TOWN HALL DEBATE ON SEPT. 25
JAKE TAPPER AND DANA BASH TO MODERATE LIVE TOWN HALL DEBATE ON THE FIGHT OVER OBAMACARE
WASHINGTON, D.C.—Sept. 21, 2017 — CNN anchor Jake Tapper and chief political correspondent Dana Bash will moderate a Town Hall Debate on the fight over Obamacare at 9 p.m. ET on Monday, Sept. 25.
 Sen. Lindsey Graham (R-SC) and Sen. Bill Cassidy (R-LA) will debate Sen. Bernie Sanders (I-VT) and Sen. Amy Klobuchar (D-MN) in this 90-minute Town Hall Debate that will air live from Washington, D.C.
With a critical deadline looming, Graham and Cassidy, architects of the Republicans' latest healthcare proposal, will debate Sanders and Klobuchar on the merits of the plan that would repeal and replace Obamacare.
The Town Hall Debate will air on CNN, CNN en Español, CNN International, stream live for subscribers via CNNgo (at CNN.com/go and via CNNgo apps for Apple TV, Roku, Amazon Fire, Samsung Smart TV and Android TV) and on the CNN mobile apps for iOS and Android. The town hall debate will also air on CNN's SiriusXM Channel 116. The Town Hall Debate will also be available Sept. 26 on demand via cable/satellite systems, CNNgo platforms and CNN mobile apps.
# # #