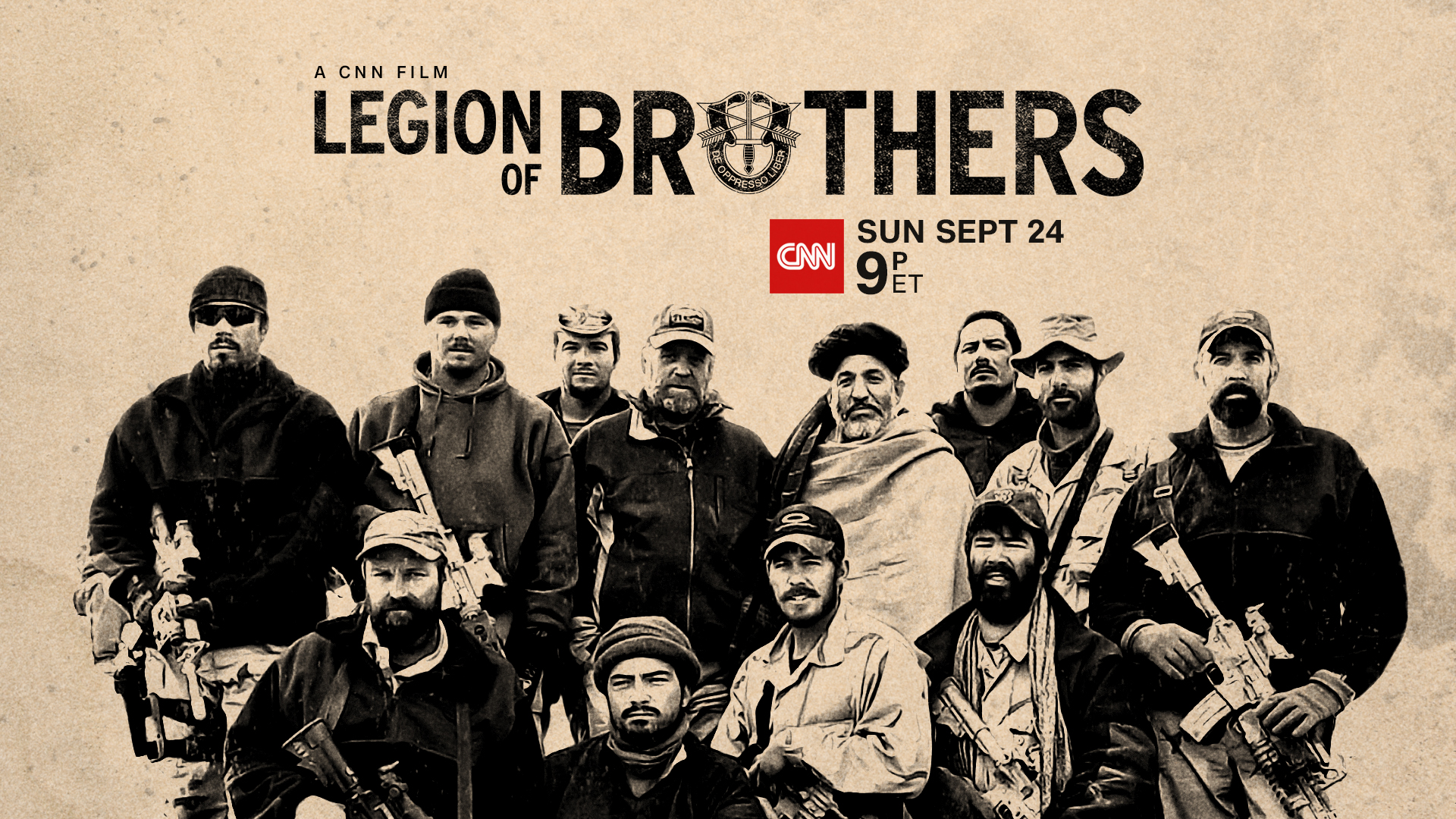 CNN Films
September 15th, 2017
Early Days of America's Secret War in Afghanistan Explored in LEGION OF BROTHERS
Greg Barker's Sundance Film Festival feted film premieres Sunday, Sept. 24 at 9:00pm Eastern
As America debates the next phase for its longest war, a new CNN Film explores the secret U.S. forces mission that initiated operations in Afghanistan.  Award-winning filmmaker Greg Barker's Legion of Brothers explores the mission launched by President George W. Bush just weeks after the Sept. 11, 2001, attacks on the United States.  Bush ordered the U.S. Military to overthrow the Taliban regime and strike back against the terrorist organization al-Qaeda, led by Osama bin Laden.
Legion of Brothers premieres Sunday, Sept. 24 at 9:00pm, with a replay at 11:30pm, on CNN/U.S..  Both premiere broadcasts will be presented with limited commercial interruption.  The film is set to encore Saturday, Oct. 14 at 10:00pm and Sunday, Oct. 15 at 2:30am on CNN/U.S..  All times Eastern.
"I'm excited to share this cautionary tale about the nature of modern war, which I've wanted to tell ever since 2002, when I first met Jason Amerine, Mark Nutsch and many of the Green Berets who led secret missions into Afghanistan immediately after 9/11," said Barker.  "These Special Operations teams were the very first foot-soldiers of the War on Terror, now the longest war in American history, and even back in 2002 their stories hit me as iconic illustrations of what makes war such an endemic part of the human condition," he said. 
"Greg's film deftly stirs a series of complex emotions while exploring an essential part of America's post-9/11 history.  On one level, it's an unprecedented telling of the origins for a war Americans seem to now debate.  On another level, it's an examination of the full costs of war for the tiny percentage of Americans who experience it first-hand" said Amy Entelis, executive vice president for talent and content development for CNN Worldwide.
Mere days following 9/11, the U.S. Military selected fewer than 100 soldiers from the elite Green Berets of the U.S. Army to execute the president's mission.  The film draws upon unprecedented access to several of the Green Berets who were members of various operations of that covert mission.  Barker sensitively elicits the astonishing true stories of the extraordinary lethal effectiveness of this light military 'footprint.'  The Green Berets detail, for the first time for public audiences, how in just weeks they infiltrated Afghanistan, destroyed the Taliban government, and routed al-Qaeda.
 Legion of Brothers also explores some of the tragic casualties of the dangerous mission, and a particularly devastating friendly fire incident that continues to deeply haunt the veterans of that operation is detailed.  And, their families also share some of their struggles with those emotions.
Now, 16 years after these veterans' vital mission began, they and their families share their war experiences from all of their perspectives.  As the United States considers its own next steps in this war, Barker delivers a multidimensional portrait of heroism and sacrifice.
During the premiere, Legion of Brothers will stream live for subscribers via CNNgo on Sept. 24 (at www.CNN.com/go and via CNNgo apps for AppleTV, Roku, Amazon Fire, Samsung Smart TV, and Android TV) and on the CNN mobile apps for iOS and Android.  The film will be available the day after the premiere (Monday, Sept. 25) on demand via cable/satellite systems, CNNgo platforms, and CNN mobile apps.
Legion of Brothers is a CNN Films co-production in association with John Battsek Passion Pictures and presented for U.S. broadcast exclusively by CNN Films.  Greg Barker (Manhunt, 2013) directed and produced Legion of Brothers.  Tresha Mabile and CNN national security analyst Peter Bergen are producers.  The film is executive produced by Amy Entelis and Vinnie Malhotra.  Diane Becker is co-producer; Tyler Gurd is associate producer.  The film is edited by Robin Schwartz.  Frank-Peter Lehmann is cinematographer.  Philip Sheppard is the film's music composer.  The supervising producer is Courtney Sexton.  The supervising producer is Courtney Sexton.
# # #
ART     http://bit.ly/2wghh01    (additional images available upon request)
About CNN Films
CNN Films, celebrating its fifth year in 2017, produces and acquires documentary feature and short films for theatrical and festival exhibition and distribution across CNN's multiple platforms.  Amy Entelis, executive vice president of talent and content development, oversees the strategy for CNN Films; Courtney Sexton, vice president for CNN Films, works day-to-day with filmmakers to oversee projects.  For more information about CNN Films, please visit www.CNN.com/CNNFilms and follow @CNNFilms via Twitter.
-30-