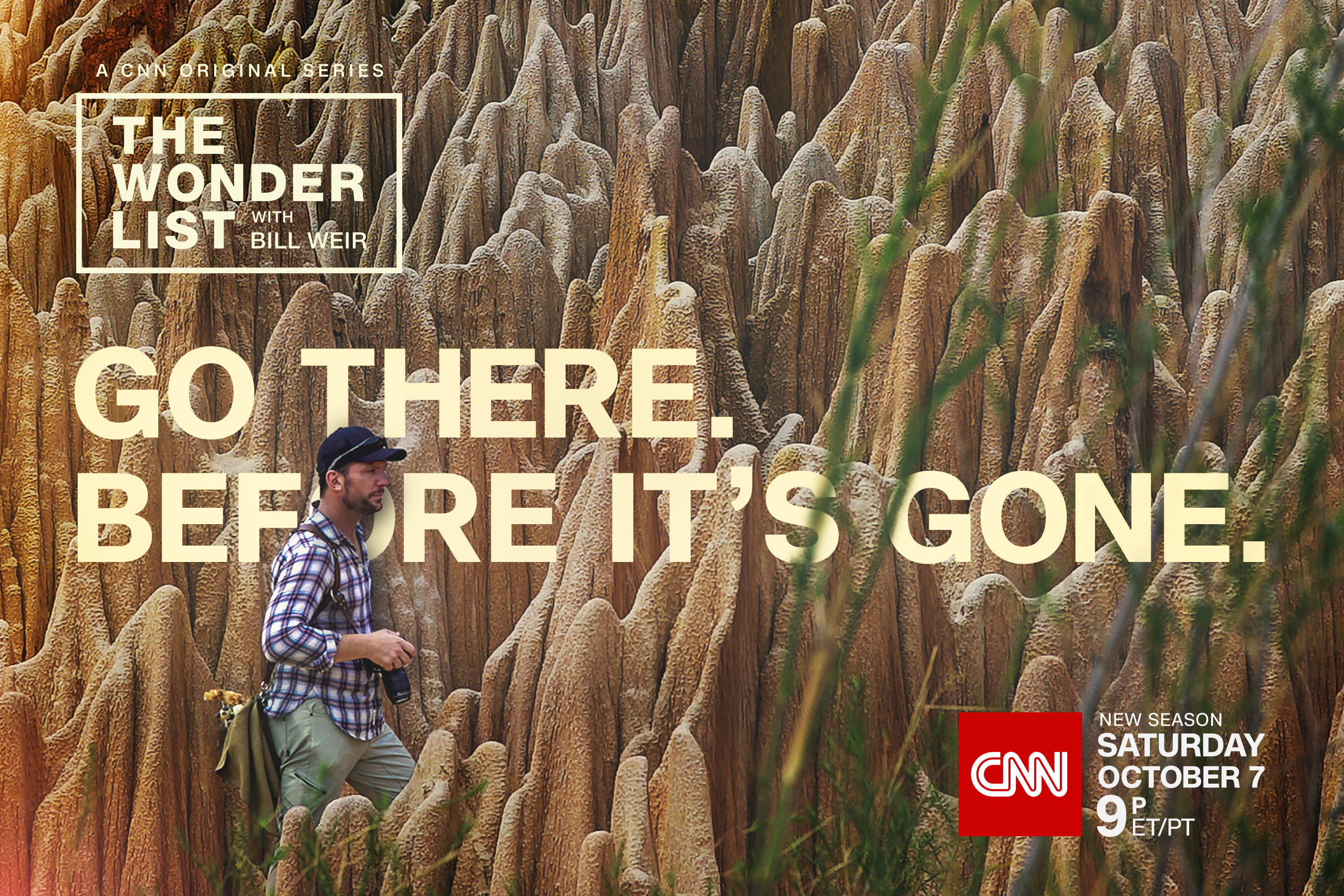 CNN Original Series
September 6th, 2017
Season Three of the Wonder List with Bill Weir Premieres Saturday, Oct 7th at 9pm ET/PT
In season three of The Wonder List, storyteller and journalist Bill Weir continues his global quest to uncover and report on the untold stories of the remarkable people, places, cultures and creatures who find themselves at a crossroads.
Across six hour-long episodes, Weir travels through five continents to explore these stunning places as they battle against the forces of change.
Locations include the striking mountains and lakes of Patagonia where vast swathes of land have been purchased by an American conservationist determined to save them from developers; Alaska, where miners are battling fishermen for the right to drill for gold near the world's last great salmon run; Egypt, where an ancient sunken city serves as a stark warning about the dangers posed by rising seas; Madagascar, where unique species are being made extinct by deforestation; Peru, where Machu Picchu is under siege by droves of tourists and the Amazon rainforest is being devastated by illegal mining; and New Zealand, where a controversial plan to kill off unwanted mammals is pitting neighbor against neighbor.

The third season of The Wonder List with Bill Weir premieres on CNN Saturday, October 7th at 9PM ET/PT. In addition to the TV airings, the special will also stream live for subscribers on October 7th via CNNgo (at CNN.com/go and via CNNgo apps for Apple TV, Roku, Amazon Fire, Samsung Smart TV and Android TV) and on the CNN mobile apps for iOS and Android.  The Wonder List with Bill Weir will also be available the day after the premiere on demand via cable/satellite systems, CNNgo platforms and CNN mobile apps.
###
About CNN Original Series
The CNN Original Series group develops non-scripted programming for television via commissioned projects, acquisitions and in-house production. Amy Entelis, executive vice president of talent and content development, oversees CNN Original Series and CNN Films for CNN Worldwide.  Lizzie Fox, vice president of current programming, supervises production of all CNN Original Series.