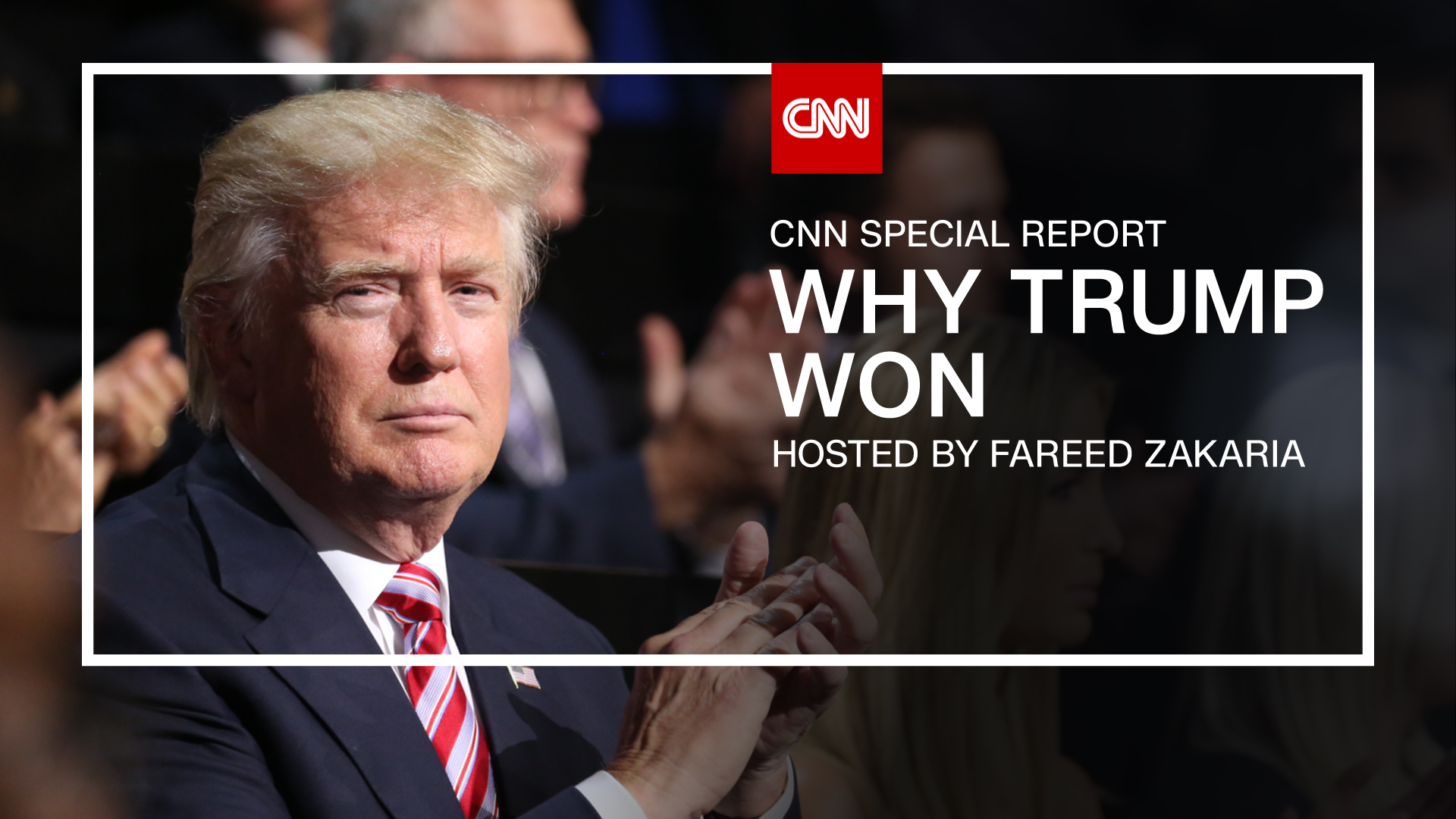 Fareed Zakaria GPS
August 10th, 2017
Fareed Zakaria's 'Why Trump Won' available on demand and encores Monday, Aug. 28
Fareed Zakaria's WHY TRUMP WON is available now for viewing on demand via cable/satellite systems, CNNgo platforms, and CNN mobile apps.
This CNN Special Report will broadcast Monday, Aug. 28 at 9:00pm and 1:00am Eastern.  In addition to the encore telecasts, the special will also stream live for subscribers via CNNgo on Aug. 28  (at www.CNN.com/go and via CNNgo apps for Apple TV, Roku, Amazon Fire, Samsung Smart TV, and Android TV) and on the CNN mobile apps for iOS and Android.
WHY TRUMP WON tells the story of the signals pointing to Donald Trump's victory on Nov. 8, 2016, that many missed, but were there all along.  Zakaria who points to himself – "I got it wrong," he says – explores the cultural forces that propelled Trump towards his historic presidential win.
WHY TRUMP WON also features statistician and author Nate Silver (The Signal and the Noise, 2012); David Betras, chairman of Ohio's Mahoning County Democratic Party; conservative culture columnist and author, David Brooks (The Road to Character, 2016); political historian and author, Thomas Frank (Listen, Liberal: Or, What Every Happened to the Party of the People?, 2017); journalist and author George Packer (The Unwinding: An Inner History of the New America, 2014); and Trump ghost writer Tony Schwartz (Trump: The Art of the Deal, 1989).
For more about this topic and excerpts from the special, please watch: http://cnn.it/2uNKTQI
#   #   #