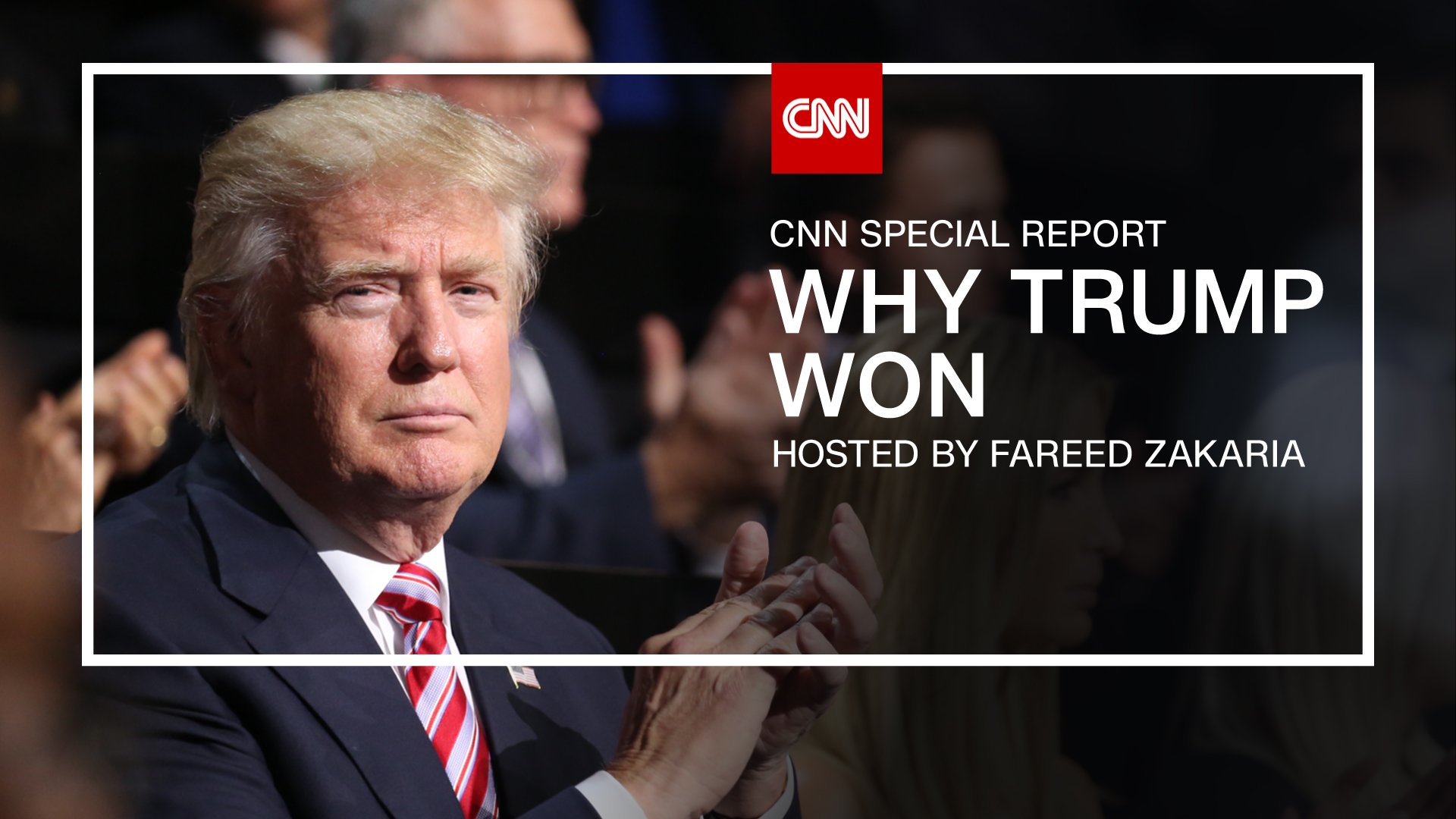 Fareed Zakaria
July 27th, 2017
'WHY TRUMP WON' – Fareed Zakaria on the Reshaping of American Politics
New CNN Special Report Premieres Monday, August 7 at 9:00pm Eastern on CNN/U.S. and CNN International
Donald Trump's victory on Nov. 8, 2016, shocked the American political establishment.  WHY TRUMP WON, tells the story of the signals many missed, but were there all along.  Fareed Zakaria points to himself – "I got it wrong," he says – as he explores the cultural forces that propelled Trump towards his historic presidential win in a new CNN Special Report, WHY TRUMP WON, that will premiere Monday, Aug. 7 at 9:00pm Eastern on CNN/U.S. and CNN International.
WHY TRUMP WON shows how Trump has worked towards closing the ultimate deal – winning the White House – for decades.  Trump attended his first Republican National convention in 1988 and competed for the Reform Party nomination in 1999.  And, through print ads, television interviews, and social media, Trump has carefully tailored his political messages over the years and ultimately persuaded millions to join his powerful political army.
In WHY TRUMP WON, Zakaria reports on families falling apart: depression, drugs, desperation, and finally resentment taking root in some American communities, supplanting what had been flourishing middle class optimism.  Under a veneer of rosy 2016 stock market and jobs statistics, was a decades-long crumbling of middle class culture and a long-simmering loss of faith in institutions.
David Betras, chairman of Ohio's Mahoning County Democratic Party, is frustrated that "a man who [uses] gold-plated toilets" became the political bannerman for middle America, but Betras feels Hillary Clinton and the Democrats lost as definitively as Donald Trump won in 2016.  Betras says working class people in Mahoning felt Democrats, the "party of the people," had left them.  And, they channeled their frustrations into electoral victories last year for Donald Trump that were decisive in what some described as an earthquake of an election.
Others with insights into Trump's historic vanquishing include conservative culture columnist and author, David Brooks (The Road to Character, 2016); political historian and author, Thomas Frank (Listen, Liberal: Or, What Every Happened to the Party of the People?, 2017); journalist and author George Packer (The Unwinding: An Inner History of the New America, 2014); Trump ghost writer Tony Schwartz (Trump: The Art of the Deal, 1989), and statistician and author Nate Silver (The Signal and the Noise, 2012)
WHY TRUMP WON will encore Friday, Aug. 11 at 10:00pm Eastern on CNN/U.S..  In addition to the telecasts, WHY TRUMP WON will also stream live for subscribers via CNNgo (at www.CNN.com/go and via CNNgo apps for Apple TV, Roku, Amazon Fire, Samsung Smart TV,  and Android TV) and on the CNN mobile apps for iOS and Android.  Beginning Tuesday, Aug. 8, this Fareed Zakaria CNN Special Report will also be available on demand via cable/satellite systems, CNNgo platforms, and CNN mobile apps.
*****
About CNN
CNN Worldwide is the most honored brand in cable news, reaching more individuals on television, the web and mobile devices than any other cable news organization in the United States. Internationally, CNN is the most widely distributed news channel, reaching over 348 million households.  CNN Digital is the #1 online news destination across all platforms, with more unique visitors and video starts than any other competitor. CNN's award winning portfolio also includes CNN Original Series, which develops non-scripted programming for television via commissioned projects, acquisitions and in-house production.  CNN Films produces, commissions and acquires documentary feature and short films for theatrical and festival exhibition, as well as for broadcast and other distribution across CNN's multiple platforms.  Additionally, CNN Newsource is the world's most extensively utilized news service partnering with over 1,000 local and international news organizations around the world. CNN is a division of Turner Broadcasting System, Inc., a Time Warner Company.
 – 30 –