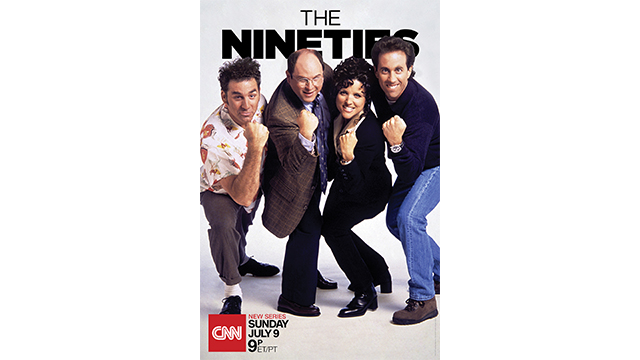 CNN Original Series
June 12th, 2017
CNN RETURNS TO "THE NINETIES"
SUNDAY, JULY 9, AT 9:00 PM ET/PT 
CNN hits rewind to explore the most iconic moments and influential people of The Nineties on Sunday, July 9, at 9:00 p.m. ET/PT.  Executive produced by Emmy® Award-winning producers Tom Hanks and Gary Goetzman (Playtone) and Emmy® Award-winning producer Mark Herzog (Herzog & Company), The Nineties is a seven-part CNN Original Series that examines the presidencies of George H. W. Bush and Bill Clinton, technological triumphs and terrorist tragedies, the grunge revolution and hip-hop's ascendance, interracial conflict across America, and a genre-bending era of television.

The Nineties combines archival footage and interviews with journalists, historians, musicians and television stars including Tom Hanks, Kelsey Grammer, Sean Hayes, Arsenio Hall, Darren Star, Alanis Morissette, Questlove, Lance Bass, Christiane Amanpour, Dan Rather, Madeleine Albright, Al Sharpton, and more. The series kicks off with a two-hour episode about television of the '90s highlighting shows from Friends and Frasier to Sex and the City and The Sopranos.
The series, which will regularly air Sundays at 9:00 p.m. ET/PT, follows in the footsteps of previous decade series The Eighties and Emmy-nominated The Seventies and The Sixties.
About CNN Original Series
The CNN Original Series group develops non-scripted programming for television via commissioned projects, acquisitions and in-house production. Amy Entelis, executive vice president of talent and content development, oversees CNN Original Series and CNN Films for CNN Worldwide.  Lizzie Fox, vice president of current programming, supervises production of all CNN Original Series.