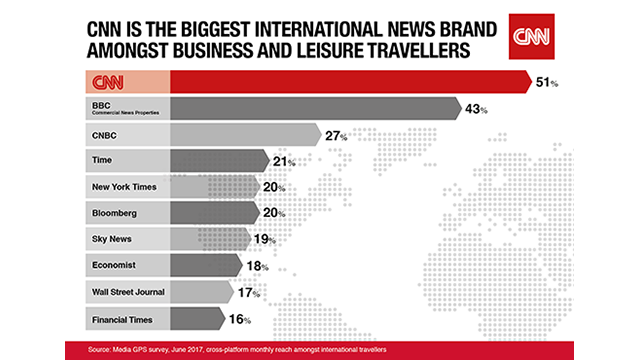 CNN Commercial
June 12th, 2017
CNN named most popular news source for business and leisure travellers
No other international news media comes close to CNN in engaging with global business and leisure travel audiences, according to the inaugural Media GPS survey, conducted by international research consultancy BDRC Group, which has studied the trends of 9.9 million weekly international travellers.
By surveying international travellers as they book through online travel agencies (OTAs), traditional travel agents and corporate travel management companies (TMCs), the Media GPS study found that over 50% of all international travellers turn to CNN via TV and digital for news and information during their trips.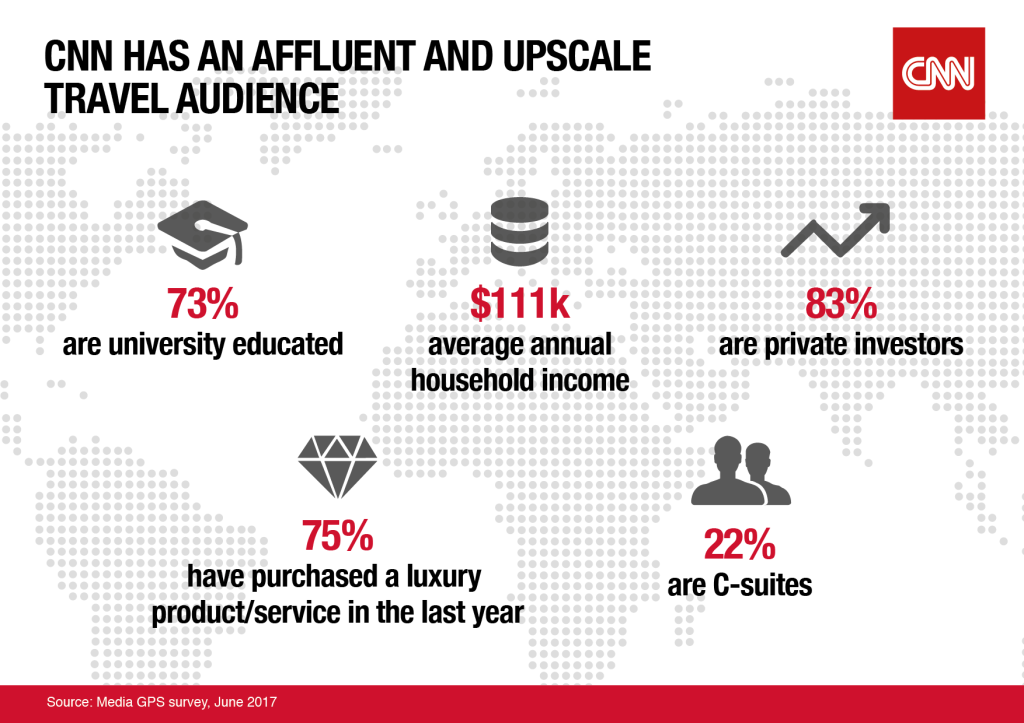 This is ahead of the BBC (43% reach), CNBC (27%) and all other international news brands. The study shows CNN audiences to be affluent, frequent travellers for both business and leisure, accounting for nearly 42 million international air trips in total and 63 million nights in hotels for business annually, and liquid assets totalling $1.7 billion dollars.
The Media GPS survey also shows CNN extending its #1 position amongst key traveller audiences for international advertisers such as Business Influencers (CNN: 58%; BBC: 49%; CNBC: 32%), C-suites (CNN: 59%; BBC: 49%; CNBC: 32%) High Income Earners (CNN: 60%; BBC: 50%; CNBC: 32%) and International Travellers (CNN: 58%; BBC: 52%; CNBC: 29%).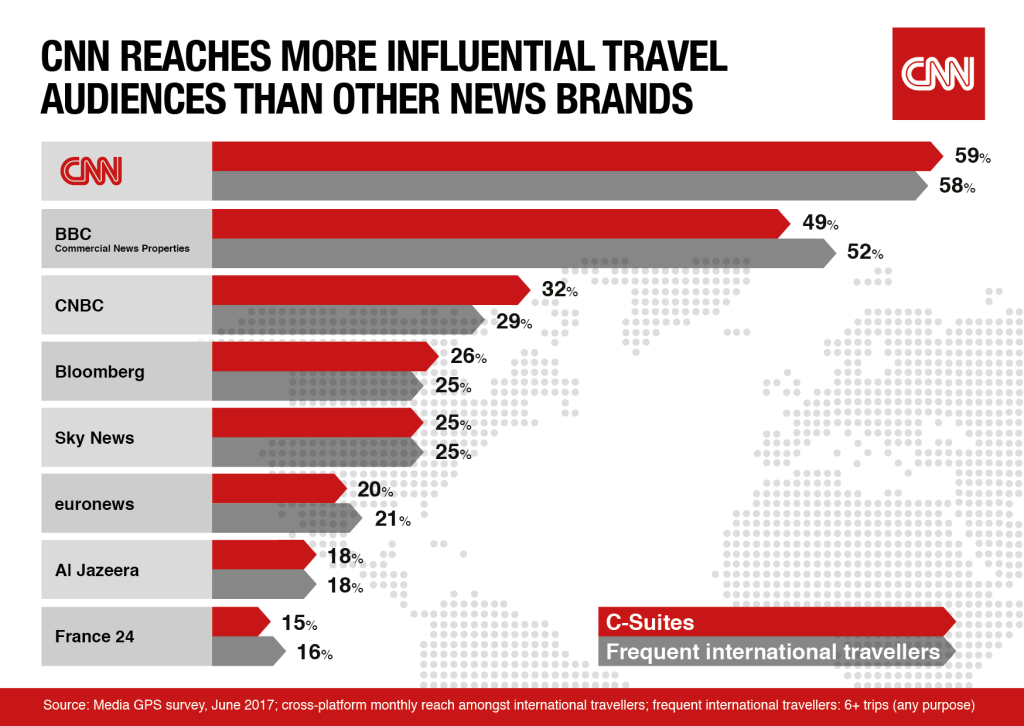 "This study is an interesting departure from traditional recall surveys as it uses the moment of booking a flight to understand the profile and habits of international travellers and combine that insight with data about their travel plans," said Mark Sear, Vice President, Audiences and Data, CNN International Commercial. "It gives a robust picture and rich data points that we can use to further understand trends amongst influential and affluent audiences. However, you don't need to be a data scientist to understand the two main findings – that CNN is by far the news source of choice amongst international travellers, and that our audience is upscale with spending power in both their professional and private lives."
Notes to Editors
Reach figures are based on monthly cross-platform users. BBC figures refer to "any BBC News – Commercial – Monthly". High Income Earners: HHI US$100,000+. Frequent International Travellers: 6+ Trips (Any Purpose)
About BDRC Group's Media GPS study
Every week almost 10 million international flights are booked through a travel agent (either bricks and mortar or online). Media GPS is an innovative new global research study developed by BDRC Group that measures the media consumption of the 9.9 million adults who are booked on an international flight each week. By only including verified international travellers who book through a travel agent our survey has a very upmarket bias and business trips account for almost half of the flights booked. Crucially the survey connects respondents' media consumption with the details of the flight booking allowing a unique depth of analysis by route, airline and class of travel.
About CNN International Commercial
CNNI Commercial (CNNIC) is responsible for CNN's intercontinental commercial operations, spanning a diverse multiplatform portfolio across five continents. Its strategy is to grow CNN's dominance in the pan-regional TV market while accelerating growth through digital and data capabilities. This includes monetising and growing linear and digital news brands such as CNN International, CNN en Español, CNN Arabic, Great Big Story, CNN Style and CNN Money, and a number of other verticals and local properties. CNNI Commercial delivers best-in-class, award-winning cross-platform ad sales, brand and marketing solutions underpinned by advanced digital expertise and data insight. It operates a Content Sales and Licensing business called CNN Access, which offers a suite of consultancy, content and CNN-branded initiatives around the globe as well as establishing strategic partnerships to serve new audiences. The organisation's branded content studio, Create, has been producing award-winning multiplatform content for clients for over ten years. CNNI Commercial is part of Turner, a Time Warner company. For more information, visit http://commercial.cnn.com