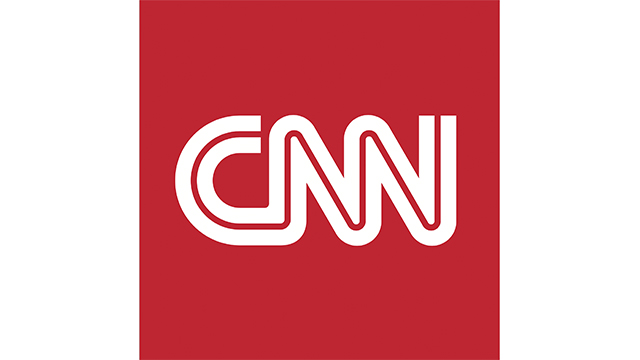 Ratings
June 9th, 2017
Update: CNN beats broadcast networks in key demo 25-54, 18-34 — Ranks #1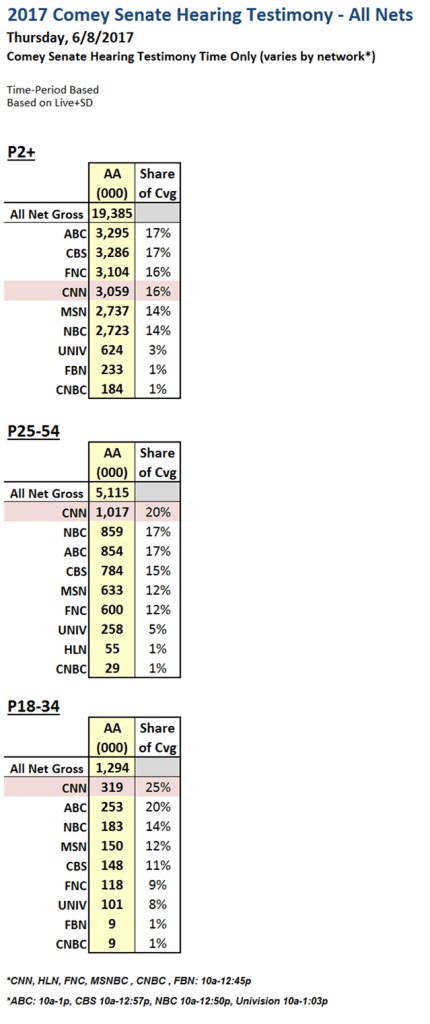 CNN #1 IN CABLE NEWS DURING JAMES COMEY HEARING IN DEMO
CNN also No. 1 in Total Day
3.9 Million Live Stream Starts for CNN Digital
CNN's coverage of former FBI Director James Comey's Senate hearing testimony yesterday (10am-12:45pm) ranked #1 in cable news in the key demo adults 25-54 by wide margins according to Nielsen Fast National data.  Among adults 25-54, CNN averaged 1.017 million, +61% more than second place MSNBC's 633k and a +70% advantage over Fox News' 600k.  In total viewers CNN beat MSNBC (3.059 million vs. MSNBC's 2.737 million), Fox News had 3.104 million.  The network was also the cable news leader among millennials (18-34) topping Fox News and MSNBC combined with 319k, MSNBC followed with 150k and Fox News trailed with 118k.
During the hearing coverage block (9am-2pm) CNN ranked #1 among adults 25-54 with 900k, Fox News followed with 554k and MSNBC had 542k.  In total viewers, CNN topped MSNBC (2.683 million vs. MSNBC's 2.391 million), Fox News had 2.873 million.
During CNN's full total day coverage, CNN also ranked #1 in the key demo, Fox News followed, MSNBC was third:
Total Day                                           Adults 25-54                                       Total Viewers
CNN                                                         529k                                                    1.553 million
Fox News                                                     438k                                                    2.091 million
MSNBC                                                        420k                                                    1.678 million
CNN Digital's live stream of former FBI Director James Comey's testimony generated 3.9 million live starts, ranking in the top 10 of all days on record for live stream starts. Viewers peaked at 11:35AM at 769K concurrent users. The day also saw 21 million unique visitors and 21 million video starts across all platforms, including 8 million unique visitors on CNN Politics content alone.
###