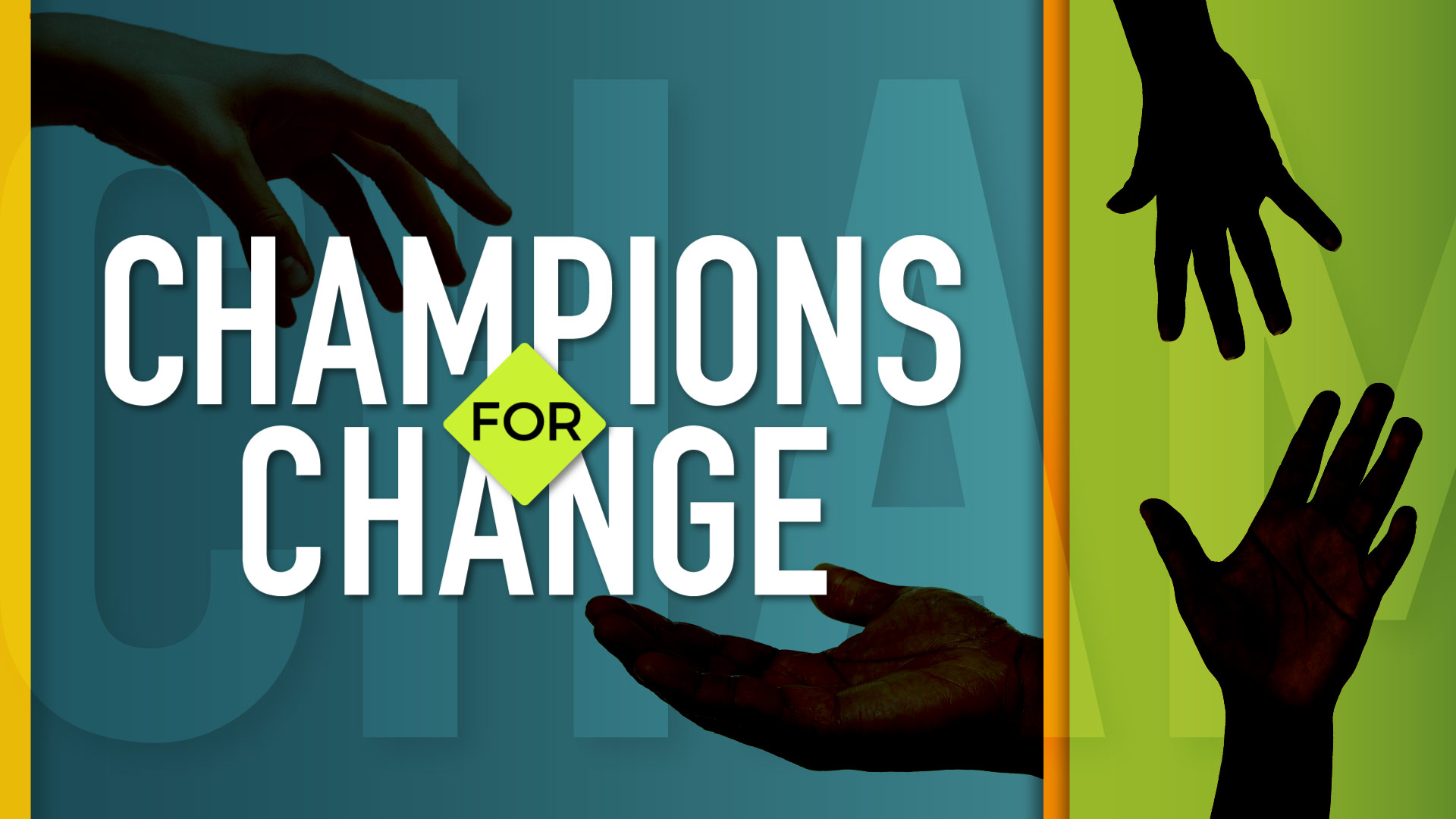 CNN
June 8th, 2017
CNN AND HLN ANCHORS CELEBRATE THE MEN AND WOMEN WHO DEDICATE THEIR LIVES TO HELPING OTHERS
"Champions for Change" – a special week-long event – will begin airing on Sunday, June 11th across CNN, with a one-hour special hosted by Dr. Sanjay Gupta airing on Saturday, June 17th at 9pm ET
Beginning on Sunday, June 11th, CNN will air Champions for Change, a week-long special event that sends CNN and HLN anchors out in the field to spend time working with the people and causes that are close to their hearts.  The anchors travel across the country to share the moving stories of the leaders and volunteers behind these inspiring organizations, learn about the challenges they face, and see first-hand the real difference they are making in the lives of those they help.  Champions for Change will air as individual segments across CNN throughout the week, culminating in a one-hour, prime-time special highlighting the series' best moments, hosted by Dr. Sanjay Gupta on Saturday, June 17th at 9pm ET.

Champions for Change continues CNN's commitment to telling the stories of real Americans and celebrating the work they do to make a difference in their communities.  Below are highlights from the series.
BROOKE BALDWIN
When CNN Newsroom anchor Brooke Baldwin first interviewed the founder of The Heroes Project, Tim Medvetz, she was in awe of the work Tim did helping veterans who have lost limbs climb mountains. Being with Tim in Joshua Tree National Park as he trained veteran Kirstie Ennis for an upcoming climb of Carstesz Pyramid in Indonesia was an experience Brooke will never forget and can't wait to share.
JOHN BERMAN
No one's prepared to have a critically-ill child which is why Friends of Karen is so vital. CNN Newsroom anchor John Berman introduces us to the charity and the individuals who provide one-on-one support for hundreds of families every day caring for a child with a life-threatening illness in the New York tri-state area.
KATE BOLDUAN
With farming in her roots, CNN anchor Kate Bolduan treks to the hills of Appalachia to explore how Farm-Aid helped Robin Robbins, the matriarch of a multigenerational farm family, save her land and heritage.
ERIN BURNETT
CNN OutFront anchor Erin Burnett remembers the first time she came across Meals on Wheels.  It was the Holidays, and she realized that even a small donation could help provide a special meal for an elderly person, living alone.  Nationwide, more than two and a half million seniors are served by Meals on Wheels, and it's about much more than just a hot meal.
ALISYN CAMEROTA 
CNN's New Day anchor Alisyn Camerota follows two young girls uplifted by DreamYard, an arts program in the poorest congressional district in the country. Through a stroke of a brush and a click of a camera, these two inspiring hearts discover themselves. And through the program, are shown a pathway to the future.
ANDERSON COOPER
Jimmy Hatch was critically wounded in Afghanistan in 2009 during a firefight with the Taliban.  A military dog named Remco lost his life on that mission, and Jimmy has now dedicated his life to keeping working police dogs safe by outfitting them with bullet proof vests and helping with their training and medical expenses.  Anderson and Jimmy formed a strong bond after they met for a story two years ago, and Anderson has been instrumental in helping Jimmy with his charity, calledSpike's K9 Fund, after Jimmy's dog Spike, who was also killed in combat.
DR. SANJAY GUPTA
CNN Chief Medical Correspondent Dr. Sanjay Gupta returns to Haiti, where he spent weeks reporting on the aftermath of the devastating 7.0 magnitude earthquake that hit the country in 2010. He recalls thinking, "This is a place that will never recover – a place forgotten." But Dr. Paul Farmer, co-founder of the non-profit Partners in Health, single-handedly proved him wrong. "Can we make a difference?" Gupta learns, is a philosophical question. If you're really looking to enact meaningful change, the question you should be asking is, "How do we do it?"
POPPY HARLOW
Every child deserves the opportunity to succeed and have an equal shot at success in life. That is what makes CNN Newsroom anchor Poppy Harlow so passionate about Madison Square Boys & Girls Club. She takes us on a journey inside its Brooklyn clubhouses, a second home to thousands of New York City kids, which provide support, mentorship and a promising path forward.
DON LEMON
CNN Tonight anchor Don Lemon travels to Orlando, Florida to meet some of the youngest warriors in the fight against cancer and discovers courage comes in all sizes.  No one knows better the power of compassion, love and positive thinking. Don sees for himself how these children, with support from Runway to Hope,  live every moment to the fullest.
ROBIN MEADE
HLN's Morning Express host Robin Meade visits a school where the majority of kids receive free or reduced meals. But when classes wrap up Friday, some students might not get enough food to eat until the school bell rings on Monday. Robin shines a spotlight on a charity filling in food gaps on the weekend – Blessings in a Backpack.
MICHAELA PEREIRA
HLN's Michaela Pereira heads to Optimist Youth Home and Family Services in Los Angeles to talk with the at-risk teens who live there and those who've come through the program about their troubled pasts and how Optimist is steering them forward. Michaela has worked with Optimist for over a decade and shows us what makes this place special and how being a part of the Optimist community continues to help her in her everyday life.
FREDRICKA WHITFIELD
For CNN anchor Fredricka Whitfield, playing sports was part of everyday life. In her story withGirls on the Run DC, Fredricka runs with a small but determined group of girls, on their way to their first 5k race. Talking with the girls, Fredricka shares her own stories of how sports helped her build confidence and shape who she is today.
For more Champions for Change content, including photos galleries, first-person essays and original digital videos, head to CNN.com/championsforchange.
                                                            
   ###