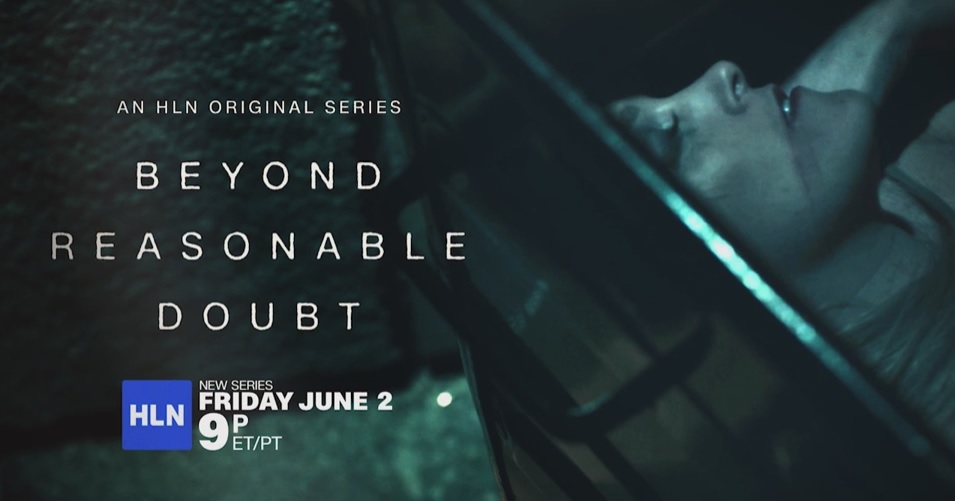 HLN Press Releases
May 15th, 2017
HLN to premiere true crime series "Beyond Reasonable Doubt" on Fri., June 2 at 9PM ET/PT
New series by Nutopia, creator of top ranked CNN Original Series, "Finding Jesus"
Beyond Reasonable Doubt Trailer: http://cnn.it/2rjzdBw
Programming note (as of June 20, 2017): Beyond Reasonable Doubt has moved its regular air time to Sundays at 8 pm ET/PT on HLN.
NEW YORK (May 15, 2017) – HLN debuts Beyond Reasonable Doubt, from executive producers Jane Root and Ben Goold with Nutopia, the team behind the highly rated CNN Original Series, "Finding Jesus" (seasons one and two), on Friday, June 2, 2017, 9 pm ET/PT. Over six one-hour episodes, the true crime documentary series takes viewers inside the world of forensic investigation through high-profile criminal cases of the past century that were ultimately solved by advances in forensic science or technology. 
Driven by powerful first-person storytelling, the series features the lead detective of each case (the Green River Killer, 1996 Atlanta bombings) and is elevated by filmic dramatic elements and textures. A supporting cast of world-class forensic scientists contextualizes the incredible history of each forensic advance (DNA, spectral imaging, forensic microscopy) and highlight how forensic technology is changing the face of crime fighting.
Beyond Reasonable Doubt is the first acquired HLN Original Series as the network continues to develop a high-end slate of unscripted programming designed to captivate and broaden the HLN true crime audience. Following the forensic science investigative series, HLN will premiere Something's Killing Me, a lineup of puzzling life or death medical mysteries produced by CNN Development, on Fri., July 21, 2017.
Following are program descriptions for the HLN Original Series, airing within the HLN Friday night "Spotlight" programming block (premiere dates are subject to change):
The Green River Killer (airdate: June 2) In 1982, the first victims of America's most prolific serial killer were found. The killer was at large for two decades, amassing a body count of over 50 women. Catching him took an advance in 'forensic microscopy' to indisputably link minute paint particles from the victims' clothes to the killer.
Lady in the Barrel (airdate: June 9) In 1999, detectives investigate the body of a murdered woman found in a barrel along with an address book that had been soaked for over 30 years. Using a game-changing technology called spectral imaging, scientists recover the information from the address book, giving the cops the break they need.
Left For Dead (airdate: June 16) In 2002, armed with DNA and a license plate from a particularly violent rape case, a detective thinks he has an easy case to crack. But neither provides a match. The case goes cold until the groundbreaking 'Combined DNA Index System' finds a hit 5 years later, kicking off an epic hunt for the culprit.
The Murdered Bride (updated airdate: June 25) In 1986, the LAPD arrive at a murder scene. They're certain it's an open and shut case, but the case quickly goes cold. It takes 20 years, and the advent of DNA testing to provide a stunning new lead: the original investigation had searched for a male killer… but DNA reveals it wasn't a man, it was a woman.
The Atlanta Bombings (updated airdate: July 2) In 1996, a bomb goes off at the Atlanta Olympics killing one and leaving hundreds injured. After a further 5 bombs are detonated, the FBI, ATF and GBI realize they're dealing with a serial bomber. The Agencies use every tool at their disposal – even NASA scientists – to help bring the bomber to justice.
Murder in Vegas (updated airdate: July 9) In 1995, charred bones and a skull with five bullet holes were found inside a burnt antique trunk in the Nevada desert. Despite the full arsenal of cutting edge forensic tools at investigators' fingertips, it was a method first developed in the era of Sherlock Holmes that helped convict the killer.
Beyond Reasonable Doubt will be available On Demand the day after the linear premiere on cable VOD.
About HLN Original Series
Amy Entelis, executive vice president of talent and content development, CNN Worldwide, oversees CNN Original Series and HLN Original Series. Nancy Duffy, vice president of program development for CNN, supervises production of internally-produced HLN Original Series, and Lizzie Fox, vice president of current programming, CNN Original Series, supervises production of commissioned HLN Original Series. Jon Adler is senior director of development for HLN and CNN Original Series.
About Nutopia
Nutopia is a leading production company, creating innovative and award-winning premium content on a global scale. Nutopia's broad slate spans prominent global broadcasters including Finding Jesus Series Two for CNN; One Strange Rock for National Geographic; and Civilisations for the BBC and PBS. Its shows are often hybrid in nature, blending huge scale history series and high-profile talent from the worlds of documentary and drama using innovative storytelling. Nutopia was founded in 2008 by Jane Root, former President of Discovery Channel US, Controller of BBC2 and co-founder of Wall to Wall TV. Nutopia has bases in Washington DC, New York and London, UK.