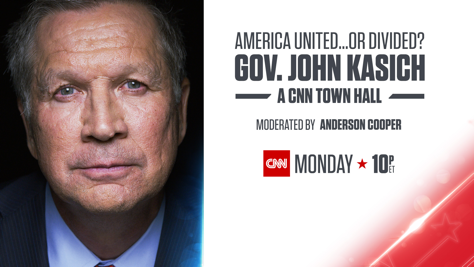 CNN Press Releases
April 18th, 2017
CNN to Host Town Hall with John Kasich on April 24
CNN TO HOST TOWN HALL WITH OHIO GOVERNOR JOHN KASICH ON APRIL 24
ANDERSON COOPER TO MODERATE ONE-HOUR PRIMETIME EVENT
WASHINGTON, D.C. – April 18 – CNN will host a Town Hall with Ohio Governor and former Republican presidential candidate John Kasich on Monday, April 24 at 10 p.m. ET.
Kasich will discuss his take on Trump's first 100 days in office, his reflections from the 2016 campaign, and his hopes for the future as outlined in his book, Two Paths, America Divided or United. 
CNN anchor Anderson Cooper will moderate the Town Hall between the governor and a live studio audience in New York.
The live event will air on CNN, CNN en Español, CNN International, CNNgo, Westwood One Radio Network and on CNN Channel 116 on Sirius XM. 
# # #