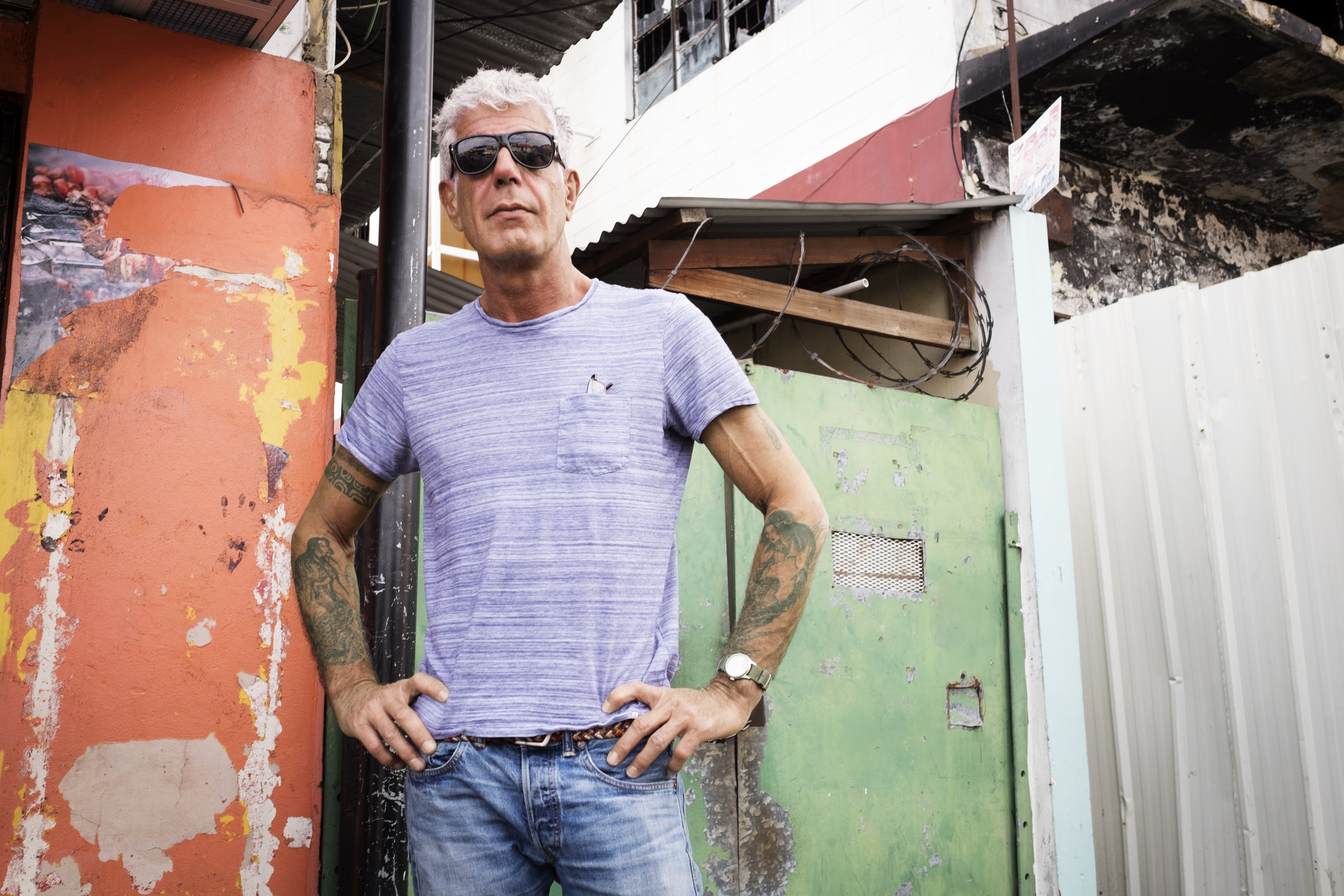 CNN Original Series
April 11th, 2017
An Alternative Tour of Los Angeles Kicks off Season Nine of CNN Original Series Anthony Bourdain Parts Unknown, Sunday April 30 at 9pm
New Edition of Prime Cuts Features Season Eight Highlights with a Preview of Season Nine
(April 11, 2017) Season nine of the top-rated Emmy and Peabody award-winning CNN Original Series Anthony Bourdain Parts Unknown begins on Sunday, April 30 at 9pm ET/PT with a Latino-themed trip to Los Angeles.
The eight-episode season also features tours of San Sebastian, Laos, Queens, NY, Antarctica, Oman, Trinidad and Porto, Portugal.
Airing on Sunday, April 23 at 9pm ET, is the latest edition of Prime Cuts, in which series executive producer Chris Collins (off-camera) asks Bourdain to reflect upon last season's locations, and provide a preview of upcoming episodes.
Anthony Bourdain Parts Unknown follows the world-renowned chef and best-selling author as he travels the globe to uncover the little-known, off-the-road, and sometimes seemingly-familiar areas of the world in a celebration of their diverse foods and culture.
Anthony Bourdain Parts Unknown is produced by Zero Point Zero Production with executive producers Chris Collins, Lydia Tenaglia, Sandra Zweig, and Anthony Bourdain.
Please click on the following link for the season nine trailer: http://cnn.it/2nSYXT8
Following are the locations and episode descriptions for season nine of Anthony Bourdain Parts Unknown:
Los Angeles (season nine premiere – airdate: April 30) An alternative tour of Los Angeles by Bourdain focuses on the impact and contributions of its less photographed and often overlooked Latino communities. From downtown, for Oaxaqueno specialties at Gish Bac and redefined Mexican food from chef Ray Garcia at Broken Spanish, to Hollywood, for a health-conscious but savory dinner with actor Danny Trejo (Machete) at Trejo's Cantina, the host experiences this vibrant culture against a backdrop of LA glamour.
San Sebastian (airdate: May 7) Bourdain visits the coastal city of San Sebastian in the Basque Country, famous for its spectacular views and incomparable fresh seafood. Alongside friend and renowned chef Juan Mari Arzak, Bourdain dines at favorite haunt Ganbara for its popular dish of seared wild mushrooms and foie gras with raw egg yolk, and is given a taste of the finest Basque delicacies prepared simply, including grilled turbot at famed restaurant Elkano, in Getaria.
Laos (airdate: May 14) The rich sensory experience of Laos with its enchanting scenery, distinctive aromas, and exceptional food are explored in Bourdain's trip to this Southeast Asian country which also continues to suffer the effects of the Secret War by the U.S in the 1960's-1970's. In his travels, the host takes in a boat festival, dines on imperial dishes at the Ban Lao hotel prepared by Mama Vahn, and communes with residents who have fallen victim to active bombs that still pepper the countryside.
Queens (airdate: May 21) Bourdain discovers a hub of international cuisines and cultures in the New York City Borough of Queens. Traveling via the No. 7 train, the host dines on morcilla (blood sausage) with Sean Basinski of the Street Vendor Project in Corona, samples Chinese food in Flushing with Swet Shop Boys member Himanshu Suri, imbibes at historic Neirs Tavern (seen in GoodFellas) in Woodhaven, eats a Tibetan dinner at Lhasa Fast Food in Jackson Heights, and takes a detour to Aqueduct racetrack in South Ozone Park with his Appetites cookbook co-author Laurie Woolever.
Antarctica (airdate: ‪June 4) Bourdain travels to the bottom of the world to experience the serene beauty and mystery of the driest, coldest, windiest place on earth. Taken under the wings of such hearty residents as scientists, contractors and the U.S. military, Bourdain's adventures include a helicopter view of the largest active volcano in the southern hemisphere, a snowmobile drive over 8 ft. thick sea ice, a visit with a colony of Adele penguins, and a trip the South Pole.
Oman (airdate: ‪June 11) Bourdain takes his first journey to the Sultanate of Oman and finds a peaceful land of remarkable beauty that defies expectations. His travels include the capital city Muscat, as well as port city Muttrah to restaurant Bait Al Luban for shuwa, a special dish made from the complex process of cooking meat buried in the ground for days over hot coals, and Sharqiya Sands, on the edge of the Empty Quarter, to dine with the local Bedouins who inhabit the world's largest sand desert.
Trinidad (airdate: June 18) A trip to the Caribbean uncovers how the island of Trinidad has turned a history of colonialism and slavery into a non-stop celebration of multicultural food, music and good times. Bourdain visits Port of Spain, a vibrant city of African, Indian, Chinese and Middle Eastern influence, where he dines on curried duck, doubles (floppy Indian bread topped with curry chickpeas, mango) and fish in tahini sauce with Trinidadians of contrasting cultures. While the Carnival lifestyle revolves around liming (hanging out) and wining (dancing), Bourdain questions the extent to which this non-stop bacchanal distracts residents from the country's growing list of social ills.
Porto, Portugal (airdate: ‪June 25) Food takes center stage in this tour of the northern Portugal city by Bourdain, whose local travel companions include his former Les Halles boss Jose Meirelles. A sumptuous pig tripe dinner at A Cozinha do Martinho, an at-home meal of sea lamprey and a stop at Café O Afonso for local specialty Francesinha highlight the trip which culminates with a traditional food celebration in the Douro Valley countryside.
****
Parts Unknown enthusiasts can recreate Bourdain's journeys and find archived material from past seasons via the newly launched site Explore Parts Unknown, a partnership of CNN, Roads & Kingdoms, and Anthony Bourdain. This mobile-first, digital exclusive destination, reflects the style and editorial focus born from the host's contagious passion for culture, food, travel, and adventure. Original stories, recipes, perfect day destinations, hotel bar diaries, premium photography, engaging interactives, and digital-exclusive video are featured. New destinations will roll out every week.
Viewers are encouraged to follow the show's Twitter account @partsunknownCNN (twitter.com/PartsUnknownCNN) and the CNN Parts Unknown Facebook page (facebook.com/PartsUnknownCNN).
Each episode of Anthony Bourdain Parts Unknown will be available On Demand the day after the broadcast premiere on cable VOD, CNN mobile app, and on CNNgo via Roku, AppleTV, Amazon Fire, and desktop at www.cnn.com/go.
About ZPZ
Zero Point Zero Production, Inc. is a television, film and digital media company founded in 2003 by Executive Producers Chris Collins and Lydia Tenaglia, with partner and Managing Director Joe Caterini joining in 2009. Since its inception, the company has produced hundreds of hours of television in over 100 countries around the world, including the critically acclaimed, Emmy & Peabody Award winning series, Anthony Bourdain: Parts Unknown (CNN); the Emmy Award winning The Mind of a Chef (PBS) and Emmy nominated The Hunt with John Walsh (CNN).
About CNN Original Series
The CNN Original Series group develops non-scripted programming for television via commissioned projects, acquisitions and in-house production. Amy Entelis, executive vice president of talent and content development, oversees CNN Original Series and CNN Films for CNN Worldwide.  Lizzie Fox, vice president of current programming, supervises production of all CNN Original Series.
-30-