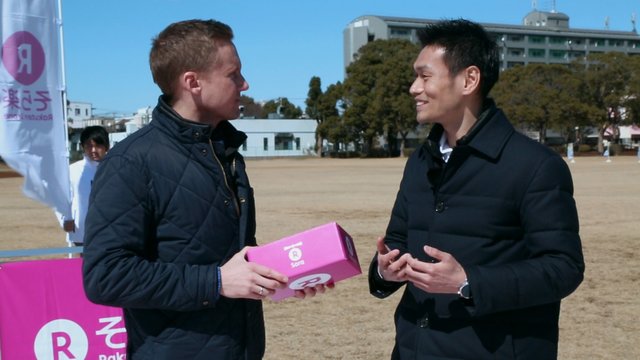 CNN Commercial
March 22nd, 2017
Fujitsu champions high-tech innovation with new campaign on CNN and sponsorship of 'Made In Japan'
Fujitsu, the multi-national information technology equipment and services company, is partnering with CNN International Commercial (CNNIC) for an exclusive media campaign to reach international business audiences. The multi-platform advertising and sponsorship campaign combines the scale of CNN's TV platform with precision targeting on CNN Digital and positions Fujitsu as the exclusive sponsor across all platforms for CNN's 'Made In Japan' programming, which starts this week.
Fronted by CNN's Tokyo-based correspondent Will Ripley, 'Made In Japan' is produced by CNN International's original programming division CNN Vision and introduces audiences to the latest in Japanese technology, retail and bio-tech. It will air on CNN International as five separate segments, a standalone 30-minute special programme and has a dedicated microsite on CNN Digital platforms.
As well as the sponsorship of 'Made in Japan', Fujitsu will connect with CNN audiences through an extended 60 seconds TV spot placement and native ads across CNN Digital, driving users to a branded content hub titled Work the World. All advertising creative and branded content is produced by Create, CNN International's branded content studio, with a focus on telling engaging stories about changing work-spaces and the mobility and security benefits of Fujitsu's new Notebook and Tablet. The digital content uses CNN Audience Insight Measurement (AIM) to target Fujitsu's primary audiences of business decision makers and frequent international travellers across the globe.
Elaborating on the initiative, Sunita Rajan, Senior Vice President, Advertising Sales, Asia Pacific, CNN International Commercial, said "This multi-platform campaign embodies the very best of what CNN offers to global brands such as Fujitsu by combining the scale of our TV network with the precision and targeting enabled by digital. The 'Made In Japan' programming and the branded content ensure that great storytelling is at the heart of the campaign making it highly relevant to our businesses audiences and delivering a message that will resonate deeply."
"While Japan is a nation blessed with strong heritage and culture, it is also renowned as a hub for innovation in technology that shapes the future. We at Fujitsu have for 35 years continued to undertake PC manufacturing that is 'Made In Japan,' and we consolidate the entire process–planning, development and production functions–in-country so as to rapidly respond to customer needs, and at an exceptional level. We are elated to be associated with CNN's theme week 'Made In Japan' which pays tribute to all these attributes. We see tremendous value in embracing CNN's creative strategies that help bring us closer to key audiences," said Kuniaki Saito, Representative Director & President, Fujitsu Client Computing Limited.
Check out more:
For more information, please contact:
Bipasha Bhattacharya / Penelope Heath
Tel: +852 3128 3568 / +852 3128 3538
Email: bipasha.bhattacharya@turner.com/ penelope.heath@cnn.com
About CNN International Commercial
CNNI Commercial (CNNIC) is responsible for CNN's intercontinental commercial operations, spanning a diverse linear and digital news and information portfolio across five continents. This includes platforms such as CNN International, CNN en Español, CNN Arabic, Great Big Story, CNN Style and CNN Money, and a number of other verticals and local properties. CNNI Commercial delivers best-in-class, award-winning cross-platform ad sales, brand and marketing solutions combined with advanced digital trading and data capabilities. It operates a Content Sales and Licensing business called CNN Access, which offers a suite of consultancy, content and CNN-branded initiatives around the globe and has a business development unit that establishes strategic partnerships to serve new audiences. The organisation's branded content studio, Create, has been producing award winning content for clients for over ten years. CNNI Commercial is part of Turner, a TimeWarner company. For more information, visit http://commercial.cnn.com
About Fujitsu
Fujitsu is the leading Japanese information and communication technology (ICT) company, offering a full range of technology products, solutions, and services. Approximately 156,000 Fujitsu people support customers in more than 100 countries. We use our experience and the power of ICT to shape the future of society with our customers. Fujitsu Limited (TSE: 6702) reported consolidated revenues of 4.7 trillion yen (US$41 billion) for the fiscal year ended March 31, 2016. For more information, please see http://www.fujitsu.com.
About Fujitsu Client Computing Limited
Fujitsu Client Computing Limited conducts development, planning, manufacturing and sales, as well as support for maintenance and repair of personal computers and tablets, document imaging products and other ubiquitous devices.