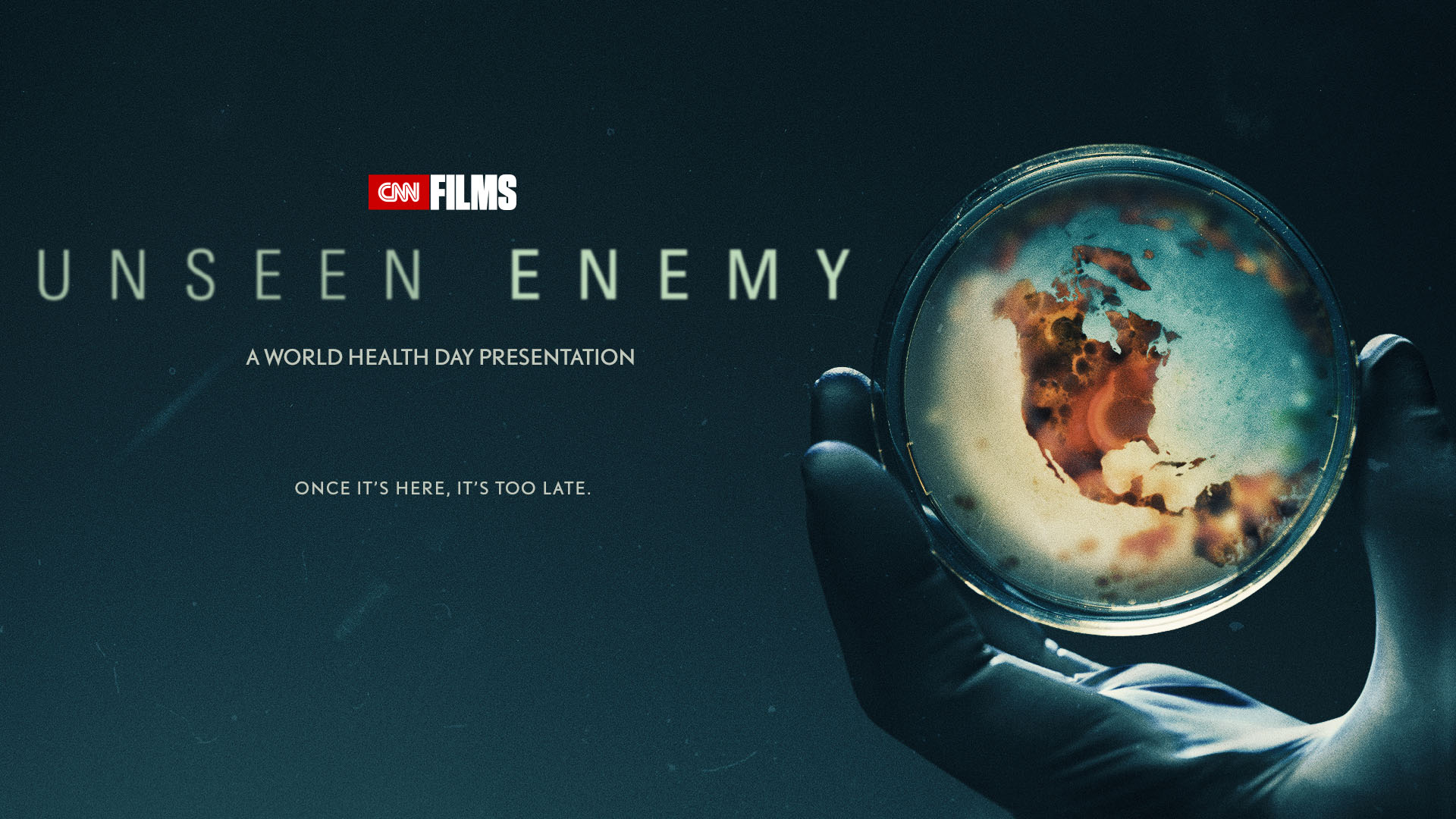 CNN Films
March 17th, 2017
CNN Films Debuts UNSEEN ENEMY for World Health Day Presentation
The world's urgent call to action on pandemics like Zika, Ebola, flu has global premiere April 7

UNSEEN ENEMY, about the potential looming crisis of disease pandemics, will debut as a CNN Films broadcast for a World Health Day presentation Friday, April 7 at 10:00pm Eastern on CNN/U.S.  The film is exclusively presented by Johnson & Johnson.  All broadcasts will have limited commercial interruptions.
UNSEEN ENEMY is narrated by Emmy® and Golden Globe award-winning actor Jeffrey Wright and is written and directed by award-winning filmmaker Janet Tobias.  CNN's chief medical correspondent Sanjay Gupta, MD, is an executive producer and consultant for the film.  Philanthropist Paul G. Allen, known for his catalytic leadership during the 2014 West Africa Ebola outbreak, is also an executive producer.
Tobias embedded with some of the world's top pathogen hunters and medical professionals for more than three years, crisscrossing the globe for UNSEEN ENEMY, to track outbreaks of Zika, Ebola, and influenza.  From inside the hot zones in Brazil and Liberia, the film includes doctors who detail their heroic and often hazardous work from the front lines of the outbreak response.  Doctors and researchers describe how they encountered the diseases, and how they are fighting the pathogens to save patients.
While the headlines of deadly outbreaks are alarming, Tobias' film makes the case that successful containment can be achieved with coordinated efforts of medical professionals, researchers, governments, communicators, and the public.  Two historic examples support her case.  World-renowned epidemiologist Dr. Larry Brilliant, guides viewers through his difficult decisions as he worked on the teams that forcibly vaccinated the last remote villagers against smallpox.  Others describe how the global spread of HIV/AIDS could have been stopped if governments and public health bodies had acted more deliberately to warn the public.  Dr. Brilliant warns now that there may be 30 emerging human pathogens that have the potential to become epidemics.
"The public plays an essential role in the fight to contain and eradicate diseases like Ebola, Zika, and influenza," said Dr. Gupta, about his engagement in producing UNSEEN ENEMY.  "It's always been my goal to bring the best scientific and medical information to viewers so they can make informed decisions that improve their health.  The situation is urgent, but information can help make us less vulnerable," he said.
In addition to the premiere broadcasts on World Health Day, UNSEEN ENEMY will encore Saturday, April 15 at 9:00pm and Sunday, April 16 at 2:00am Eastern, with a short, CNN-produced companion special.  The special will feature CNN's Dr. Sanjay Gupta and Anderson Cooper with a discussion on the existing vulnerabilities to disease outbreaks and the tools needed to close the gaps in disease response.
"Because we witnessed epidemics up close during filming, our team came away with hope that we can win the fight against them.  Around the world, there are dedicated scientists, innovative technologists, heroic doctors and nurses, as well as survivors, moms, dads, sisters, and brothers, who understand we all have a role to play," said filmmaker Janet Tobias.  "It's only by each of us doing our part that we will win the battle."
Profiled in the film to demonstrate the wide range of expertise needed to defeat the next global health crisis are:
Laurie Garrett, a Pulitzer prize-winning health journalist explains why flu is one of the world's potentially most serious pandemics and also why public health authorities need to shift current priorities to effectively meet the next crises;
Soka Moses, MD, a heroic young Liberian physician, left his family to treat Ebola patients at the height of the epidemic that ravaged his nation;
Peter Piot, PhD, renowned microbiologist and director of the London School of Hygiene and Tropical Medicine, helped identify the Ebola virus in the 1970s and explains why the global spread of HIV/AIDS was not inevitable;
Peter Sands, a global financier, explains what the next global health crisis could mean to global markets and geopolitical stability;
Vanessa Van der Linden, MD, is a pediatric neurologist who sounded the initial alarm about a rise in microcephalic infants, following a Zika outbreak. Van der Linden even used a social media app to help gather data about the disease pattern; and,
Gwen and Terry Zwanziger, parents of a teen who died of flu complications, now urge other parents to become informed about preventive vaccines and advocate for more money for flu research.
Carole Tomko, general manager and creative director of Mr. Allen's Vulcan Productions, said, "We believe, and we've seen proof, that information is aid.  In absence of vaccines, human knowledge paired with behavior modification is the most effective way to slow the spread of contagious diseases.  UNSEEN ENEMY is a prime example of how Vulcan Productions combines storytelling and technology to ignite audiences to respond to big challenges.  It is our hope that this film will inform and prepare individuals, and global society as a whole, for the very real global health crisis we are facing."
In addition to the telecasts on CNN, Unseen Enemy will also stream live for subscribers via CNNgo on Friday, April 7 (www.CNN.com/go and via CNNgo apps for AppleTV, Roku, Amazon Fire, and iPad).  The film will be available the day after the premiere (Saturday, April 8) via CNNgo.  For additional information about the film and other ways to watch it, please visit: www.takesallofus.com.
Unseen Enemy is produced by Roger Lopez, Janet Tobias, Peter Klein, and Michael Ehrenzweig of Sierra / Tango Productions.  The executive producers are Paul G. Allen, Jody Gottlieb, and Carole Tomko, for Vulcan Productions, Amy Entelis of CNN Films, CNN chief medical correspondent Dr. Sanjay Gupta, Sabine Rollberg, and Jeffrey H. Field.  The supervising producer is Courtney Sexton of CNN Films.  UNSEEN ENEMY is co-produced by Sierra / Tango Productions and Vulcan Productions.
 
About CNN Films
CNN Films, celebrating its fifth year in 2017, produces and acquires documentary feature and short films for theatrical and festival exhibition and distribution across CNN's multiple platforms.  Amy Entelis, executive vice president of talent and content development, oversees the strategy for CNN Films; Courtney Sexton, vice president for CNN Films, works day-to-day with filmmakers to oversee projects.  For more information about CNN Films, please visit www.CNN.com/CNNFilms and follow @CNNFilms via Twitter.
About CNN
CNN Worldwide is a portfolio of two dozen news and information services across cable, satellite, radio, wireless devices and the Internet in more than 200 countries and territories worldwide. Domestically, CNN reaches more individuals on television, the web and mobile devices than any other cable TV news organization in the United States.  Internationally, CNN is the most widely distributed news channel reaching more than 320 million households abroad; and CNN Digital is a top network for online news, mobile news, and social media.  Additionally, CNN Newsource is the world's most extensively utilized news service partnering with hundreds of local and international news organizations around the world. CNN is division of Turner Broadcasting System, Inc., a Time Warner Company.
About Vulcan Productions
Vulcan Productions is dedicated to the power of storytelling. We produce content and large-scale campaigns that entertain, inspire and change the way people understand the world's toughest challenges. Our films, television series and digital content spark ideas and turn action into measurable impact. Founded by Paul G. Allen and Jody Allen, Vulcan Productions creates content across all platforms, and spotlights Mr. Allen's work in wildlife, science, climate, oceans, education, technology, current social issues, history and the arts. Our award-winning projects include The Ivory Game, Racing Extinction, Naledi: A Baby Elephants Tale, Academy Award®-nominated Body Team 12, Mind of a Giant, We the Economy, We the Voters, Ocean Warriors, #ISurvivedEbola, Girl Rising and The Blues. Upcoming releases include STEP and Unseen Enemy. For information on Vulcan Productions and our leadership in generating change through impact storytelling, visit www.vulcanproductions.com.
About Sierra / Tango Productions
At Sierra / Tango Productions (www.sierratangoproductions.com), we believe that a story has the power to inspire change.  With every film project our goal is to open a window on a world.  We aspire to tell stories that motivate audiences to talk, care, and act.  We've produced over 20 documentaries on subjects as diverse as: the Holocaust, the American criminal justice system, advances in neurosurgery, and teenagers in the 21st Century..  Sierra / Tango's most recent theatrical film, No Place On Earth, the story of the longest uninterrupted survival underground, debuted at the Toronto Film Festival, and was released in the U.S. by Magnolia Pictures, and in Germany by Senator.  Sierra / Tango is currently in production / development on films about the world memory champions and the U.S. juvenile system.
-30-