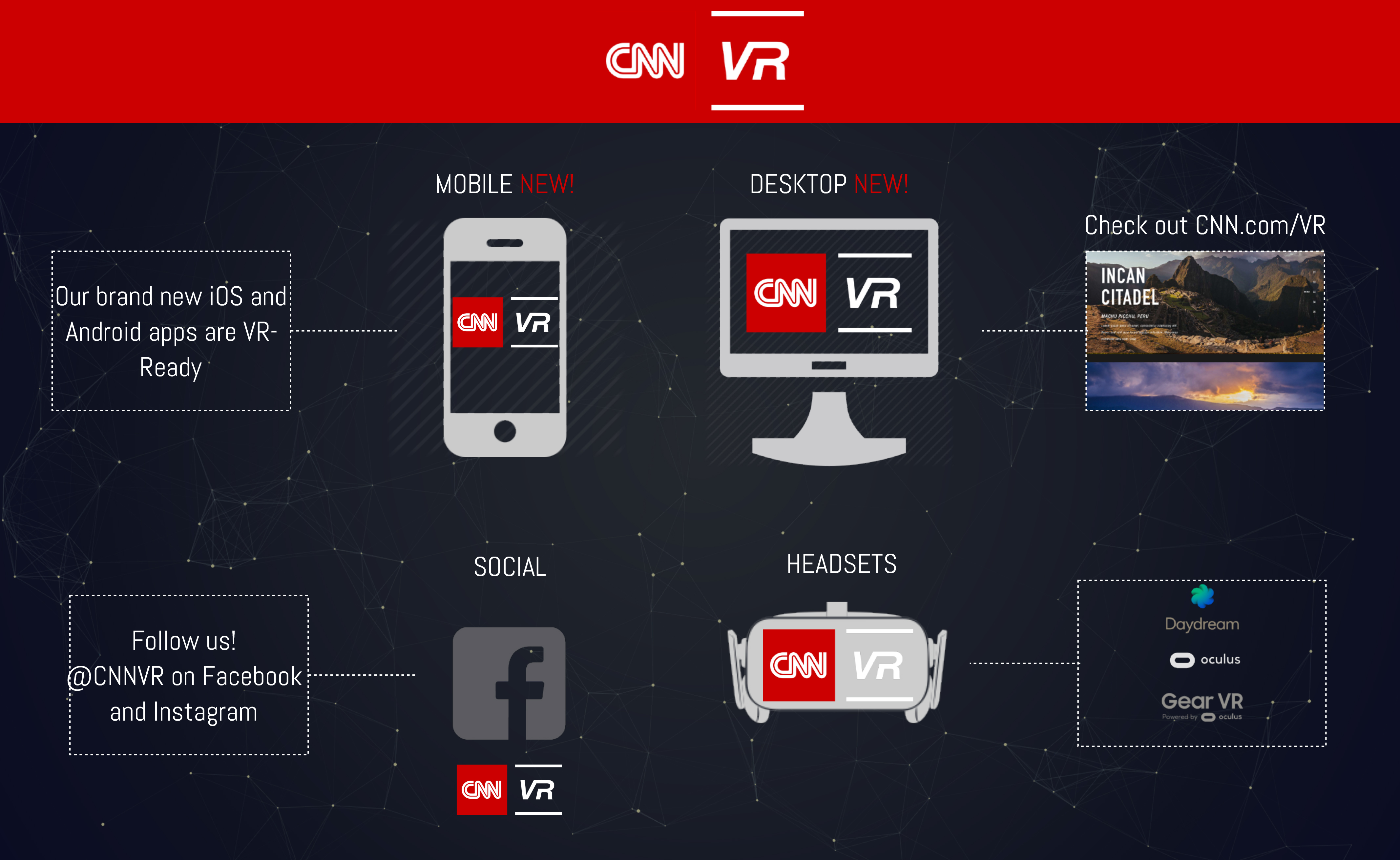 Virtual Reality
March 7th, 2017
CNN Digital Debuts its Virtual Reality Unit: CNNVR
CNN announced today the official launch of CNNVR – a new immersive journalism unit and virtual reality platform within CNN Digital.
The global team with footprints in New York, Atlanta, London, Hong Kong, San Francisco, Dubai, Johannesburg, Tokyo, and Beijing, will cover major news events in stunning 360 video, transport users to the front row of global events through VR live streams, and produce weekly virtual reality experiences – starting today with a mesmerizing journey into the running of the bulls in Pamplona, Spain.
In this endeavor, CNN is activating a new virtual reality platform, making it easier than ever to access this dynamic storytelling medium on every device, including:
Mobile
Desktop

CNN.com/VR now showcases journeys to Indonesia, Tibet, Iraq and beyond, opening up VR content on the #1 digital news site.

VR headsets

CNNVR's groundbreaking 360 content is distributed across all major headsets: Samsung GearVR, Oculus Rift and Google Daydream – a combined audience of over 5 million users.
Over the past year, CNN has experimented with VR, producing more than 50 news stories in high-quality 360 video, giving viewers a deeper understanding of the devastation of Aleppo, a front row view of the U.S. Inauguration and a chance to experience the thrill of skydiving – in total, generating more than 30 million views of 360 content on Facebook alone.
Today, this new dedicated team is committed to harnessing the power of virtual reality to transport our audience inside the stories we tell all around the globe.
Whenever news breaks, and wherever amazing stories unfold, CNNVR will transport our audience closer than ever before and on every device available.