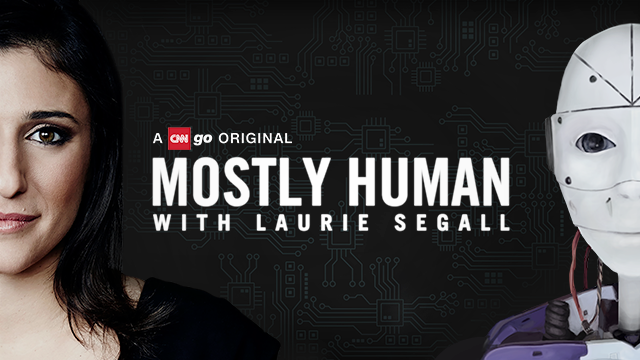 CNNgo
March 6th, 2017
CNN Announces its first CNNgo Original: Mostly Human with Laurie Segall
CNN Digital announced today its first series made exclusively for CNNgo, Mostly Human with Laurie Segall, a six-part investigative docuseries, exploring sex, love, death — humanity — through the lens of tech, debuting on March 12, 2017.
From the award-winning team that brought you Sex, Drugs & Silicon Valley, Revenge Porn and The Secret Lives of Superhero Hackers, the new series follows CNN's Senior Technology Correspondent Laurie Segall around the world as she tackles the uncomfortable questions about our increasingly complicated relationship with technology. Featuring stories of those falling in love with robots, re-creating digital versions of the deceased, experimenting with VR therapy in psychiatric wards and infiltrating hacker communities, Segall examines the promise and power modern technology holds, while exposing the darker side.
The full series will stream exclusively on CNNgo starting March 12, and will not require authentication or log-in to a cable provider, as a CNNgo Original. You can access the series for free through CNNgo on Apple TV, Roku, Amazon FireTV, and Android TV. It is also available on CNN.com, and CNN's iOS and Android apps.  
This is CNN's first CNNgo Original offering, developed specifically for CNN's digital TV-Everywhere service. 
Episode guide: 
Dead, IRL
Using thousands of texts, tweets and Facebook posts, a woman creates a digital version of her best friend … after he died. Artificial intelligence and years of social media data allowed her to create a bot that responds like her best friend, jokes like him, and blurs the lines between man and machine. This is death in the digital age.
I love you, Bot
Westworld, or real world? From people falling in love with robots to sex dolls who now have, "AI brains," our relationship with tech is getting…complicated. We explore a sexual assault in the virtual world and Minority Report technology being used in a high security psychiatric ward. It's too controversial for the US and will blow your mind. 
Hacker down: ISIS' Twitter star
An investigation into the first person deemed dangerous enough to kill… because of his ability to tweet. We explore the life and death of Junaid Hussain, the ISIS hacker who ushered in a new era of terror, mainly due to his social media celebrity. We infiltrate hacker circles in Vegas, explore undercover operations, and have a dangerous run-in outside his hometown, to understand how he went from computer nerd to third most dangerous member of ISIS.
Swipe, Click, Cheat
We explore the human impact of a hack that exposed 36 million potential cheaters. Behind the hack, there were suicides, broken families. We introduce you to the human impact of Ashley Madison and take our viewers inside the War Room of Ashley Madison where there were millions of dollars on the table, death threats, and a ticking time bomb that would explode with society's secrets. We'll also look at the company's secret: their ability to program algorithms that would make you more likely to click-for-affair.
Silicon Valley's dark secret
We dig into the myth of Silicon Valley — where heroes are hailed and success celebrated. Silicon Valley has a secret they don't want you to know about. Much of the creative genius, the brainiac success stories are also associated  with depression and bi-polar disorder. Is there a price to creative genius?
Electric Sheep
A look at why the most powerful people in tech are stepping away from the products they've built. In a place where algorithms play god, we explore the soul searching Silicon Valley is doing.  The biggest CEO's are raising the alarm bells and wondering – have we entered the singularity? Who's in control… man or machine?