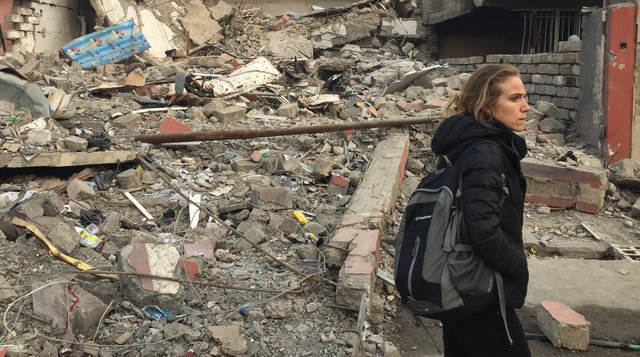 CNN International Shows
March 1st, 2017
CNN'S ARWA DAMON RETURNS TO MOSUL IN NEW HOUR-LONG SPECIAL
'Return to Mosul' airs Saturday, March 4 at 8pm GMT on CNN International
Nearly two months after spending 28 hours under siege in ISIS-held Mosul, CNN senior international correspondent Arwa Damon and photojournalist Brice Laine return to the embattled city to find out what happened after they escaped.
Reuniting with the soldiers from the Iraqi Counter Terrorism Force with which they were traveling and the families who sheltered them after ISIS militants attacked their convoy, Damon takes viewers inside this harrowing experience as the battle for Mosul continues.
"What drew us back was not just a professional need to return, but a profoundly personal one," said Damon. "There is a unique bond that emerges from the type of intense terrifying ordeal we went through. But at the end of the day we had the luxury of being able to leave. They did not.
After living through decades of oppression under Saddam, the U.S.-led invasion, sectarian warfare and ISIS, Iraqis should be angry and bitter and yet I've found there is a purity to the kindness of the Iraqi people. And that is what has really stayed with us and what this documentary tries to show."
As Damon, Laine and producer Hamdi Alkhshali make their way to the neighborhood in eastern Mosul, they find unit commander Major Hazem, who takes them to the soldiers who survived the attack and returned to the front line. They speak about the progress they have made in Mosul as well as the setbacks they have faced, including a recent suicide bombing attack on one of their posts. In fact, the reunion is cut short as gunfire breaks out a few doors down from where their meeting takes place.
The CNN crew then heads to the house where they took shelter after their vehicle was hit. The family is still there, rebuilding their home and adjusting to life in a liberated Mosul. With a mix of shock and elation, the family members again welcome CNN into their home. They go into detail about what happened after that terrible night, saying they tried to flee their neighborhood but ISIS forced them back. They eventually got to the outskirts of Mosul, where they would spend a month hiding out wearing only the clothes on their back.
One of the biggest changes in liberated Mosul is that schools are opening up for the first time in more than two years. CNN goes to one of these schools and speaks to students and teachers about life under ISIS. The stories they share are horrific, but their happiness is clearly palpable.
Before the team leaves Mosul, they make another stop to say goodbye to the family who took them in during the ISIS attack. During their visit the family introduces Damon to Arwa, a 20-day-old baby girl named after her; yet another connection to the family who may have well saved the lives of both Damon and Laine.
Return to Mosul airs Saturday, March 4 at 8pm GMT / 3pm ET on CNN International. It replays Sunday, March 5 at 7am ET and Monday, March 6 at 5am ET.
About CNN International
CNN's portfolio of news and information services is available in seven different languages across all major TV, digital and mobile platforms reaching more than 425 million households around the globe. CNN International is the number one international TV news channel according to all major media surveys across Europe, the Middle East and Africa, the Asia Pacific region and Latin America and has a US presence which includes CNNgo. CNN Digital is a leading network for online news, mobile news and social media. CNN is at the forefront of digital innovation and continues to invest heavily in expanding its digital global footprint, with a suite of award-winning digital properties and a range of strategic content partnerships, commercialised through a strong data-driven understanding of audience behaviours. Over the years CNN has won multiple prestigious awards around the world for its journalism. CNN has 41 editorial offices and more than 1,100 affiliates worldwide through CNN Newsource. CNN International is part of Turner, a Time Warner company.