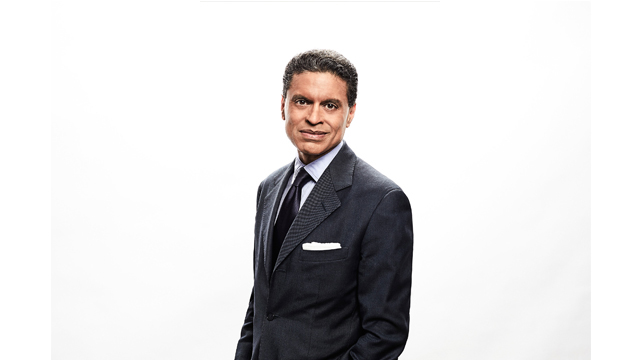 CNN Special Programming & Documentaries
February 27th, 2017
'THE MOST POWERFUL MAN IN THE WORLD' – Fareed Zakaria on the Rise, Reign, and Aims of Vladimir Putin
New documentary makes global broadcast premiere Monday, March 13 at 9:00pmET on CNN/U.S. and CNN International
What is the true nature of the relationship between Donald Trump and Vladimir Putin – and, what are the implications of their relationship for America and the world? CNN's Fareed Zakaria searches for answers to these essential questions in 'The MOST POWERFUL MAN IN THE WORLD.'  The one-hour documentary simulcasts Monday, March 13 at 9:00pm on CNN/U.S. and CNN International, and then replays on CNN/U.S. at 12:00am. Both times Eastern.
Putin is subject to neither a legislature nor a court, and there is little free press in Russia.  Reared in Soviet poverty, Putin served as a KGB officer in East Germany before maneuvering his rapid rise from deputy mayor of St. Petersburg to president of post-Soviet Russia.
In 'The MOST POWERFUL MAN IN THE WORLD,' one Russian journalist tells Zakaria that Russians view Putin as the president of Russia – and, as the president of the United States.  Yet, Zakaria asserts Putin's Russia is a "Potemkin village," where a façade of power masks deep economic and demographic dysfunctions.
Zakaria gets answers to the many questions that surround the extraordinary conclusion reached by American intelligence: that Putin likely approved the hacking of the U.S. election.
He also explores what the fallout could be if the relationship between these two combustible presidents deteriorates.
For 'The MOST POWERFUL MAN IN THE WORLD,' experienced Russia watchers and diplomacy experts offer insights into Putin's persona, and how Russia's internal politics continue to shape Putin's hostile postures against his enemies, at least two successive U.S. presidents, and four former American Secretaries of State.
For the documentary, Zakaria includes elements from his own past interview with Putin to tell the story. Also, interviewed for this special broadcast are:
Robert Gates, former, U.S. Secretary of Defense (George W. Bush and Barack Obama administrations, 2006-2011); former Director of the CIA (George H. W. Bush Administration, 1991-1993);
Henry Kissinger, PhD, former U.S. Secretary of State (Nixon & Ford Administrations, 1973-1977); chairman, Kissinger Associates;
Masha Gessen, journalist; author, The Man Without A Face: The Unlikely Rise of Vladimir Putin (2013);
David Remnick, editor, The New Yorker; author, Lenin's Tomb: The Last Days of the Soviet Empire (1994); and,
Julia Ioffe, columnist, The Atlantic & Foreign Policy; contributing writer, The Huffington Post Highline
Fareed Zakaria is also host of CNN's flagship global public affairs program, Fareed Zakaria GPS, which airs Sundays on CNN/U.S. and CNN International.
Producers of 'THE MOST POWERFUL MAN IN THE WORLD' will interact with viewers via Twitter, with user questions and comments about the documentary.  'THE MOST POWERFUL MAN IN THE WORLD' will livestream via CNNgo (via desktop, AppleTV, Roku, Amazon Fire, and iPad). After the premiere, viewers can also watch this documentary on demand via cable and satellite providers and CNNgo.
About CNN
CNN Worldwide is a portfolio of two dozen news and information services across cable, satellite, radio, wireless devices and the Internet in more than 200 countries and territories worldwide. Domestically, CNN reaches more individuals on television, the web and mobile devices than any other cable TV news organization in the United States. Internationally, CNN is the most widely distributed news channel reaching more than 320 million households abroad; and CNN Digital is a top network for online news, mobile news, and social media. Additionally, CNN Newsource is the world's most extensively utilized news service partnering with hundreds of local and international news organizations around the world. CNN is division of Turner Broadcasting System, Inc., a Time Warner Company.
-30-