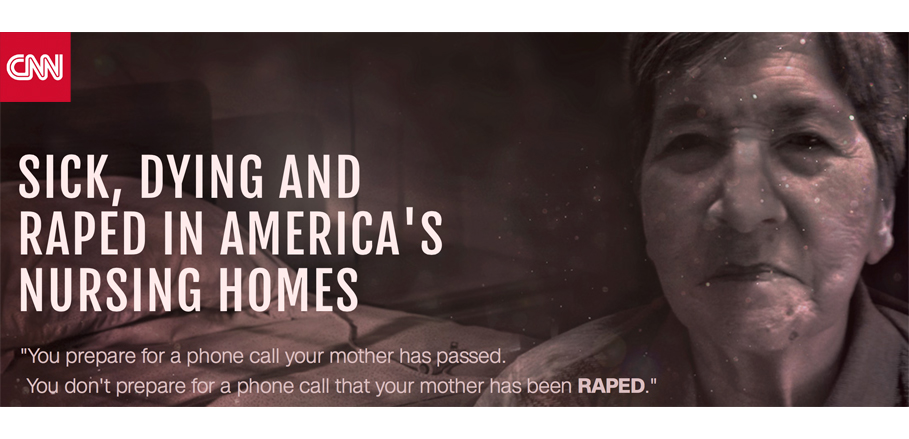 CNN DIGITAL
February 22nd, 2017
Sick, dying and raped in America's nursing homes – a CNN Investigation
They go to nursing homes to be cared for. Instead, the unthinkable is happening at facilities across the country: Vulnerable seniors are being raped and sexually abused by the very people paid to care for them.
Senior Writers Blake Ellis and Melanie Hicken provide a shocking and detailed account of the rape and sexual abuse occurring in nursing homes across the country — and the systemic failures of nursing homes and state regulators to stop it.
The graphic reports of abuse they uncovered are horrifying.  
83-year-old Sonja Fischer fled war-time Indonesia as a young girl only to be raped by a nursing assistant during the "final, most vulnerable days of her life."

An 88-year-old California woman only had sex with one man her entire life — her husband of nearly 70 years —  then contracted a sexually transmitted disease from her alleged rapist.
One elderly man with paralysis was sexually abused and forced to eat feces out of his adult diapers by a group of nursing aides.
As part of the five-month investigation, CNN Correspondent Ana Cabrera confronted multiple nursing homes where caregivers were accused of sexually assaulting multiple residents before eventually being convicted of rape.
Ellis and Hicken also read through thousands of government documents to conduct a detailed analysis of federal data — the first of its kind.
Some of the findings: CNN found that more than 1,000 nursing homes have been cited for mishandling or failing to investigate or prevent alleged cases of rape, sexual assault and abuse at their facilities between 2013 and 2016. Nearly 100 of these facilities have been cited multiple times during the same period. At least a quarter were allegedly perpetrated by aides, nurses and other staff members. 
The reporters also traveled to the small town of Waynesville, North Carolina, to tell the story of one certified nursing assistant who worked at multiple facilities in the area and now stands accused of rape. This deeply reported account comes from police reports, court documents, interviews with the alleged victims and even the accused rapist, who denied  the charges from jail.
Read the full investigation here.