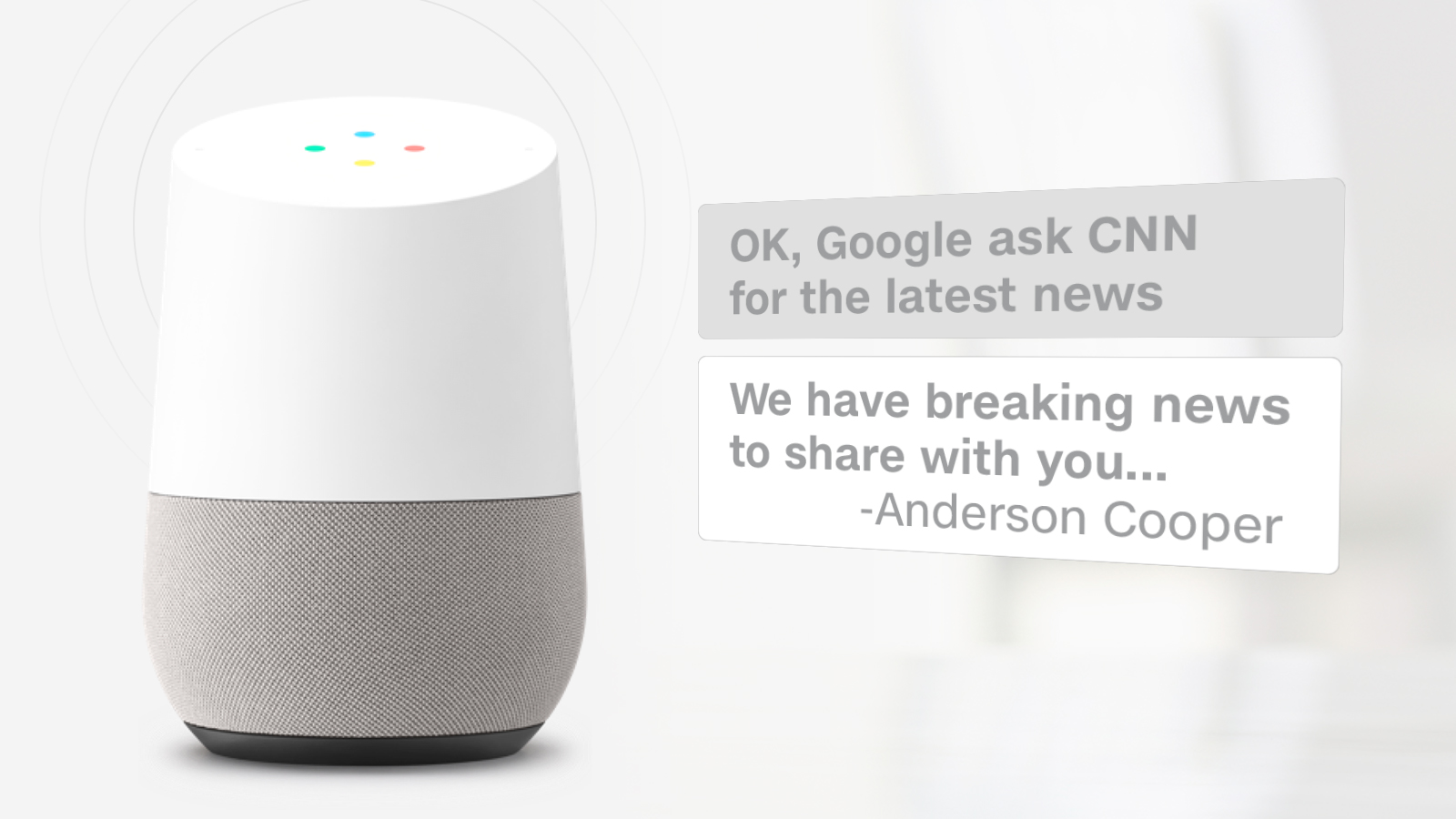 CNN DIGITAL
February 9th, 2017
CNN Now Available on Google Home
Google Home owners now have access to CNN through the first Action that delivers topic-based TV coverage in near-real time on the device. 
The CNN "Action" features audio news straight from CNN's world-class anchors and reporters around the globe. Content from the likes of Anderson Cooper, Wolf Blitzer, and John King are available as soon as 5 minutes after broadcast. The Action helps users quickly discover the latest stories CNN is covering and dive into any one of them for CNN's full broadcast audio coverage powered by CNNgo.
"We're excited to grow CNN's suite of products in the voice services space by bringing our real-time, conversational news experience to Google Home," said Joshua Silverboard, Sr. Director for Emerging Products at CNN.  "Google Home and other voice platforms like it are creating new paths to bring personal, engaging experiences to our audiences. Our custom action on Google Home and the platform that powers it are early in their evolution, but this product is a great example of CNN's continued efforts to reach and engage our audiences in unique ways, wherever they are."
Google Home owners can receive the latest top news stories from CNN by simply speaking phrases like, "OK Google, let me talk to CNN"; "OK Google, ask CNN for the latest stories."; or "OK Google, ask CNN for the latest on President Trump."
The new action compliments CNN's previously launched Narrated News on Google Home, which features a daily morning and evening audio news briefing on the latest headlines in three minutes or less. CNNgo is a next-generation product that gives viewers unprecedented control over their TV news experience, and is also available on Amazon Alexa, CNN.com, CNN's iPad app and on Apple TV, Roku and Amazon Fire TV.