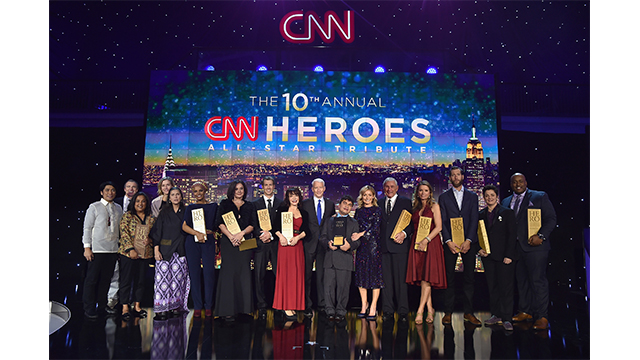 CNN
December 11th, 2016
JEISON ARISTIZÁBAL NAMED THE 2016 CNN HERO OF THE YEAR
Pushpa Basnet is the 10th anniversary CNN Superhero
Jeison Aristizábal, who has spent the last 15 years working to change perceptions about physical and cognitive disabilities and give young people with disabilities a brighter future, has been named the 2016 Hero of the Year. Hosted by CNN's Anderson Cooper and ABC's Kelly Ripa, the 10th annual CNN Heroes: An All-Star Tribute aired live tonight from New York City.
Growing up in one of the poorest areas in Cali, Colombia with cerebral palsy, Aristizábal  has fought his entire life to overcome the obstacles in his way. His organization ASODISVALLE provides a range of free services that have helped transform the lives of nearly 3,000 young people with disabilities.
While accepting his award, he stated via a translator, "I can't believe it. Hello to Colombia, hello to all the families who have a child with a disability. I want to tell you that yes you can. You can dream and you can achieve your dreams. I want to say hello to all of my CNN Heroes colleagues. God bless you and there's more work to do."
Aristizábal was presented with his honor earlier in the night by Olympic gold medalist and current "Dancing with the Stars" champion Laurie Hernandez.
Each of the Top 10 CNN Heroes will receive $10,000 in recognition of their work. After winning the global vote, Aristizábal will receive an additional $100,000 grant to further aid his cause.
Additionally, for the first time viewers selected a Superhero from among five previous Heroes of the Year. The winner Pushpa Basnet (2012) was awarded $50,000 to continue her work with the Early Childhood Development Centre.
All five previous Heroes of the Year attended this year's ceremony and each was separately prized $10,000 by CNN to their designated non-profit organization.
The gala, which included celebrity presenters Taraji P. Henson, Richard Gere, Diane Lane, Laurie Hernandez, Octavia Spencer, Neil Patrick Harris, Edward Norton, Liev Schreiber, Edie Falco, Keegan-Michael Key and Danielle Brooks, was capped off by Tony Award-winning singer Idina Menzel, who performed "I See You," a song from her newest album, "idina."
About CNN Worldwide:
CNN Worldwide, a division of Turner Broadcasting System, Inc., a Time Warner Company, is the most trusted source for news and information. Its reach extends to nine cable and satellite television networks; one private place-based network; two radio networks; wireless devices around the world; CNN Digital Network, the No. 1 network of news Web sites in the United States; CNN Newsource, the world's most extensively syndicated news service; and strategic international partnerships within both television and the digital media. For more information, visit CNNPressroom.com.
###