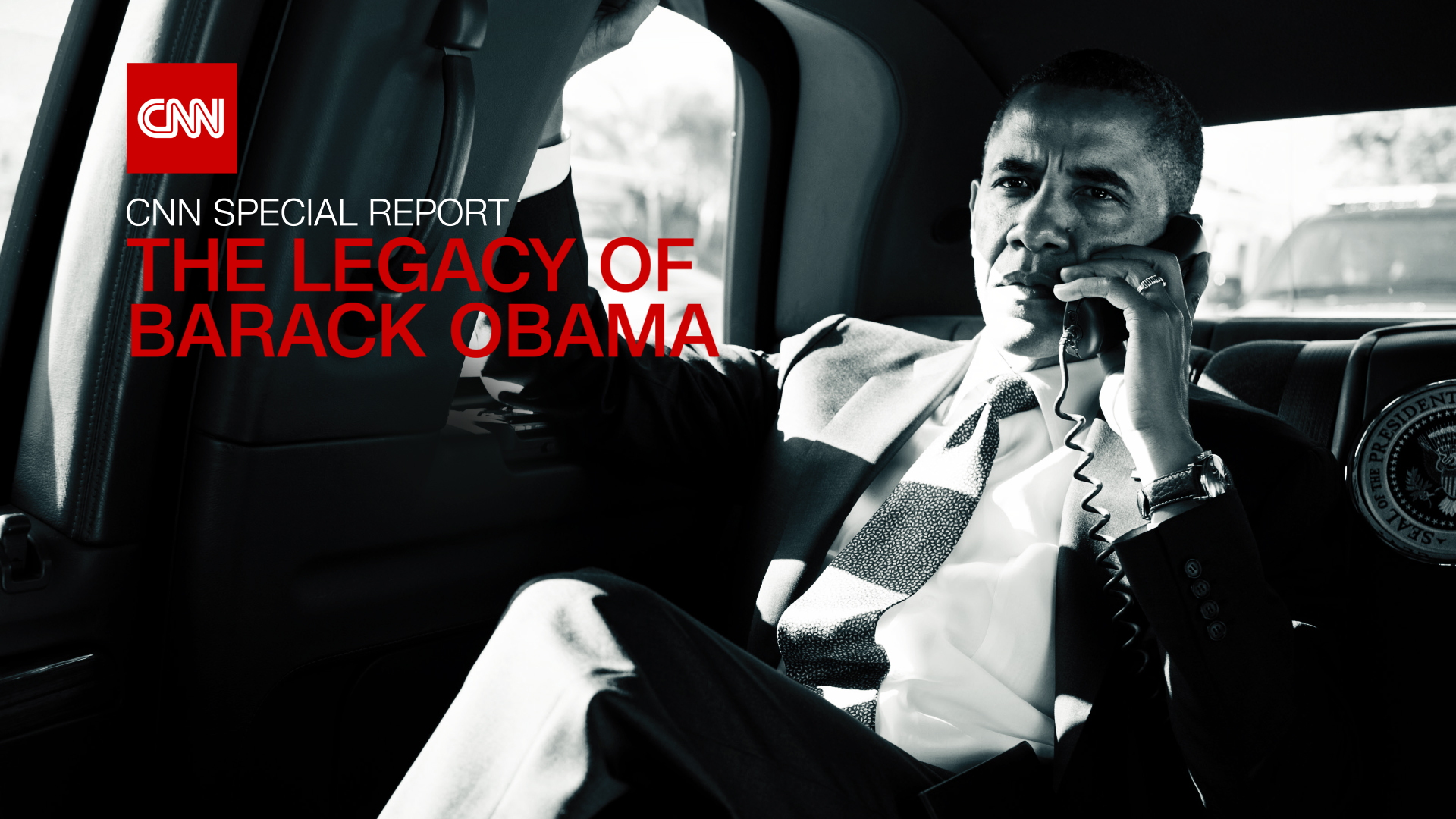 Fareed Zakaria
December 5th, 2016
'THE LEGACY OF BARACK OBAMA' – Fareed Zakaria Explores the 44th President's Tenure in New Primetime Special
New Fareed Zakaria Primetime Special Premieres 9:00pm Wednesday, Dec. 07
on CNN/U.S. and CNN International
CNN's Fareed Zakaria, moderator of the network's Sunday flagship global public affairs program, Fareed Zakaria GPS, will host a two-hour special global simulcast presentation of 'The Legacy of Barack Obama' for Wednesday, Dec. 7, beginning at 9:00pm on CNN/U.S. and CNN International, the network announced today.  The special will encore on CNN/U.S. on Thursday, Dec. 8 at 12:00am. All times Eastern.
Zakaria asserts that President Barack Obama brought dramatic policy changes to the American landscape, and he argues that the ambitious Obama Presidency may be among the most consequential in history. In 'The Legacy of Barack Obama,' Zakaria tells the stories of some of the President's biggest policy bets – both the brilliant successes and the heartbreaking failures.
Through extraordinarily candid interviews with President Obama, as well as many of the key players who served his administration, 'The Legacy of Barack Obama' examines the historic election of America's first African-American President, the impact of the gridlock that haunted his tenure, what he achieved in the face of unprecedented opposition, and the vexing problems he was unable to solve.  Zakaria illustrates the behind-the-scenes concerns and strategy that yielded President Obama's comprehensive healthcare legislation – a feat that had eluded seven previous presidents, his personal struggle with the racial strife that rocked his years in office, the rescue of the global economy, the historic deal with Iran to halt that nation's march towards a nuclear weapon, the global climate change agreements, the appointment of two women to the U.S. Supreme Court, and Obama's moves on social issues such as marriage equality for gay Americans, equal pay legislation, criminal justice reform, and more.
Now, President-elect Donald Trump, who campaigned to dismantle most of Obama's achievements, has declared that almost every major Obama initiative is under threat. And, among the crises that appear will remain unsolved as President Obama prepares to leave office are: the irony of the fact that polls show race relations are at their lowest point in a generation, common sense gun regulations, an unabated and brutal civil war in Syria, and the resulting massive migration that has helped usher in a wave of nativist populism across Europe and America.
Interviewed for this special broadcast:
David Axelrod, Senior Advisor to President Obama/Chief Strategist for Barack Obama's presidential campaigns 2007-2012, Believer, My Forty Years in Politics, 2015
Doris Kearns Goodwin, presidential historian, Lyndon Johnson and the American Dream, 2015
Rahm Emanuel, White House Chief of Staff, 2009-2010
Timothy Geithner, U.S. Treasury Secretary, 2009-2013
Valerie Jarrett, Senior Advisor to President Obama, 2009-present
Van Jones, White House Special Advisor for Green Jobs, Enterprise, and Innovation, 2009; president, Dream Corps; CNN Commentator
John Kerry, U.S. Secretary of State, 2013-present; former U.S. Senator (D-MA), 1985-2013
Randall Kennedy, professor, Harvard Law School; The Persistence of the Color Line: Racial Politics and the Obama Presidency, 2012
President Barack Obama
Gen. David Petraeus (ret.), Director of the CIA, 2011-2012; Commander of U.S. Central Command, 2008-2010
THE LEGACY OF PRESIDENT OBAMA will livestream via CNNgo via desktop (www.CNN.com/go) and via CNNgo apps for AppleTV, Roku, Amazon Fire, and iPad. After the premiere, viewers can also watch this documentary on demand via cable/satellite systems and CNNgo. Full broadcast times are:
Wednesday, Dec. 7 – 9:00pm to 11:00pm
Thursday, Dec. 8 – 12:00am to 2:00am
Friday, Dec. 9 – 11:00pm to 1:00am
Saturday, Dec. 10 – 2:00am to 4:00am
Sunday, Dec. 25 – 9:00am to 11:00am
Monday, Dec. 26 – 9:00pm to 11:00pm
Tuesday, Dec. 27 – 12:00am to 2:00am
All times Eastern
During the broadcast, producers of THE LEGACY OF PRESIDENT OBAMA will interact with viewers via Twitter, using the hashtag #FZGPS with user questions and comments about the special.
About CNN
CNN Worldwide is a portfolio of two dozen news and information services across cable, satellite, radio, wireless devices and the Internet in more than 200 countries and territories worldwide. Domestically, CNN reaches more individuals on television, the web and mobile devices than any other cable TV news organization in the United States. Internationally, CNN is the most widely distributed news channel reaching more than 320 million households abroad; and CNN Digital is a top network for online news, mobile news, and social media. Additionally, CNN Newsource is the world's most extensively utilized news service partnering with hundreds of local and international news organizations around the world. CNN is division of Turner Broadcasting System, Inc., a Time Warner Company.
###