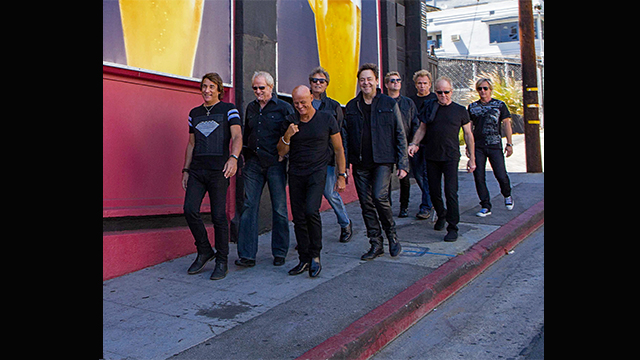 CNN Films
November 28th, 2016
FILMRISE and CNN Films Announce U.S. Broadcast Rights to 'NOW MORE THAN EVER: The History of Chicago'
Film about rock band Chicago to have television & streaming premiere on CNN platforms beginning Jan. 1, 2017

Film and television distributor FilmRise today announced that it has acquired worldwide distribution rights to Peter Pardini's 'Now More Than Ever: The History of Chicago'.  CNN Films has acquired U.S. broadcast distribution rights and will premiere the film for the first time on television on New Year's Day 2017, with limited commercial interruption.
With more than one hundred million albums sold, the rock band Chicago Transit Authority, aka 'Chicago,' remains one of the best-selling bands of all time.  'Now More Than Ever: The History of Chicago' examines the band's storied journey to commercial success and critical acclaim, charting the group's rise from their formation in the late '60s, to the chart-topping era of the '70s and '80s, and through to the present day.  Directed and edited by Peter Pardini and produced by the band, 'Now More Than Ever: The History of Chicago' is the most comprehensive history of the group's achievements. Pardini gained unprecedented access to rare archival material, telling the band's story through interviews with Chicago's members and performance footage. The film premiered at the 2016 Sedona International Film Festival, where it won the Best of the Fest audience choice award.
"'Now More Than Ever: The History of Chicago' is the quintessential account of one band's monumental success and influence within American music," said Danny Fisher, CEO of FilmRise. "We're thrilled to partner with CNN Films to bring this film to Chicago's millions of admirers throughout the world."
"The legendary melodies of the iconic supergroup Chicago have become a part of Americana.  As the band enters its 50th year of longevity, we hope families and music lovers of all ages enjoy our New Year's Day premiere," said Amy Entelis, executive vice president of talent and content development for CNN Worldwide.  "Cheers to our partners at FilmRise for making this special tribute possible."
When the founding members of Chicago came together in 1967 with a shared goal, to blend the musical trends of their revered city into a brand-new style, they could not have anticipated that their cinematic big-band pop would propel them to stardom.  Half a century later their hits ('If You Leave Me Now,' 'Saturday in the Park,' '25 Or 6 To 4,' 'Make Me Smile,' and many others) have become rock classics known the world over, with five Grammy® nominations, and two Grammy® award wins (including a win for the band's first album, Chicago Transit Authority, for the Grammy® Hall of Fame in 2014), countless other awards and honors, and a recent induction into the Rock and Roll Hall of Fame.
The original acquisition deal was negotiated between Fisher and FilmRise's vice president of acquisitions Max Einhorn with CAA.  The U.S. broadcast rights were negotiated by vice president of business affairs Stacey Wolf on behalf of CNN.
In addition to NOW MORE THAN EVER: The History of Chicago, FilmRise recently acquired Chicago: The Terry Kath Experience, a film about the band's original lead guitarist Terry Kath.
About FilmRise
FilmRise is a film and TV distribution company founded by veteran producer/financiers Danny Fisher, Jack Fisher and Alan Klingenstein. With over 6,000 titles in a wide range of genres, the company's film acquisitions and releases include HBO's multiple Emmy®-winning "Going Clear" and "Janis: Little Girl Blue," directed by Oscar®-nominated filmmaker Amy J. Berg and produced by Oscar®-winner Alex Gibney. Television titles include hit series such as Showtime's Emmy®-winning "Years of Living Dangerously," and the longest running true crime show on television "Forensic Files." Titles are in release digitally on Amazon Prime, iTunes, Netflix, Hulu, VUDU, Xbox, Sony PlayStation, Crackle and other platforms, and on DVD and BluRay on Amazon and over 200 online retailers, including Walmart and Barnes & Noble. FilmRise's recent acquisitions are two-time Academy Award®-nominee Julie Delpy's "Lolo"; the acclaimed documentary "The Witness"; "Five Nights in Maine," starring Oscar®-winner Dianne Wiest, David Oyelowo, and Oscar®-nominee Rosie Perez; the buzzed-about horror-comedy "The Greasy Strangler"; the SXSW documentary "Silicon Cowboys"; the award-winning doc "Harry & Snowman"; the drone warfare documentary "National Bird"; Sean Brosnan's revenge thriller "My Father Die"; the fascinating LSD documentary "The Sunshine Makers"; the Tribeca-premiered chess documentary "Magnus"; and the critically-acclaimed, controversial Sundance drama, "White Girl." For more information, go to: www.FilmRise.com.
About CNN Films
CNN Films produces and acquires documentary feature and short films for theatrical and festival exhibition and distribution across CNN's multiple platforms.  Amy Entelis, executive vice president of talent and content development, oversees the strategy for CNN Films; Courtney Sexton, vice president for content development, works day-to-day with filmmakers to oversee projects.  For more information about CNN Films, please visit www.CNN.com/CNNFilms and follow @CNNFilms via Twitter.
About CNN
CNN Worldwide is a portfolio of two dozen news and information services across cable, satellite, radio, wireless devices and the Internet in more than 200 countries and territories worldwide. Domestically, CNN reaches more individuals on television, the web and mobile devices than any other cable TV news organization in the United States.  Internationally, CNN is the most widely distributed news channel reaching more than 320 million households abroad; and CNN Digital is a top network for online news, mobile news, and social media.  Additionally, CNN Newsource is the world's most extensively utilized news service partnering with hundreds of local and international news organizations around the world. CNN is division of Turner Broadcasting System, Inc., a Time Warner Company.
-30-