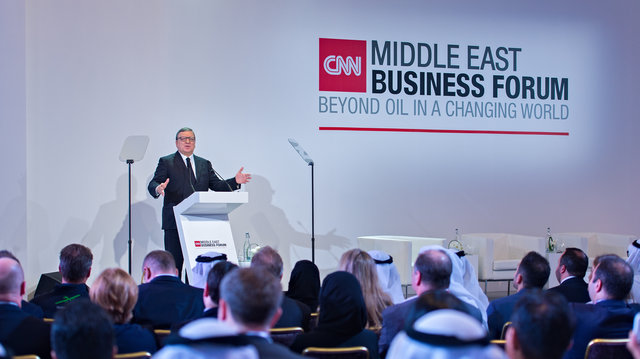 CNN Commercial
November 28th, 2016
Business leaders gather in Abu Dhabi for first ever CNN Middle East Business Forum
Over 350 global business leaders gathered yesterday to discuss the theme "Beyond Oil in a Changing World" at the inaugural CNN Middle East Business Forum held at Four Seasons Abu Dhabi on Al Maryah Island.
Keynote speeches were given by former President of the European Commission José Manuel Barroso (pictured) and Mubadala's Group Chief Executive Officer & Managing Director H.E. Khaldoon Al Mubarak.
Panel discussions and interviews with a stellar list of speakers were conducted by CNN's foremost experts on business and the Middle East – Anchor and Managing Editor, Abu Dhabi, Becky Anderson, CNNMoney Editor at Large Richard Quest, and CNNMoney Emerging Markets Editor John Defterios. A virtual reality 'Back to the Future' session from CNN's Jason Farkas closed proceedings.
"This inaugural CNN Middle East Business Forum was a platform of informed and intelligent discussion amongst key influencers about the opportunities and challenges in the Middle East during a time of seismic change," said Rani R. Raad, President, CNN International Commercial. "We are proud to have worked with our partners Mubadala and twofour54 to bring together news-makers, agenda-setters and business leaders for meaningful debate about what the future holds."
The Forum was held in association with Mubadala and twofour54 and with commercial supporting partners Al Maryah Island and Abu Dhabi Global Market on the weekend that eyes of the world turn to the UAE during the Formula 1 Etihad Airways Abu Dhabi Grand Prix.
Highlights show CNN Middle East Business Forum: Beyond Oil will first air on CNN International on 9 December at 2030 GST.  Coverage from the Forum is also at money.cnn.com.
Key quotes from the speakers at the CNN Middle East Business Forum include:
In conversation with José Manuel Barroso, H.E. Khaldoon Al Mubarak said: "Global economic volatility is here for the foreseeable future; however, Abu Dhabi has acted to stay competitive and continue delivering against its economic development priorities."
He continued: "Strong government to government relationships create a foundation for significant capital allocations in markets across the East and West, and we see incredible potential for significant investment in relatively new markets for us, such as China and Russia."
José Manuel Barroso talked about the topic of diversification: "Lower oil prices is a job for all the GCC countries, but I believe the UAE is in a very good position. The GCC has turned from a net exporter to a net importer of capital with this focus on IPOs and privatisations. We are seeing here a very important change."
Talking about Brexit, Barroso commented: "It is too soon to say what will happen with Brexit. Why? Because there is no strategy. Neither from the British or European side. The British haven't decided what they want. It was easy to vote no but the question is to vote how to do it. It is not clear how to do it…. Frankly, nobody knows in London."
And on the US election result, Barroso said: "President Elect Trump needs to adapt to the world and the world needs to adapt to him. In economic terms, investors are mainly happy about what he has announced so far – less regulation, lower taxes and huge programme of infrastructure… There is a question mark though on trade, where his rhetoric has been extremely negative. I believe that if the agenda of President Elect Trump is an agenda about growth, then he cannot do it without trade."
H.E. Noura Al Kaabi, Chairwoman, Media Zone Authority-Abu Dhabi and twofour54 said: "twofour54, Abu Dhabi's content creation hub, and the Tourism and Culture Authority Abu Dhabi are working to drive the development of Abu Dhabi's cultural economy by bringing together the best of government, private sector and international partners to deliver major initiatives."
"As a location for blockbuster films such as Star Wars: The Force Awakens, the last stop on the global Formula 1 calendar, and home of international cultural collaborations such as the Louvre Abu Dhabi; we are creating an international brand and destination that appeals to a diverse global audience.
She further commented: "Abu Dhabi organizations are working behind the scenes to incubate a sustainable media and cultural ecosystem by supporting infrastructure development, educational initiatives and legislative frameworks."
H.E. Mohamed Al Mubarak, Chairman of Abu Dhabi Tourism & Culture Authority, said: "Both TCA Abu Dhabi and TwoFour54 play crucial roles in delivering Abu Dhabi's economic diversification ambitions. We have clear targets for the tourism sector, and our local cultural attractions and globally recognized events calendar are a major drivers of visitors.
"Success in particular sectors occurs when the home environment plays to its unique strengths – and that's what is happening in Abu Dhabi. We have a wealth of cultural and heritage assets which we are leveraging along with our values, natural environment, economic structure and creative and tourism institutions, to forge a reputation as a distinct and attractive destination."
Notes to Editors:
For more information, please contact:  
Dan Faulks
Vice President, Communications CNN International Commercial
Tel: + 44 20 7693 1362 Dan.Faulks@turner.com
About CNN International
CNN's portfolio of news and information services is available in seven different languages across all major TV, digital and mobile platforms reaching more than 420 million households around the globe. CNN International is the number one international TV news channel according to all major media surveys across Europe, the Middle East and Africa, the Asia Pacific region and Latin America and recently expanded its US presence with its launch on CNNgo. CNN Digital is a leading network for online news, mobile news and social media. CNN is at the forefront of digital innovation and continues to invest heavily in expanding its digital global footprint, with a suite of award-winning digital properties and a range of strategic content partnerships, commercialised through a strong data-driven understanding of audience behaviours. Over the years CNN has won multiple prestigious awards around the world for its journalism. CNN has 41 editorial offices and more than 1,100 affiliates worldwide through CNN Newsource. CNN International is part of Turner, a Time Warner company.