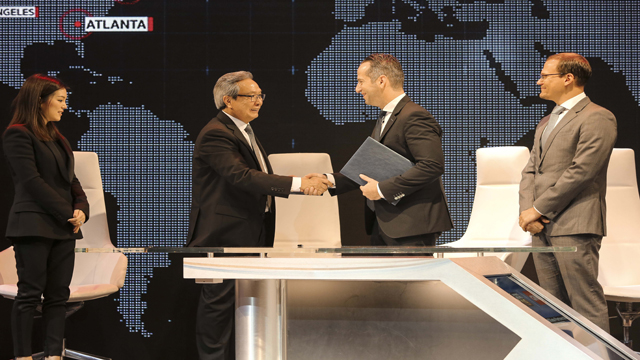 CNNIC
November 24th, 2016
CNN AND SPRING NEWS ANNOUNCE AFFILIATION DEAL IN THAILAND
CNN International Commercial today announces an affiliate and consultation agreement between Turner Broadcasting System Asia Pacific, Inc., the distributor of CNN International in the Asia Pacific region, and Spring News Corporation Co., ltd.
As part of the multi-year agreement, Spring News will broadcast CNN content and programming subtitled in local Thai language. In addition, Spring News will also receive consulting and extensive training from CNN to support their re-launch. This affiliation will enable CNN International to leverage the resources and expertise of Spring News to strengthen its news coverage of Thailand.
Senior Director, Content Sales and Partnerships APAC, CNN International Commercial, David Collet: "We are delighted to be affiliated with a channel such as Spring News which, since its inception, has grown to become a strong multiplatform news provider with vision and values consistent with CNN. This affiliation serves as part of our strategic focus on Asia and enables us to deliver on our goal of growing our affiliate network and supporting local news operations with training and consultancy expertise."
Chairman of Spring News Corporation Co., Ltd, Mr. Thanachai Theerapattanavong: "While CNN International is the most watched international news channel in the world, Spring News is Thailand's premium news channel that expands its wings to create the power of multiplatform covering radio, newspapers, magazines, digital media and out of home advertisement. Under the affiliation partnership, from January 1, 2017, Spring News will broadcast CNN selective programs which are deemed most compatible to local audience. Moreover, extensive training and professional consultation from CNN will strengthen Spring News' leading positions in the television industry. We see that collaborating with CNN will create a new phenomenon in the Thai media industry."
– Ends –
Julia Zweigle
Press Officer, CNN International
Tel: + 852 3128 3538
Julia.Zweigle@cnn.com
About CNN International
CNN's portfolio of news and information services is available in seven different languages across all major TV, digital and mobile platforms reaching more than 425 million households around the globe, including over 77 million across the Asia Pacific region. CNN International is the number one international TV news channel according to all major media surveys across Europe, the Middle East and Africa, the Asia Pacific region and Latin America and has a US presence which includes CNNgo. CNN Digital is a leading network for online news, mobile news and social media. CNN is at the forefront of digital innovation and continues to invest heavily in expanding its digital global footprint, with a suite of award-winning digital properties and a range of strategic content partnerships, commercialized through a strong data-driven understanding of audience behaviors. Over the years CNN has won multiple prestigious awards around the world for its journalism. CNN has 41 editorial offices and more than 1,100 affiliates worldwide through CNN Newsource. CNN International is part of Turner, a Time Warner company. Get the latest social media updates from CNN at: facebook.com/cnninternational @cnnasiapr
About Turner Asia Pacific
Turner Asia Pacific creates and distributes award-winning brands throughout the region, running 61 channels in 14 languages in 40 countries. These include CNN International, CNNj, CNN, HLN, Cartoon Network, Adult Swim, Boomerang, POGO, Toonami, World Heritage Channel, Warner TV, Oh!K, TCM Turner Classic Movies, truTV, MondoTV, TABI Channel, and HBO, HBO HD and WB in South Asia. Turner manages the business of Pay- and Free-TV-channels, as well as Internet-based services, and oversees commercial partnerships with various third-party media ventures; it teams with Warner Bros. and HBO to leverage Time Warner's global reach. Turner Broadcasting System Asia Pacific, Inc. ("Turner Asia Pacific") is a Time Warner company.
About Spring News Corporation Ltd.
Spring News Digital TV, Channel 19, is Thailand's leading premium news station. We provide the facts and mainstream headlines in every aspect along with in-depth analysis. Spring News expands its wings to many more media platforms, such as Spring Radio on 98.5 FM and Thansettakij Newspaper. With all forms of media at hand, we consider ourselves leading the way through the power of multi-platform, making us Thailand's leading and largest multimedia provider. We stand proud of our commitment to meet the ethical standards and integrity of our industry by providing our audience with top-notch journalism. Spring News stands ready to leap forward in 2017 by joining forces with strategic partners to strengthen our position and access to premium content. To date, we are the sole multi-platform provider of carefully curated and creatively produced content in the Thai market.