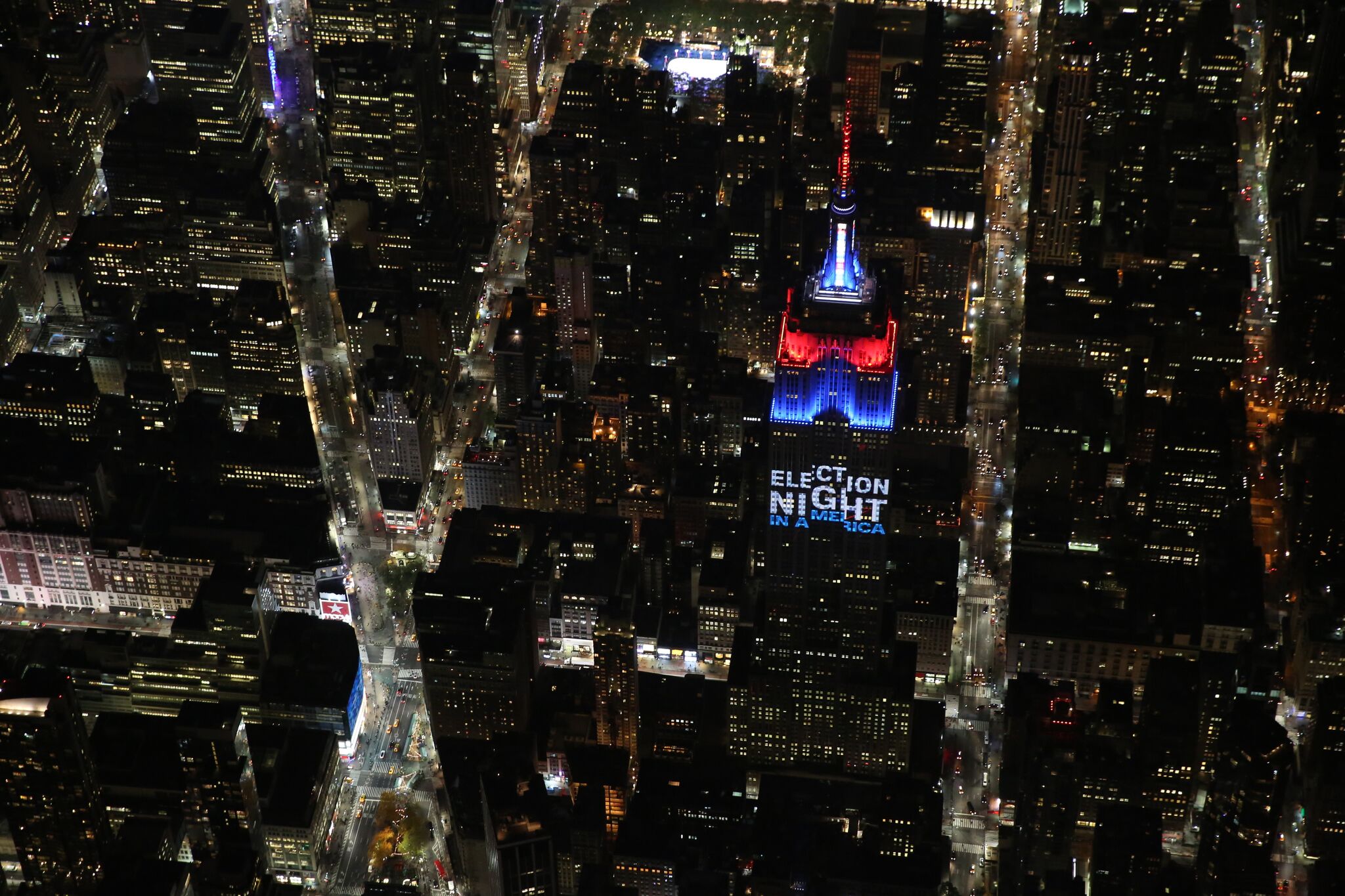 CNN Politics Press Releases
November 8th, 2016
EMPIRE STATE BUILDING TEAMS WITH CNN, INSTAGRAM AND CA TECHNOLOGIES FOR AN UNPRECEDENTED ELECTION NIGHT ACTIVATION
2016 ELECTION RESULTS, PHOTOGRAPHY AND MOVING IMAGES PROJECTED ONTO SOUTH FAÇADE OF NYC'S ICONIC TOWER
CNN, Instagram, and CA Technologies, in an exclusive partnership with the Empire State Building (ESB), are bringing to the New York City skyline a breathtaking display of photography, real-time election results, maps, voter mosaics and animations to commemorate one of the nation's most significant elections. The projection on New York's most iconic landmark begins at 8PM ET tonight — November 8, 2016 – and will continue throughout the evening, ultimately calling the race for a new President of the United States of America.   
 The ESB activation, produced by Obscura Digital, is the final stop and grand finale of the #MyVote nationwide tour – a partnership between CNN, Instagram, Facebook and CA Technologies.  
The projections will feature Instagram images uploaded by voters from around the nation using the #MyVote hashtag. #MyVote projections will also be featured at the Newseum in Washington, D.C. and Miracle Mile in Las Vegas. Additionally, as part of the #MyVote tour, the Coit Tower in San Francisco will be lit up in either red or blue lights symbolizing the state's choice for America's next president.
Projections on ESB, and other national landmarks, will be featured on CNN and across both CNN and ESB's digital platforms as part of Election Night in America coverage. To catch a real-life view of this incredible display, visit the Empire State Building tonight where street teams are handing out commemorative frames at Madison Square Park.
Follow @CNN, @CNNPolitics and @EmpireStateBldg on Instagram and Facebook and Facebook Live. And of course, watch live election coverage, including the ESB projections, on CNN TV, CNN.com and through CNN's mobile apps.
Photos available by request, and embeddable via CNN and Empire State Building's Instagram accounts.
###
Press Contacts:
Matt Dornic, Matt.Dornic@turner.com
Emily Kuhn, Emily.Kuhn@turner.com