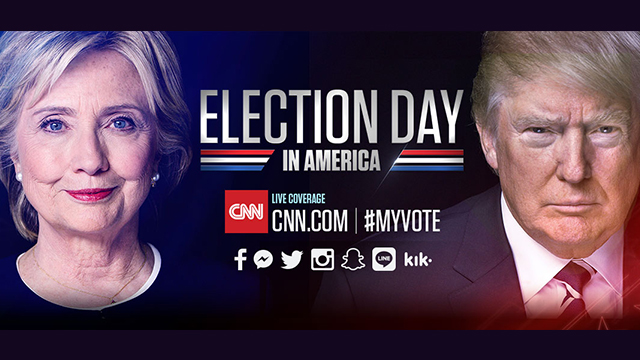 CNN
November 7th, 2016
CNN'S ELECTION CENTER 2016: THE #1 SOURCE FOR BREAKING RESULTS
Get the latest, breaking news from each state in the country and the nation as a whole in CNN's Election Center 2016, now live at CNN.com/election.
Real-time results and exit polls for Presidential, Senate, House, and Gubernatorial races, as well as ballot measures on the state, district and county level, are now available in the CNN Election Center and at CNN.com/Results.
Bookmark each of the swing state election result pages, including Arizona, Nevada, Florida, Ohio, Pennsylvania, Maine, North Carolina, Utah and more, and explore CNN's interactive electoral map to determine the path each candidate needs to get to 270.
And if you're still determining who you will vote for, the CNN Election Center offers a 2016 Candidate Matchmaker quiz and detailed information about all the candidates on the presidential ballot.
###
Quick State Page Links Available Below and in the CNN Election Center.
Arizona: http://www.cnn.com/election/results/states/arizona
Nevada: http://www.cnn.com/election/results/states/nevada
Florida: http://www.cnn.com/election/results/states/florida
Ohio: http://www.cnn.com/election/results/states/ohio
Pennsylvania: http://www.cnn.com/election/results/states/pennsylvania
Maine: http://www.cnn.com/election/results/states/maine
North Carolina: http://www.cnn.com/election/results/states/north-carolina
Utah: http://www.cnn.com/election/results/states/utah